Cris Halverson, 52, cook from Minneapolis

What are you doing in Asheville? Just hanging out?
"Well, right now I'm going to look for something to eat but I've been, I escaped Minnesota in a van. I'm just looking for someplace warm and I haven't found it yet because it's snowing. I was in Chattanooga last night, made it up over the hills and here I am. I heard that Asheville was a cool place to hang out, so I'd check it. So I'll probably be here for a day or so.
So are you moving from Minneapolis or…?
"Probably, I'm looking for a place to sit down. I'm headed probably over the coast down to Savannah and my brother lives in Tampa, so, at least that's kind of half a goal for now.
Just travelling all over?
"Yeah."
How would you describe your style? The shoes and the leather jacket…was this coordinated?
"No. This is my favorite scarf. Yeah, I would normally wear boots. This was just what I brought along. It's what I got. Keep it simple. I always wear leather all the time.
Is there any particular reason?
"I wear the gloves because I drive. It's easy, you know, and you can smoke.  Nah, I just love the jacket. I used to ride back home, so…"
That's awesome. So you own a motorcycle?
"Yeah, a motorcab."
Okay, cool. What would you say in terms of artistic inspirations, like music, film, anything creative really, what would you cite as inspiring to you?
"I am more of a visual artist, painter. I taught myself Photoshop and, god, I'm inspired by so many, so many things. More, what can I say? I guess I've done a lot of my works and had a lot of big shows on Alice in Wonderland. So, Alice has been a pretty motivating factor for me, you know…
Is there any particular reason why Alice in Wonderland?
"Because, several reasons. At one point in everybody's life, at least once, you find yourself in a world that does not make sense, going from puberty to adulthood or starting a new school or something like that, almost, and it's like, oh my god, the world is fucking crazy. I thought I was the only one that was sane, you know?
Yeah.

"So there's a lot of people, a lot of my friends are social outcasts, handicap, lot of minority. I don't know too many straight, white guys. I'm probably the only one. My best friend is trans, I just, all the people on the fringe, they're all Alice."
Yeah. They're where the more interesting people are for sure. So if you had a personal motto that you have on a day-to-day basis, when you wake up in the morning, something you say to yourself, what would you cite?
"My, uh, I do have something I live by, and that is, 'The one with most experiences wins.'
That's great.
"That's what I'm doing."
Thank you so much.
"Not a problem."

Alan Rose, 74, retired hotelier from Miami, Florida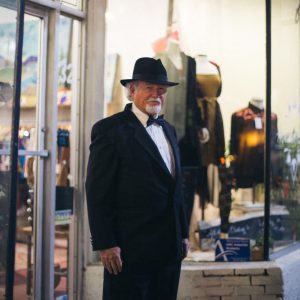 How would you describe your outfit?
"Well, we are going to Lex 18 tonight for a Downton Abbey dinner. So, everybody's gotta come black-tie or white tails or dressed in period. It's a five-course meal with wine and then, at some point, we break and watch this week's episode. I can't even tell you much about it, but I'm with my wife, who watches it religiously."
So, how long have you been in Asheville?
"We live actually in the Carolinas, one foot in North and one foot in South on US 25 at the state line. So, it's about 40 minutes from here and we've been here since '02."
What made you want to move here?
"Uh, four seasons and golf and we ski at Sugar and we like the mountains and we can get to the shore when we want to, so…"
Yeah, everything's accessible.
"Asheville, Greenville, even Atlanta or Charlotte if you want to push it a little"
What would you say inspires you in terms of art, literature, music, just things you enjoy?
"I like history. I like to read history. Art, I'm not a big, I mean, I like to see it. I go to the Biltmore. I like concerts and…But, real inspiration? Nothing. My wife. The fact that I'm 74 and I'm still kicking so all is good."
If you were to say you had a motto that you lived by every day, what would you say it would be?
"Smile."