by John Mallow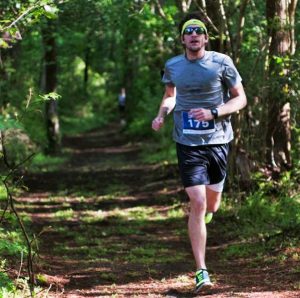 Beginning to write the introduction of an article, editorial, academic paper or other means of communicating a message is arguably the most difficult part of the entire process. Well, that and the conclusion.
But, when it comes to running, there's no debate in my mind about where I'm going to start my route that day — I simply step outside, head in any direction, unless it leads into traffic, and let 'er rip. With a Fitbit on my wrist and earbuds in, I set off with determination.
Speaking of Fitbit, and advancements in running gear, I recently read an article on the Runner's World website, "From Barefoot to Fitbit," that traced the development of running technology through the years. It might seem a bit wild that the basis for the modern running shoe, the New Balance Trackster, has only been around since 1960.
Ethiopian marathoner Abebe Bikila won the gold medal in the 1960 Summer Olympics marathon while running barefoot and today, ironically, Fila, Vibram and Body Glove all make footwear that mimics this style of running.
Putting my love of running into words isn't easy. Unless you've experienced the rush of endorphins and neurochemicals, the "runner's high," words just don't do it justice. At some point in our lives, we are all inclined to run wild until that youthful enthusiasm wears off and life commands us to pump the brakes. I think for me, it has only grown stronger as I have aged.
I never ran competitively or in any organized form growing up, although I tried running cross-country my sophomore year of high school, only to have the majority of the team drop out before the season got going.
I guess the seed was planted at a very young age for me, when I first saw the photo of my father, John Mallow Sr., participating in the 1987 Marine Corps Marathon in Washington, D.C. I was sort of amazed to see my dad — who, at the time I first viewed the photograph, was a working stiff with a nine-to-five, a wife and two kids — was a fairly capable athlete in a seemingly distant past life.

My true love affair with running gained traction during the summer of 2014 after taking a class at my local community college. It was an eight-week class that trained students to run a 5K by the end of the course. Instead of taking a written exam like the other students, I chose to enter a race and have that count as my final grade.
From there, I thought it a waste not to build upon the progress I made during the summer semester, so I kept feeding my developing running habit. I eventually started buying running-related products that just a year prior, I would have scoffed at: performance-fabric socks, Adidas Climalite running shorts and even a headband.
Recently, I asked my dad about his training and his pace during the races he ran in his youth. Considering my father spurred my interest in running, I, of course, wanted to know how I compared to him. Although I have yet to run a marathon, I am also roughly the same age my dad was when he was in his running heyday.
"On longer runs, I trained at between seven-to-eight minute miles, depending on distance, from 10 up to 20 miles," my father explained. "In 1987, I ran the Marine Corps Marathon in Washington, D.C. in three hours, 26 minutes. I averaged right around eight minutes per mile or just a little less. The year before, I ran the same race at three hours, 56 minutes at about a nine-minute pace."
The best I have managed thus far is a 5K in 23 minutes, 35 seconds. I'm not worried about ever besting my dad. Nor am I trying to win his approval. I find it nice to have something in common with my father that we can have engaging conversations about.
I do have personal records I would like to meet, like eventually running a six-minute mile and a sub-20-minute 5K. My dad expressed his satisfaction with his performance in the Great Raleigh Road Race 10K, echoing my rather humble ambitions.
"I think it was in 1985. I did not win but I ran OK for me," my father recalled. "I think it was about 37 or 38 minutes at an approximately six-and-a-half-minute pace. I usually trained at that pace for short runs like a 5K."
Not only would I like to meet the goals I have set for myself, but I would also like to maintain a decent level of fitness throughout the remainder of my life. For my father, the demands of working long days and raising three more sons have not afforded him that opportunity.
For me, the only detriment to a steady routine of exercise is the anxiety I feel when I don't run. Exercise anxiety is a real thing and I experience it regularly. It's hard to focus on school while I'm sitting in class thinking about pounding out miles through the hilly streets of Asheville.
In a study published in Perspectives in Public Health, researchers at Bournemouth University in England found distance runners frequently experience exercise dependence, also referred to as compulsive exercise.
According to the study, "Some participants continued to exercise despite significant injury and experienced feelings of guilt and anxiety when prevented from running."
Despite the feeling that I probably have a stress fracture in my foot and although I always have homework that needs attending to, I will avoid both of those in order to quell the constant nagging in my head from having not worked out that day.
Don't get me wrong, I am not an uber-fit, world-class athlete, but the psychology of this phenomenon is applicable to the casual runner as well. Despite the negative aspects, the study also points out the benefits of maintaining an exercise routine.
Many respondents in the study reported running helped them deal with the various stressors in their lives. There is evidence that exercise affects the brain like antidepressants and also reduces anxiety.
Whether you throw yourself into an exercise routine full-force or go for a few long walks every week, the feeling of accomplishment and mental boost is enough for me to try to compel you to do so. I can attest to the extremely positive effects it can have, but you don't have to take my word for it; go try it for yourself.