by: Sheldon Schenck – Staff Writer – [email protected]
A food psychology expert spoke to students and community members about the common misconceptions in our culture regarding healthy living. Paul Rozin, a psychology professor at University of Pennsylvania and an expert in the psychology of food, addressed these concerns in his speech on campus on Sept. 25.
Rozin, with the help of his son, spent the past years researching the underlying issues behind our nation's problems with obesity.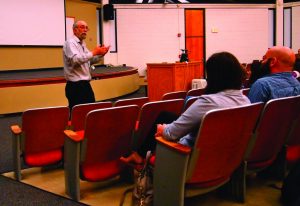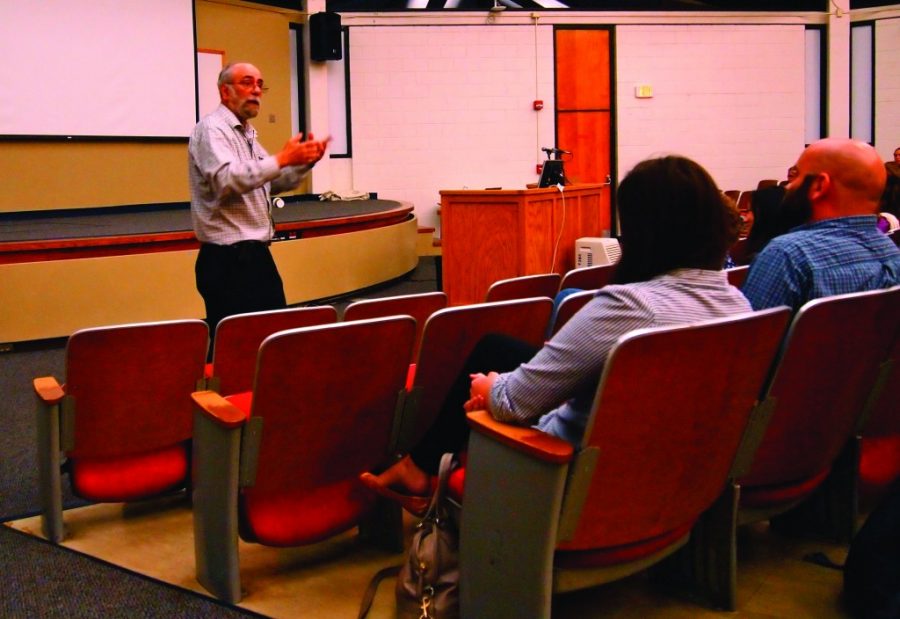 "Dr. Rozin is well known for doing research that may not be the most popular or the most mainstream," said Jacob Wisnoski, a senior psychology student and the president of Club Psych, who helped sponsor this event. "So, I was hoping that people would get a chance to see how even research topics that aren't generally considered to be important can have huge implications for society."
Rozin's research looks into how our society could be so obsessed with being skinny, yet be so incredibly overweight at the same time.
"I think we get conflicting messages in this culture," said Keith Ray, the chair and associate professor of health and wellness at UNC Asheville. "On the one hand, we get the message that if you're thin, then you'll be attractive and respected. Then at the same time, we're bombarded with opportunities to take in more calories than our bodies need."
Rozin conducted surveys that found 57 percent of American women said they are concerned about their weight, while 13.5 percent of females saying they are embarrassed to buy a chocolate bar. Rozin also noted the obesity rate in the U.S. is 32 percent, while the obesity rate in European nations is generally much lower, noting France's obesity rate of 16 percent.
"One of the approaches I've taken to this problem is to think of the problem as a cultural problem, rather than as an individual control problem," Rozin said.
Rozin explained the French are able to enjoy eating "fatty" foods while staying healthy at the same time because portion control is more engraved into their society.
"The single thing is they eat less, and they eat less because they're served less," Rozin said. "We tried to measure what the French eat. We actually went into the restaurants and weighed it. When you order the same things in France, you get less food. How much you eat is how much is in front of you."
Ray said it is important to be conscious of nutrient density in portions.
"Certainly if we consume smaller portions of the same foods we're going to get less calories, and as a result of getting less calories we're going to be less overweight and obese," Ray said. "That doesn't necessarily address the issue of a country that's not only over-fed, but undernourished. There is the issue of the nutrient density in food."
Rozin said he was perplexed with Americans' fear of foods with fat, as only a small percentage of fats in food are stored by the body.
"Pepperoni pizza, one of the classic 'bad' foods, is not a bad food. It's OK," Rozin said. "The countries that eat more fat live longer. Your body makes fat all the time. People don't know much about fat. They think fat is bad. It's good."
Physical activity also plays a significant role in the health of individuals, according to Ray. He said physical activity needs to become a larger part of our culture, just as eating less does.
"In my view, we have to make it as normal in this culture to be physically active as we move through our days. That has to be normal," Ray said. "For many Americans, it's normal to wake up in the morning and brush our teeth. We need to shape a culture such that one of the things that's normal to do during a physical day is to go for a walk, or do something that's physically active."
Rozin also addressed an idea that he says serves as a common misconception in our society. He said the idea of natural foods being the best for you is wrong.
"People think natural is great," Rozin said. "Nature isn't bad, nature isn't good, nature just is. Natural isn't regulated, so people can just say that anything is natural."
Rozin said many natural foods are high in sugar and fat, and it is still healthy to eat them. He said he could not comprehend why Americans seek out the most unnatural products in order to cut down on fat and calories.
"There's no such thing as skim milk in the world. That's as unnatural as you can get," Rozin said. "People believe that this natural food pervades everything. When you like something, you only think everything good about it."
The natural food trend proves to be especially popular in this area, according to Manny Rivers, an Asheville resident who attended Rozin's lecture.
"I do tend to buy organic and natural foods," Rivers said. "I do think that plays a role in my nutrition."
Rozin addressed the local food movement, saying its growth is highly beneficial, and he has hopes for it to soon influence the large food industry.
"Asheville is a wonderful example. I was hunting for fast food, and you have little of that. That's part of the local food movement. It's fixing the world, and it's going to take a lot of work," Rozin said. "We're not going to do this without the food industry. They don't want people to be fat. They just want to make money. They have no interest in fatness. It is possible to get food food on a large scale."
Although Rozin praised Asheville's local food movement, Wisnoski said he knows there is still work to be done.
"I believe that it is very important to re-mold culture and habits towards a healthier society," Wisnoski said. "However, I also understand that habits are hard to break, and to re-mold on a cultural scale is even harder, so changes will take time. We have to educate people that it will be a gradual process and will rely on everyone chipping in if it's (going) to be effective."
Ray agreed the habits we have formed will take some of time and effort to end.
"It's hard to change life long habits," Ray said. "It takes time. A great example we have of shaping norms in this culture is the history of tobacco use and smoking. Part of that shift has come from education, part has come from policy change and part has come from reshaping norms."