UNC Asheville's campus breeds creativity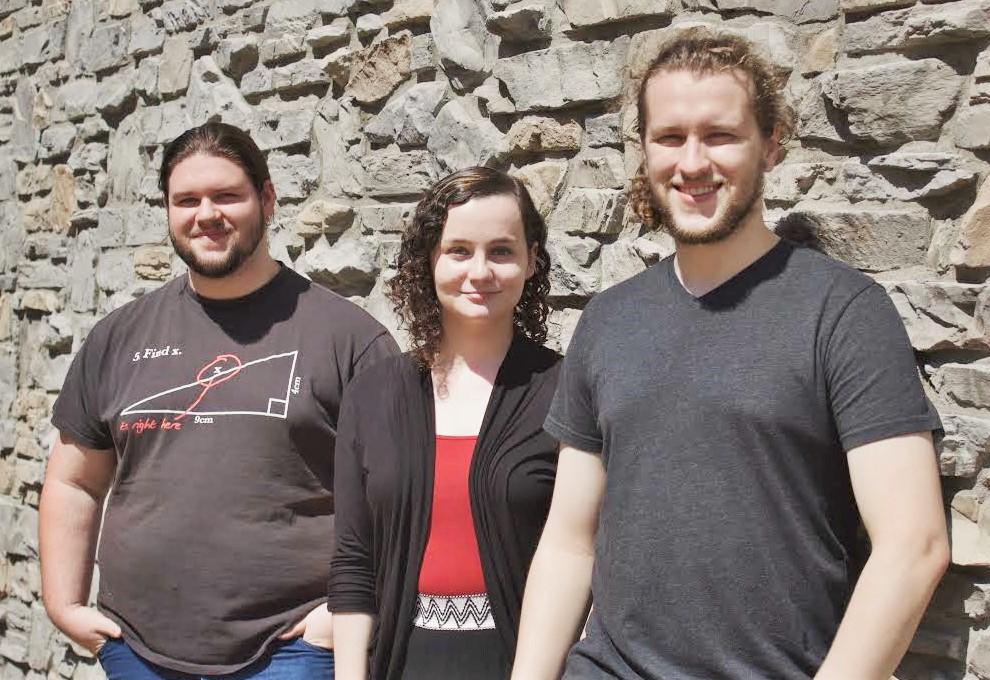 Nick Baynard
A&F Staff Writer
[email protected]
Several students who met at UNC Asheville formed a band called Silicon Soldiers and recently released an album called "Ich Bin Die Maschine," translated from German into English as "I Am The Machine."
The group met during their freshman year and quickly realized they should form a band.
"I met Alan [Hardison] at pre-rendezblue about two years ago when we were just starting out here and we became instant best buddies," said 20-year-old Nick Cameron of Ashton, Maryland. "Then we met Maddie [Crow] a bit later and we decided that we should start a band."
The trio consists of senior Nick Cameron on guitar and lead vocals, Maddie Crow on percussion, keyboard and vocals and Alan Hardison on bass and vocals.
Silicon Soldiers first called themselves the Mathmagicians and played in Highsmith Student Union under that name, but changed the name to Silicon Soldiers shortly thereafter.
Cameron said the name came to him in a dream during his freshman year.
"I remember it, it was my first week here and I was drifting off to sleep and the phrase 'standing side by side like silicon soldiers' ran through my mind," Cameron said. "We were wanting to change our name and I suggested Silicon Soldiers."
Cameron comes from a musical family and has experience in singing and playing the guitar.
"I've had vocal lessons for ten years now so that's what I have the most experience with," Cameron said. "I picked up the bass and the guitar in early high school and I got proficient at guitar during high school."
Crow also sings and plays a variety of instruments including drums, percussion and the keyboard.
"I have played piano on and off since I was about 4 years old or so and I started playing drums in middle school," said 20-year-old Maddie Crow, a junior from Huntersville. "In middle school there was a guy named Carl who put bands together with people who were taking lessons from him and it gave me a lot of good band experience."
Hardison plays bass and guitar and is the only musical member of his family.
"I've worn a lot of hats musically. I started out playing the violin in elementary school then in middle school I picked up the trombone which I've been playing off and on for years now," said 20-year-old Alan Hardison, a junior from Farmville.. "I got my first bass during my freshman year of high school and never looked back."
Silicon Soldiers describe themselves as being an alternative and indie rock band with elements of math rock .
Silicon Soldiers are celebrating the release of their debut album which came out on July 7.
"We've been recording it for the last year and a half, or over the last 3 semesters and everything was recorded in Lipinsky studio," Cameron said.
The members of the band agree the process of recording an album was a positive experience overall.
"Everybody was chill and really great to work with," Hardison said. "I feel like we made some good friendships and definitely some good professional relationships."
Silicon Soldiers recorded "Ich Bin Die Maschine" as a group, which is a bold move because when the band plays together everybody has to play their parts perfectly.
"It takes at least ten hours to record one song," said Crow. "And it's really hard to fit drums through a doorway."
The Silicon Soldiers will play live at the Block Off Biltmore in downtown Asheville on Sept. 16 at 8 p.m.
"We'll play our whole album except "Periodic Fable" because that song is really weird and hard to play," Cameron said.