Being biracial shaped who I am, despite the struggle
R. Gray
Opinion Staff Writer
[email protected]
Being biracial is difficult in a world that likes to segregate people into very specific categories, especially when it comes to race and culture.
For me, being biracial has been complicated. My father is American and my mother is South Korean. Unlike a lot of people, I have had the benefit of both sides of my family supporting me and the benefit of experiencing both cultures. Even with these advantages, I struggle with my identity between these two sides of myself often.
The hardest part of being biracial is the feeling of never belonging to either culture. I either feel  not Korean enough, or not American enough. While I was born in the United States, my family moved to Korea when I was seven and I spent around six years there.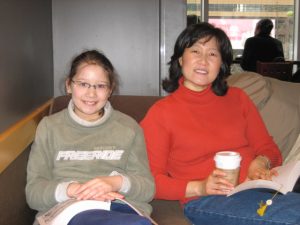 While I was there, I felt out of place, unable to communicate properly or make connections. Moving back to the states, I felt much the same. While English is my first language, finding someone who shares the same experiences as me is almost impossible.
I am very lucky to be in the familial situation I am in. Many biracial people, including friends of mine, are either disconnected from one half of their heritage or are rejected by half of their extended family. Many people struggle with their identity, figuring out where they stand in relation to the world around them and the families they come from. That's without taking whether or not someone is white-passing or not into account.
Even with the support of my family, I end up asking myself if I am "American enough" or "Korean enough." I still have days where the dissonance between who I am and who I feel like I ought to be when it comes to where I stand in regards to either culture. Even so, I could not imagine life without being this way. It has shaped who I am and I am better for it.
For the longest time, I did not know where I fit in. It was like having one foot in both worlds. I was influenced by both cultures so much that I did not fit in perfectly with either. I came to embrace my duality, knowing these two sides of me are important and that they don't necessarily need to be separate. I am just as American as I am Korean and I do not have to fit myself into one category or the other. I am whole, not two separate halves.