Asheville buskers discuss life on the road
Jonathan Price
Photography Staff
[email protected]

It's a warm summer afternoon as Abby Roach, known nationally as "The Spoon Lady," sits down at her desk at WPVM 103.7 FM to host her weekly radio broadcast.
She is only in her mid-thirties, but looks as though she has seen a lifetime of hardship, being a traveling busker for the majority of her adult life. Roach is a veteran of the American busking community, but decided to stop traveling, at least for a while and begin working with fellow buskers passing through Asheville.
According to Roach, she is the last known idiophonist in North America and one of the last known Appalachian-style spoon players in the world.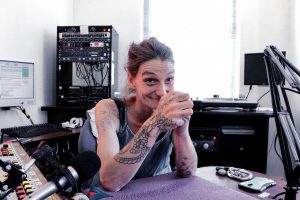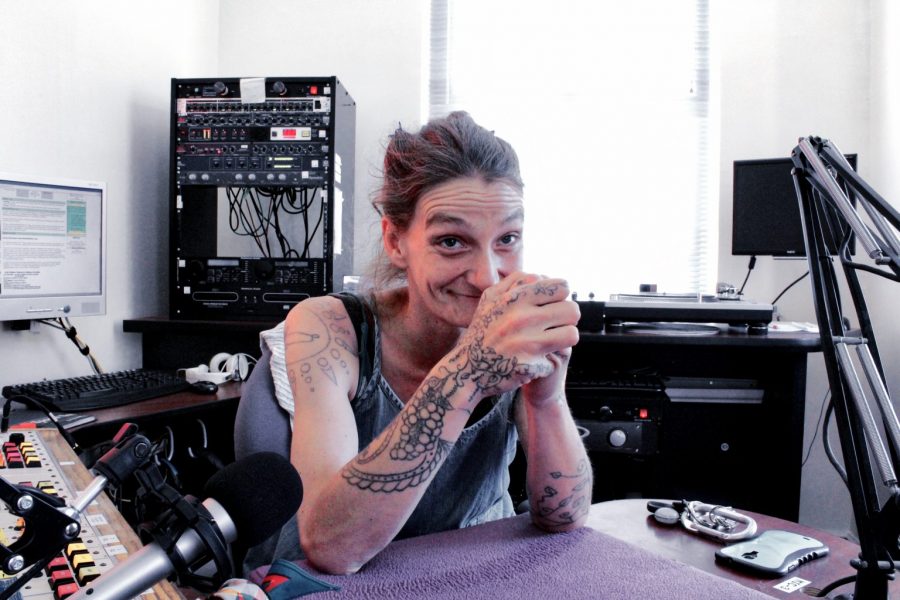 She readies herself for her weekly radio broadcast, where she interviews and plays music given to her by buskers and artists from all over the country.
"Ya know, Caesar had busking laws in place several thousand years before Asheville City Council," Roach said.
She is the leader of the Asheville Busker's Collective and an activist for keeping busking alive in the ever-changing tourist climate of downtown Asheville.
Roach grew up in Omaha, Nebraska, where she learned to play spoons as a child before leaving to travel the country and perform on the streets.
She soon started to hop freight trains, traveling over every part of the contiguous 48 states. By the end of 2012, Roach busked in every major U.S. city.
She eventually settled down in Asheville, where her love of local mountain music and traditional folk songs felt most at home, but she is not the only local street performer to travel as extensively as she has.
"Most of the street performers that come to Asheville — about 75 to 80 percent of them are not from here," Roach said. "They're not even from North Carolina usually and they don't usually stay long."
Many of the "drifters" passing through Asheville depend on the tip money they receive from busking to keep from becoming homeless. According to an article published in the Asheville Citizen-Times in September 2015, many of them have been targets for police activity since the tourist economy began to take hold between 2007 to 2009. Many of these people have resorted to busking in order not to starve.
Chase Holliday, a 32-year-old mandolin player and busker from Greenville, South Carolina, knows exactly how desperation can drive people to do whatever it takes to earn a meal. He sat down and talked over coffee and cigarettes between his sets with the Cricket Creek Gypsies on WPVM 103.7 FM.
"I started busking because I was hungry," Holliday said. "Nothin' will make you work like you will when you need food and I was starving."

Ordinances and laws are currently being written by the Asheville City Council to restrict and discourage buskers, limiting the times and places where they can perform, as well as requiring permits, according to an article published by the New York Times in May of 2015. In part, this is due to the narrow nature of sidewalks around downtown areas. The sidewalks, which are now being filled with tourists every spring through autumn, make the flow of foot traffic around downtown cumbersome once buskers are involved.
According to Abby Roach, some petitions by the Asheville Busker's Collective were shot down initially, but are now being reconsidered.
Downtown Asheville is suffering from a capacity problem. Between new luxury hotels rising on all sides of Pack Square, to high-rise apartments skyrocketing rent and running many of the old tenants out of the inner city, the sidewalks have become even more crowded than before. According to both Roach and city council meetings, sidewalk expansion has not been seriously talked about for the downtown area, where narrow sidewalks mixed with heavy street traffic has put pedestrians in danger of serious injury.
Asheville City Council approved in a 2013 bill to extend sidewalks in south Asheville — an area with considerably less foot traffic or congestion issues.
To Abby and many other buskers who have spent a great deal of time playing the streets in downtown Asheville, it seems as though sidewalk expansion is the only quick answer to both the complaints of the city and the needs of the musicians.
"There comes a point where the sidewalks are so crowded that you're not going to make any more money, because people simply can't even get to you to tip you," Roach said. "People don't even realize the politics of public space usage until you're forced to work it out."
Joe Longobardi is a 43-year-old street photographer from Boston, who began documenting the street performances in Asheville about 20 years ago. Longobardi said he has seen how the busking environment in downtown has died out and wanted to show how a community of buskers in the city has practically gone extinct. He brought a portfolio of his work to a local coffee shop, where he displayed his body of work of downtown Asheville which went back decades.
"I've been photographing the street performers in Asheville for well over a decade and I have seen how things have changed," Longobardi said. "I've documented it all and I wanted you to understand who things have dramatically died down over the past five years in particular."
Longobardi produced a book from a manila folder. Inside were hundreds of pictures of street performers, musicians and other entertainers performing in downtown Asheville over the past 20 years.
"There used to be dozens of live statue acts, hundreds of busking bands, parades of all kinds snaking through the city," Longobardi said. "You don't have that anymore."
They seemed like ghosts. Photographs of people who could never quite exist in the Asheville of today. According to Longobardi, over 80 percent of those photographed have left and never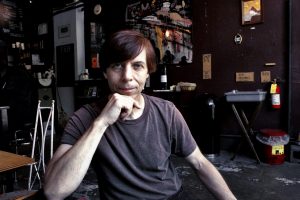 returned.
Longobardi's disposition is similar to that of others who mourn the loss of the many street performers. They proclaim the attitude of the city is changing to something more corporate and much less cultural. For those performers who are left, Longobardi has learned their own unwritten rules of conduct from spending many days and nights on the streets with them and has learned how the buskers are policed.
"If it's after 6 o'clock and you're not by the iron, the intersection of Haywood and College, or at Pack Square, the police may round you up," Longobardi said.
With all of these changes being made to create a tourist-friendly city, buskers have somehow remained a concrete part of the cityscape, toughing out whatever restrictions have been made by local authorities.

"Spoon Lady" Abby Roach speaks on the Asheville busking situation below