Larisa Karr
News Editor
[email protected]
A man stands eagerly at the front of the crowd pumping his fist up in the air, mouth open in glee with a grin seemingly expanding beyond the limits of his face.
The air is crisp and chilly outside as cigarette smoke filters in and out through the doorways of Asheville Music Hall.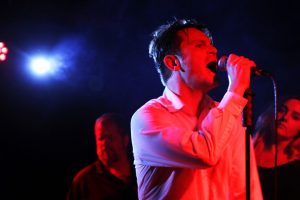 The band onstage HmfO has launched into their set of tunes dedicated to two of the most dynamic singers from the era of bell-bottoms and funk music: Hall and Oates.
"I love a Hall and Oates cover band," said the man, Cabell Brand. "My parents used to listen to them while I was growing up, so they have a nostalgic value. They're just super fun to listen to."
Surprise initially ensued upon walking into the venue and seeing the performers. It would seem appropriate or at least stereotypical that a band performing songs from 40 years ago would be baby-boomers trying to recapture the notes of their youth.
But no, the group for the most part is young and fresh, the lead singer bedecked in hip shades, a blazer and enough energy to send the crowd into a state of beer-drenched glee.
You almost would not have guessed the audience was there to see another band. It's true. Cover bands tend to get a bad rep for being copy-cats and un-original. But Start Making Sense is another story.
After waiting for what seemed like a good half hour, the crowd becomes antsy with anticipation. It turns out to be quite a surprise as a small group of people clustered near the front of the stage ascend and take their places. It turns out HmfO and Start Making Sense are the same musicians.

Having transformed from t-shirts adorned with the slogan  "legalize cocaine" to all black, the group of performers looks serious and attentive as they slip into the roles of capturing one of the nerdiest, cerebral bands of all time.
The quirkiness is completely embodied in lead singer Jon Braun. Bedecked in a tan suit and white sneakers, Braun throws himself into the role of eccentric singer David Byrne right from the first note of the band's iconic ditty "Psycho Killer."
The crowd responds with uproarious energy, perhaps a little too much. Brand could be seen grinning equally as enthusiastic as he was during the previous set. There was an older gentlemen who came directly up to the stage and practically shoved his phone into the faces of the musicians, even making the audience members uncomfortable.
There's also the issue of beer-spilling. Lots and lots of spilled beer.
Indeed, it seems that it is inevitable at every Start Making Sense show, there are always inconsiderate dancers completely nonchalant about flinging their cheap PBRs at unfortunate lingerers. There must be something about the off-kilter music of the New York-based band that makes people completely oblivious to the fact fellow concert-goers do not enjoy leaving music venues dressed in a cheap, sticky mess.
The enthusiasm generated for such an evening is understandable as the cult status of the band that once rocked CBGB long and hard for the 70s has risen as the decades have passed.
Start Making Sense is the closest die-hard fans of David Byrne and company will ever get to hearing "Life During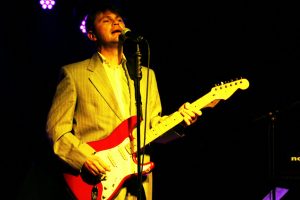 Wartime" and "And She Was" live.
The band's set was impressively long and Braun was appreciative of the crowd's dedication. "Thank you for being in this for the long haul with us," he shouted in a spot-on imitation of Byrne's shrill, alert voice.  
Braun's imitation of Byrne was spot on. Removing his blazer from time to time, he ran in place along with the other guitarist and Jenny, the female vocalist. He threw himself onto the floor, pushed his hair back into a mohawk-like style and swayed his knees back and forth throughout the nearly two-hour long set. He had undoubtedly spent hours and hours analyzing and practicing the movements, eye contact and dance.
The audience noticed Braun's extensive research and impressive imitation of the astute frontman.
"We love the Talking Heads," said Jen Radford, a screen printer's assistant originally from California. "I thought the band interpreted them very well."
It seemed like the audience, comprised of many different age groups, used the opportunity to get the remnants of Halloween celebration out of their system. There were people dressed as cats, granola-freak hippies and older, placid baby-boomers.
As the fuchsia, gold and sky blue lights circulated in chandelier-like motion throughout the cluster of people, people began tangoing and swirling in consistent circles to the thumping disco-beats and rancorous guitar solos.
Braun seemed to really love the crowd and the opportunity to perform in the city. After the show, standing outside puffing on a cigarette, he expressed appreciation for having the chance to perform in Western North Carolina.
"I've been in Asheville before because I have been a part of a million different bands in two years," Braun said. "We had been trying to get here for a long time and it finally happened."