Kansas Bible Company embraces growth and change on latest album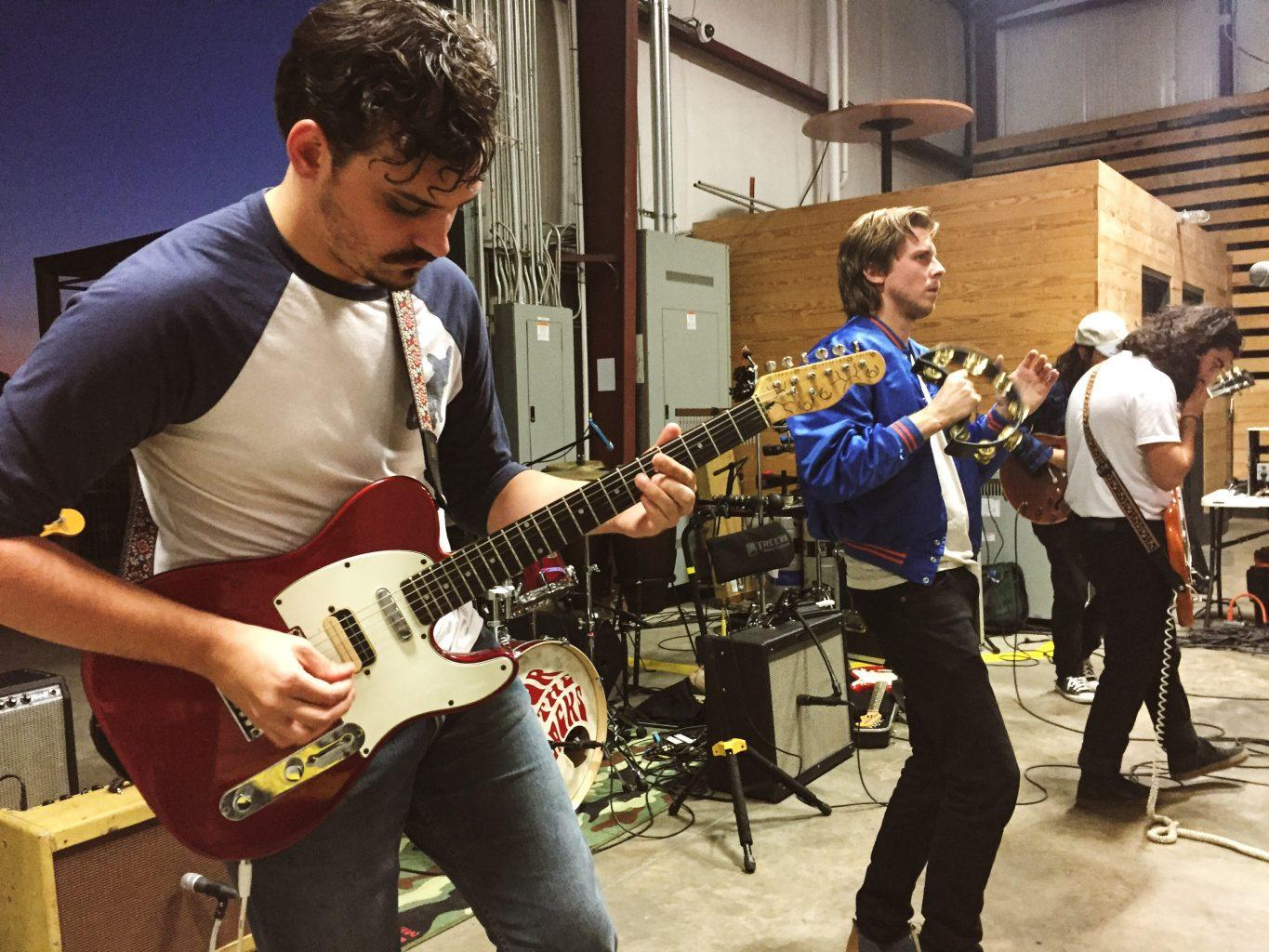 Karrigan Monk
A&F Staff Writer
[email protected]
Album Review
The soft build-up to the guitar riff followed by the fast beats of a drum and a vibrant horn opens Kansas Bible Company's newest album Paper Moon, released in June. The opening track "Ty Segall" is high-energy, perfect for jumping and dancing along to at their shows.
Paper Moon is the band's first full-length release since 2012's Hotel Chicamauga. The newest album was titled as a homage to the 1973 film of the same name. The film also happens to be where the band's name originates.
In many ways this new album is the grown-up version of their 2012 effort. The horns sprinkled throughout Hotel Chicamauga come out in full force and take center stage in Paper Moon.
For the first time, the band was able to take time off from their day jobs to do nothing but write and record this album. This is an album of growing and changing, a direct reflection of the band.
Kansas Bible Company originally started out as 11 guys making music together at Goshen College in Goshen, Indiana. Eventually they decided to try to make a profession out of it and uprooted themselves, landing in Nashville where they all lived together in a single house.
Through the years, members would come and go, eventually coalescing into the current lineup of eight members. During the recording of Paper Moon, some members left. One of the members got married. Only a few still live together.
For such a transitional point in their lives, Kansas Bible Company still managed to produce a tight, seamless album that conveys this change. "Dark July," the fifth track on the album croons a lyric perfectly capturing this record: "Everything keeps changing. Why can't I?"
Although "Dark July" is rather melancholic, the track immediately following it "Teen Dream USA" is slightly more upbeat and yet still contains the same themes: a contemplation of change and a slight hurt by it. The lyric, "Don't you know when you get older baby and going home, it feels so strange," sung in a Bowie-esque way, is the climax of the song, leading into a pulsating horn sequence. The lyric hurts in a nostalgic way, and the horns give time to contemplate this hurt.
Although a few of the early songs on the record are upbeat, the overall tone is one of nostalgia, confusion and contemplation. "Green Door Morning" is perhaps the most reflective of these themes. With lyrics urging listeners everything is going to be OK and get better along with a haunting horn section. This tune is perhaps the most positive. Though still in this liminal state of confusion and change, this is the acknowledgement it will not last forever and better days are coming. It is a reminder things are not as bleak as they may seem.
One of the band's biggest influences is The Beatles, an influence which can be clearly heard on this record. Many of the harmonies are reminiscent of early Beatles and the experimentation that characterized albums like Sgt. Pepper's Lonely Hearts Club Band can be heard throughout the tracks.
Overall Paper Moon although much darker than Hotel Chicamauga is also better both lyrically and sonically. Paper Moon shows the results of a growing group of people. While many bands may become stagnant when they find a sound they like, Kansas Bible Company has not only used the sound they found in Hotel Chicamauga, they have cultivated it into something better.
Kansas Bible Company is a growing and evolving band. The final notes of "Summer Seance" leave listeners waiting for the next release from these psychedelic, horn-infused rockers.
Band Q&A
Can you tell me a little about the history of the band and how it got started?
Michael: It started with a fairly large group of us — about 11 people — in college in Goshen, Indiana. Let's see…  In like 2010, 2011. We had all been playing together for a few years and kind of decided to join all the forces together in a big band and started playing and taking it more seriously. Most of us moved down to Nashville, Tennessee. Relocated down there as just a better location to pursue music more professionally, I guess, to take it seriously. So we've been doing that and making records and touring a lot the last five years or so.
Where'd you get the name?
Michael: The name is from an old movie called Paper Moon from 1973 and that's what we named our most recent album after.
What are your musical influences?
Nathan: It's kind of all over the board. Probably the common ground, the 60s psychedelia Beatles, the Stones, The Kinks.
Michael: Yeah, we all kind of write collectively, so a lot of the influences kind of come out in weird ways. Everyone's individual influences come out differently, but it's pretty all over the map, but Beatles, Kinks, Rolling Stones, Pink Floyd, psychedelic rock was kind of the direction we were going for with this last album.
How many people are in the band now?
Michael: For the most part, eight people functionally as far as touring. Tonight we're six. The number kind of fluctuates depending on the tour. But as far as dedicated people who are doing it still, there's eight of us.
What's the songwriting process like? Do one of you write or is it a group effort?
Nathan: It differs from song to song. For this last album it was a lot more song-based. For the album we did before, Hotel Chicamauga, we kind of all wrote together at the same time. This last album was more individual. Somebody came up with a song and they had it all laid out, all the parts together and then we came in and people put their own individual parts, but the song itself was there.
Michael: But with the arrangements musically it's a very collaborative effort and we kind of work together as much as we can to build the songs, but generally they start from one of several people who write a lot of songs in the band.
I was talking to someone at Baby Robot and they mentioned a commune-esque living situation, so can you talk a little about that?
Nathan: Well, when we first moved down to Nashville all 11 of us lived in the same house and it was a really crappy and run-down house, but we fixed it up and made it livable and we all lived together there for a while and it was very commune-esque. Since then we've kind of —
Michael: — branched out.
Nathan: Yeah, gone our own ways. There's three of us that still live together but Mikey's married now so we're moving on with our lives, but it definitely surfaced from that initial move to Nashville.
Do you think that helped you become closer as a band?
Michael: Oh yeah.
Nathan: Definitely.
Michael: Living together and making music together almost every night, yeah. We were all close friends before that, but through that we kind of became a big family. We still have that element to a degree now.
Nathan: It's more on the road now. We get enough of each other on the road so we go our separate ways when we get back home.
Do you have a favorite moment from being in the band?
Michael: I would say making our last album Paper Moon was just a really fun experience. Getting to work in a nice studio with a good producer and really just spend a lot of dedicated time focused only on making the record.
Nathan: It's nice because in this day and age with a band of our level, we have to have our own day jobs and what not, but during those weeks of recording we took off work and that was our day job. We went in really early in the morning and went to bed really late at night, just playing in the studio.
What are your day jobs?
Nathan: I work on a farm, an organic farm right outside of Nashville.
Michael: I smoke meat and cook at a barbeque restaurant. Some of the other guys do construction kind of stuff, flooring. One of the guys drives for Lyft. Things like that. It's kind of whatever we can do for a sustained amount of time that will give us the amount of time off we've had to tour. Some of us have jumped around jobs a little bit.
How did this album differ from the others recording?
Michael: I say this one we really just wanted to focus on good songwriting and arranging. and strive for a bit more of a classic kind of pop sensibility with the songwriting specifically and just making a good sounding record. Put a lot of energy into that and I think we did that for the most part.
Do you have a favorite song the band has written?
Nathan: I'd say off the new album my favorite recording is "Summer Séance." It's the last track and we had the free reign to experiment and that was really fun. My favorite song would be "Beverly."
If you could only listen to one record the rest of your life what would it be?
Michael: I would go with Low by David Bowie.
Nathan: Sgt. Peppers.
Anything else you'd like to add?
Michael: Just looking forward to playing in Asheville, getting to hang out here. I love it here.