Larisa Karr
News Editor
[email protected] 
Over the weekend, the eyes of the world turned to Washington, D.C. for the inauguration of Donald Trump and the massive protests that followed.
People gathered from all over the country to witness the event, many in support, many in opposition.
"I came here because I'm absolutely appalled at the outcome of the recent election," said 37-year-old Emma Briant, a professor at George Washington University. "It's extremely frightening times and I think we all need to pull together and make a very, very public and strong statement about the fact that we're not going to be standing for the kind of changes that President-elect Trump wants to bring in."
Trump supporters huddled together under the cold, overcast D.C. sky, joking with each other, smiles on their faces continuously as they waited for the line to the security checkpoint to move forward.
For Robert Bell, a 37-year-old registered nurse, the excitement toward the new president was bolstered by the sense of patriotism he helped to foster.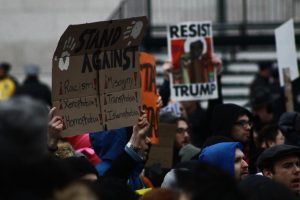 "I identify with most that I find somebody that makes me feel proud to be American again and is proud of this country," Bell said. "I think for too long the people have empowered presidents that have had a small disdain for America and what they do. They believe that America was corrupt and evil on its founding and Trump turns that around to a positive that we were not."
Once inside the gates, there were a bevy of rallies available for both dissenter and supporter alike. Down the road from the White House, on Pennsylvania Avenue, Black Lives Matter and indigenous rights activists gathered together for hours to lead protests against the new president.
"I think this is how you welcome somebody who was not elected by the popular vote into office," said 37-year-old Dana Blanchard, an employee at an independent book publisher. "He's against everything that most people believe in."
One of the common themes nearly unanimous in Trump supporters, however, was the sense of unity amongst Americans they believed he was capable of eliciting.
Steve Pawlak, a 46-year-old graphic artist, was earnest to express this sentiment.
"This is a historic event, the peaceful transfer of power," Pawlak said. "This is democracy. This is patriotism. How could I be this close and not attend? I think this is an incredible opportunity for the United States to come together." 

The cries of protesters grew louder throughout the afternoon, especially when it came time for Trump's official speech accepting the presidency. In an almost-Orwellian-like scenario, the patriotic and religious inaugural address the new president bestowed upon the nation overwhelmed the roar of the protesters through huge speakers positioned up and down Pennsylvania Avenue.
The following day, a coming-together of unprecedented proportions converged on the nation's capital and in cities throughout the world. Over 500,000 people, men and women alike, converged on Washington, with more than a million amongst the globe gathering to support the massive protest taking place in the US.
A huge crowd gathering was also reported in Asheville, with the numbers of participants estimated around 10,000 people.
The march was important for a variety of reasons, as it focused primarily on feminist themes, with many females donning "nasty woman" shirts, lambasting Donald Trump's insult to Hillary Clinton and pink cat, aka "pussy" hats.
It was noticeable, however, that other rights and causes were not addressed. From Black Lives Matter to intersectional feminism to immigration rights, the noticeable lack of diversity of support behind other movements was jarring. In particular, the crowd was mainly composed of white women, many of whom had never come out to a protest before. There were, however, several men who came out in support of the event, which created a semi-diverse dynamic throughout the march.
Robert Jones, a 43-year-old financial consultant from Milford, Connecticut, was one such individual.
"I think we got kind of spoiled in the past eight years and now, based on what we've seen in the new president, there's a lot of things that we took for granted that maybe we can't take for granted anymore, such as women's rights," Jones said.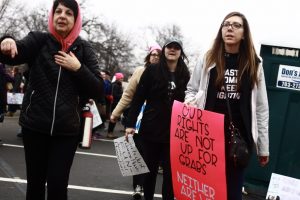 The following day, it was reported that Trump was "visibly outraged" by the amount of people who took to the streets protesting his presidency, stating on Twitter, "Watched protests yesterday but was under the impression that we just had an election! Why didn't these people vote? Celebs hurt cause badly."
Crowd scientists at Manchester Metropolitan University in Britain reported there were as many as three times the amount of people who attended the Women's March than there were at the inauguration, which provoked the now-notorious "alternative facts" statement by Counselor to the president Kellyanne Conway claiming the media was twisting the truth about the numbers.
The participants of the March, however, remain eager to keep the momentum going and put up a fight.
"I'm just glad to see so many women that are here letting the world know that we don't want to put up with a man like Mr. Trump," said Cinthy M. Wilcox, a 62-year-old computer programmer from Jefferson City, Missouri. "We don't like his values. We want to make sure that our elected representatives know that we are out here and we're willing to do this and possibly vote them out if they don't respect us better."