Sarah Shadburne
Arts & Features
[email protected] 
Every human experience translates into memory, but for UNC Asheville alumna artist Sally Garner, memories translate best into gallery-filling installations of shimmery black VHS tape.
Her current installation Rewound deals with the distortion of memories represented by crocheting VHS tapes as a metaphor for the human desire to replay memories in order to hold onto the past, according to her artist statement.
"When we don't have something anymore it's like a little void that we try to fill," Garner said. "When you hold onto the past in your mind, it's kind of like popping the VHS tape back in and rewinding it to your favorite part."
Garner explores her feelings toward the death of her grandmother and her desire to honor her memory in Rewound.

"It's been three years since my grandmother passed," Garner said. "I don't remember a lot of things. I really wish we had made more home movies. I want to see her in action."
Her grandmother was diagnosed with amyotrophic lateral sclerosis (ALS), a disorder affecting an estimated 20,000 Americans at any given time, according to the ALS Association.
"My grandmother was deteriorating and I was struggling with that, realizing she wasn't going to be around much longer," Garner said.
ALS compromises nerve and muscle function, making daily tasks increasingly challenging for patients with the disorder, according to the ALS Association.
"Her grandmother's death was big for her in her life," said Brent Skidmore, associate professor of art at UNCA and mentor to Garner. "When I met her she was recovering from that experience."
Though her work deals with the fragility of memories, Garner said her use of VHS tape represents strength and the repetitive nature of crocheting illustrates the building of that strength.
"Crocheting itself is such a strengthening fabric," Garner said. "You are interlocking them to create a denser material, and so that itself makes it stronger. It's very airy and floats. It seems delicate but it's not, so I like that about it."
Skidmore met Garner during her time as a student at UNCA during the 2011-2012 school year.
"She had to be challenged constantly about her concept because her concept and material choices were quite temporal," Skidmore said. "They didn't always quite fit to things made out of wood, steel or anything like that."
Skidmore never had a problem vouching for the work Garner did during her time as a student because of her self-motivation and humble insight.
"There have been a lot of meaningful student shows, but that was way on the top of the list there, as far as the transformation of space," Skidmore said of her senior thesis show in Highsmith Student Union, Rewind and Press Play.
Garner toyed with her concept of VHS crocheting for several years, changing the name of the installation as the project evolved.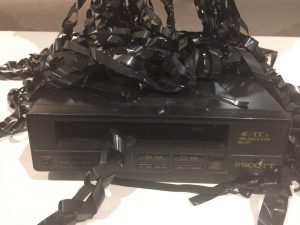 She takes a particular interest in the way humans remember and often distort memories by adding details. Garner said she connects most with distortions that occur when trying to describe events as she gets farther away from them, finding herself creating the memory at times.
"I hold onto things, but I also try really hard to hold onto all the good stuff, too," Garner said. "That's what makes me question, because I don't think I remember everything, but I try so hard."
Jeb Hedgecock, a 21-year-old art student at UNCA saw Rewind and Press Play in 2013 when Garner graduated. He notes some interesting changes from then and now.
"When I look at her work, when you realize it's videotape and dealing with handling memories, everyone fabricates it the way they want," Hedgecock said. "People like hearing what they want to hear. People like remembering what they want to remember."

Hedgecock likens the concept to describing a fight after it ends, and how a person will usually add details to make their opponent seem more devious than they were in reality.
"There's a lot of beautiful things about memories," Garner said. "It's something that keeps us close to whatever we find dear to us."
Rewound will be on display in the second floor gallery of Owen Hall, weekdays until Feb. 17.