Ink of the Week – Eva Hill
Karrigan Monk
Assistant Arts and Features Editor
[email protected]
Eva Hill
Sophomore health and wellness student from Winston-Salem
What tattoos do you have?
I have seven. I got this spiral one at the end of my summer camp because we all had to sign this contract before we go into summer camp saying we can't get anymore tattoos or piercings, so at the end of camp we all go and get a tattoo and piercing because summer's over.
My first was on my tricep. It's three triangles and they just represent the elements of nature. Since I'm a camp counselor it kind of goes hand-in-hand.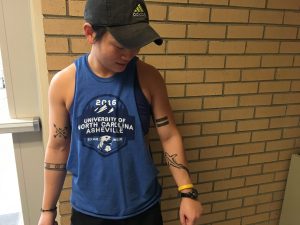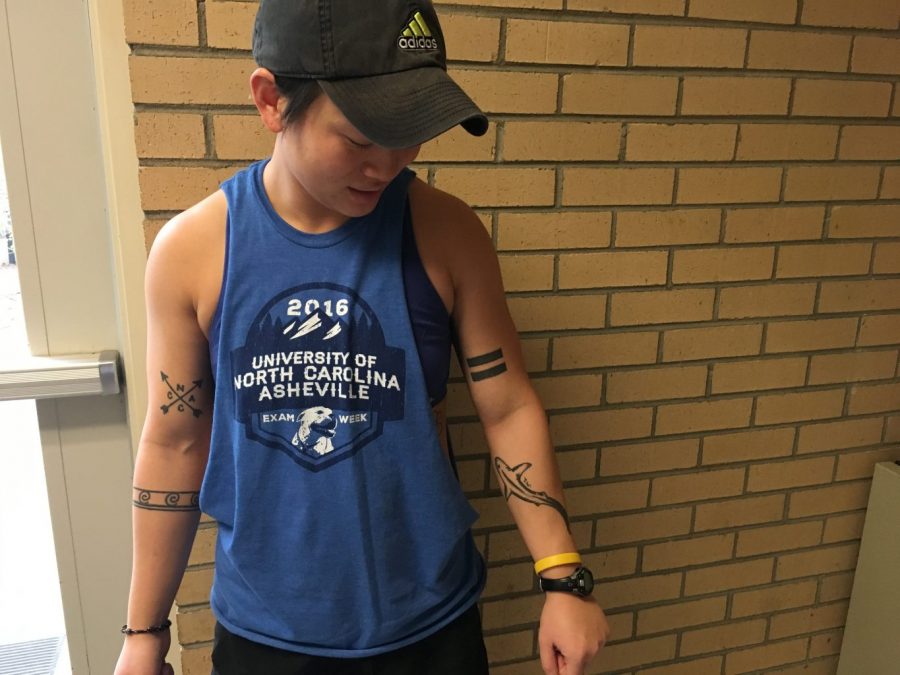 I have an equality sign. I got it before it (gay marriage) was legalized. I got it for personal reasons.
On my other bicep I have arrows that cross and they say 'North Carolina' and 'California' because a huge part of my life is California but I grew up here and I was raised in North Carolina. I definitely plan to go to grad school and move to California when I'm done with school.
I have a sun because, it's kind of a joke, I have seasonal mood disorder so when the sun's not shining I'm extremely grumpy. The sun means a lot to me.
I have two shark tattoos because sharks are my favorite animals by far. One is a nurse shark and I got it my freshman year at Empire which is the first time I got a tattoo not at my typical shop, Golden Spiral, which is in Greensboro. I got this other one that says, "the strong survive." This one is probably my favorite of all my tattoos.
I have a clover because I dated an Irish girl, so, you know.

I love it. What was your experience getting them like?
I got my first tattoo at 17 because I had my mom's permission. She thought it was going to be an inch and it turned out each triangle was an inch. She's very liberal and very "your body, your choice." I liked the wow factor. Everyone was like, "You're 17 and you already have a tattoo?" It's just like a badass type of thing.
Do you regret any of them?

No. Everyone's biggest fear for me was that I was going to end up regretting them because I'm really indecisive, but I like them. People say they really flow together on my body. I haven't regretted them. I mean, maybe the clover a little bit, but no one ever sees it. I don't even see it.

Are you still dating her?
No. She went back to Ireland. I don't see her, she's on a different continent. I met her at camp because it's 50 percent international and 50 percent American.

What camp is it?
It's a Girl Scout camp outside of Greensboro. That was my third year on staff.

Do you have any plans to get any more?
I actually do. I want the outline of California and inside of it, it has the major points like the Golden Gate and Yosemite National Park because me and my family hike there all the time. We try to go every summer at least. On the side it says "all my love" in my grandmother's handwriting.

What advice do you have for someone getting a tattoo for the first time?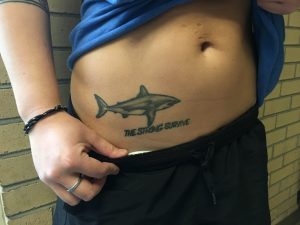 You just gotta do it. Don't think about it. Your friends can pitch in, but they're going to screw you over. If you want it, get it. It's on your body, it's your choice. Don't think too hard. It's not like they're permanent anymore. You can get laser removal which isn't even that expensive. It'll be more expensive than the tattoo itself, but you're suffering the extra pain that's about it.
If you would like your tattoo featured, email [email protected]