Karrigan Monk
Assistant Arts and Features Editor
[email protected]

Ashlee McMahan
Junior biology and neuroscience student from Bryson City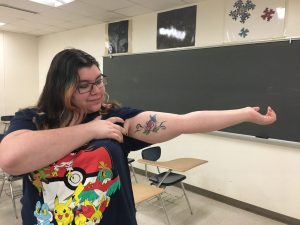 What tattoos do you have?
I have eight.

Do they have any specific meaning?
The butterfly and the rose was the first one I got and it was a Christmas gift from one of my friends from high school. When I was in elementary school, this same person would say, "Whenever you see a butterfly it means someone's thinking about you." I got this to help me remember everyone that has passed.
The second one, which is a little heart, was three days after my first one. It's actually a matching tattoo with one of my best friends from high school.
The honesty and love infinity tattoos are matching tattoos with another of my friends from high school.
The one on my hip that's the heart made of the words, each one of those words means something special to me so they're there to help me get through everything.
I also have quotes on my ribs. I fell in love with the quotes when I was a freshman in high school. I was just like, "I wanna get 'em." So I finally ended up getting them.
I have a star and moon on the back of my shoulder that was a stick and poke. One of my best friend's was going through a rough time so I just let her give me a tattoo.

Wow. How did the stick and poke differ from your experience getting the others?
The stick and poke differed because it didn't feel like needles constantly going in you. It was just a little poke and a second later another one. It was just more spread out and took a longer time.

What would you say to someone getting a tattoo for the first time?
As long as it means something to them. There are some people who get tattoos and instantly regret it. I feel like getting a tattoo means every time you see that tattoo you think about the experiences that went with it and what that meant to you.