Maggie Haddock
Assistant news editor
[email protected]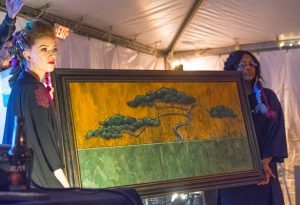 The brisk Saturday night in the nearly deserted village in the River Arts District has a peculiar glow and rhythm among the grounds. The new Wedge Brewery at Foundation resembles a bohemian Gatsby party gathered at the brewery for lavish drinks, live entertainment and the chance to win art from local artists, all for a good cause.
"There's this voice in my head when I get up every morning that says, 'I don't have to do this.' I'm really privileged and grateful that I don't have to come into what we do. I get to do this. We all get to do what we're doing tonight," said Jen Ramming, executive director for OpenDoors of Asheville.
OpenDoors of Asheville, a nonprofit organization which helps children in multi-generational poverty overcome their hardships, hosted a gala, Art Affair 2017: Urban Canvas, to raise money for their organization. OpenDoors currently reaches more than 800 children in the Asheville area, training teachers and connecting with tutors and mentors in order to help guide children in poverty to a better future, Ramming said.
"It's not about an individual kid, it's not about an individual school. A rising tide lifts all boats," Ramming said. "I just want to make sure you all think about that tonight as we bid for the cause, as we support over 100 artists who donated tonight. One hundred percent of the proceeds go to the kids."
OpenDoors recognizes an outstanding member of the community and presents them with the Laureate of the Year at Art Affair. Beth Walton, a journalist at Citizen-Times, received the Laureate of the Year in honor of her work covering poverty in Western North Carolina.
"I felt that people were often talking about poverty in Western North Carolina and using a lot of stereotypes and sort of simplifying the issue," Walton said. "So what I wanted to do was write a bunch of stories about poverty in Western North Carolina to show that the opposite is true, to humanize people who are living in poverty and to show just how hard it is to move out of poverty. Things from child care all the way to transportation make a huge difference."
Art Affair, which centers around the art auction, attracted 420 eager participants, Ramming said. The scene appears quite contrary to those whom the organization supports. The black tie event brought out Asheville's best dressed and biggest spenders. The Wedge Brewery filled with laughter and excitement throughout the night as participants drank plenty of champagne and tossed their auction numbers in the air as the art from Asheville artists rose in price.
"I think it's really cool. OpenDoors — it's a charity — so it definitely helps out a lot of people and this is one of the ways that they raise money," said Emma Rasco, a volunteer for the gala.
Artists from the Asheville area donated their art and attended the event in support of the organization.
"It's also promoting a lot of local artists which is a really cool idea and it generates a lot of funds for the organization, so it's important," said Abbey End, an assistant of mobile bidding for the gala.
Donating local artists, such as Megan Kelly, work with the children in OpenDoors, helping them learn about art and creativity.
"With OpenDoors, I work with the young girls in the program and collaborated with them on the pieces that are inside that they worked on as well. It's been a really great experience," Kelly said.
Kelly noted the location of Art Affair, which sits in an up and coming section of the River Arts District on Foundry Street, adds to the renovations the area has seen recently.
"I'm familiar with this area of town because I've painted here before, like the murals that are surrounding here," Kelly said. "To see it from what it was then to seeing businesses open up here, it's really changing the dynamic of the neighborhood in a really cool way."
For OpenDoors staff and board members, it was a teary night. The organization has helped children continue through school and guide them into a steady life. Eric Howard, advocacy committee chair, noted his involvement in the organization and the success harvested from the students involved.
"I've dedicated my life to social work and education and I'm very proud of that. I see some of my students that I had in the past, I see their younger siblings that are participating in this program," Howard said.
The evening proved to be successful with thousands of dollars spent by the philanthropic participants who bought the donated art. Ramming showed her gratitude toward those who attended and toward those she works for on a daily basis.
"It is an honor to serve the kids that we get to serve and it makes our whole community stronger," Ramming said.