Karrigan Monk
Assistant Arts and Features Editor
[email protected]
A black car with tinted windows drives onto UNC Asheville's campus Tuesday evening. The back of the car sports a Pennsylvania license plate. The personalized IZOMBIE plate could be that of any horror fan.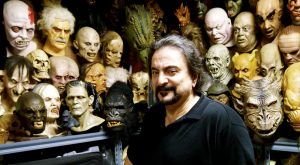 The man who steps out of the car is not an ordinary horror fan, he is Tom Savini, the "Godfather of Gore." He has come to campus to speak on his decades-spanning career in special effects, stunts, acting and directing.
His illustrious career began when he first saw Lon Chaney's Man of a Thousand Faces at age 11.
"Before that, when I saw movies I thought the monsters were real. Frankenstein was real, Wolfman was real. That's why they were so scary," Savini said. "That showed me that somebody creates them and from that day on I decided I was going to be one of the guys that creates the monsters."
After this, the young Savini practiced makeup on himself and eventually his friends. Over time, he learned to perfect the craft.
Three years after his first foray into special effects, a traveling show came to his hometown, Pittsburgh. The show featured a magician as well as a "live" Frankenstein, Dracula and Wolfman.
When Savini went to see the show, he realized the actors playing Frankenstein and Wolfman never went out to the audience to scare them, they simply went backstage. Dracula was not an actor at all, but a child picked from the audience. Savini said this made him mad and went back to the show and made sure he was picked to play Dracula.
"I sneaked out in the front row. They didn't see me. When it was my time to appear, I jumped up and spread my cape and the whole theatre went back in horror. They saw that and said, 'This kid is good.' So they no longer picked a kid out of the audience, I traveled with them. That was my first job," Savini said. "They paid me in chocolate milkshakes and silver dollars. I was Dracula in this traveling stage show going from movie theatre to movie theatre and that's when I started to be interested in magic."
Now a card-carrying member of the Magic Castle in Los Angeles, Savini said he thinks of makeup effects as magic tricks because they fool audiences in the same way a magician does.
Savini continued to perfect his makeup effects into adulthood until he was sent to Vietnam as a combat photographer.
After the war, Savini spent most of the '70s in Fayetteville where he spent eight years doing theatre. He refers to the time as one of the best in his life and still makes the trip back at least once a year to have a Mexican dinner with his friends. Savini said the area is like a second home to him.
Savini's official career began with the 1974 film Deathdream. Savini said he only got the opportunity to do the film because he had his portfolio in his car when he met the right person to give it to. Over 40 years later, Savini has not stopped working after giving his portfolio to a man he met in a bar.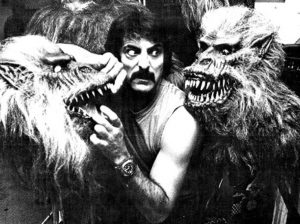 Constantly keeping an updated portfolio is something Savini urges his students to do at his school, Tom Savini's Special Makeup Effects Program.
The school, which offers a 16-month degree program, is in Pittsburgh. Many of Savini's past students have gone on to compete in and win the television show Face Off, an accomplishment he takes great pride in.
Over the years, Savini has seen a change in how special effects are done. CGI has taken a lot of the physical effort out of special effects and while some make-up artists have a profound dislike for it, Savini sees the use for it and said he even loves it when it is done well.
Before CGI, Savini said films would hire amputees in order to create effects of limbs being ripped off. Today, the limbs can simply be removed using CGI.
Despite advancements in technology, Savini said his years in the film industry have ruined his movie watching experience because he can always tell when something was not done right.
"It used to be I could dissociate with what was going on. It's tough," Savini said. "Everything was real. I wish I could see a movie again through the eyes of an 8-year-old child. Everything is real and you believe every second of it."
Despite being known for his work in horror, Savini said his favorite movies are love stories. His most recent favorite is Academy Award nominated La La Land.
"The idea behind the whole caring for somebody so much to live your life with that person, we can all relate to that," Savini said. "I'm a sucker for a good love story. Listen, I cried when E.T. died or left the planet and it's a puppet. I get involved."
As someone who has made a career of scaring other people, it is hard to imagine Savini being afraid of anything. In fact, there are only two things that scare him: spiders and razorblades.
Savini's latest project, officially announced Tuesday morning, is the Pinhead Experience in which he has designed a face for Doug Bradley to wear during an experience that allows fans to move through a set to find him. Different from a normal photo op, this experience completely immerses the fans. The first time it will be done is at Mad Monster Party in Phoenix.
Savini continues to attend conventions and events like the one held in the Humanities Lecture Hall Tuesday night. Staying for over two hours, Savini answered questions until there were no more left to answer.
One fan, Lindsey Yow, waited eagerly in line after the session to get an autograph and meet her hero.
"I love Dawn of the Dead. I actually already have a poster signed by George Romero and I'm hoping to get him on here, too," Yow said. "I'm also an artist and he's an inspiration to me."
Unlike Yow, UNCA computer science student Jarrett Lefler was not a fan of Savini, simply because he had never seen any of his movies.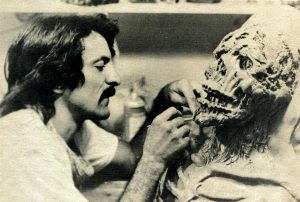 "It was interesting hearing about where he got the inspiration from the characters and where he learned to do this sort of thing," Lefler said. "I never thought about how people who do this kind of stuff used to make-up their friends when they were kids. I always thought they just sort of waited until they got to school to do it."
Savini pointed to two people he has worked with in the past as inspiring him to always be kind to his fans: George Romero and George Clooney. Romero, no matter how bad he is feeling, always treats every person with kindness and respect, Savini said. Savini described Clooney as the nicest man he has ever met.
While telling stories of the two, Savini urged the audience to remember to be nice to everyone because it does not take a lot of effort to be nice.
When Savini is not working on films or at conventions, he is teaching his grandchildren how to do the effects and play jokes on his family. He said he plays so many jokes someday something terrible is going to happen to him and no one is going to believe him.
The way Savini makes jokes of his job points to how much he loves it. He said nothing he has ever done is difficult because he has the mindset that it is fun. Creating is what Savini loves to do and he describes his creations as his children.
"They come out of my warped brain. Your point of view is based on your experiences watching a gazillion horror movies and learning about different makeup effects and just incorporate that all," Savini said. "That's not fair because there are a lot of people who do that but the imagination isn't there. I think it begins with a magician's imagination."