Remembering Rocky
Audra Goforth
Managing Editor
[email protected]
It did not matter whether you were walking to class or cheering at a sporting event, Rocky the Bulldog was always happy to greet you. From slobbery kisses to adorable costumes, Rocky made each UNC Asheville event special.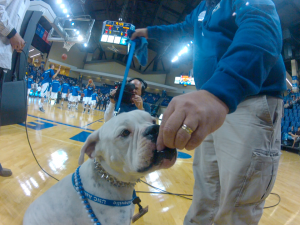 Rocky was a Victorian Bulldog rescued by alumni Ed and Alexis Johnson. In 2009 Rocky became UNCA's live mascot, making his first appearance in The Blue Banner during that year. Rocky attended homecomings, convocation, sporting events, orientations and graduations — all while bringing smiles to the faces of students and faculty.
UNCA's four-legged friend passed away during the last weekend in March of 2016 and is greatly missed. A dogwood tree was planted in April of last year in his honor. Students, faculty, staff and alumni all share their memories of Rocky in hopes the happiness he brought forth will live on.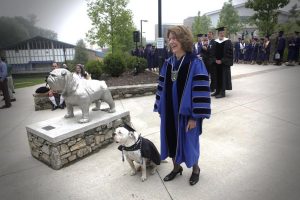 Letter From Ed Johnson
"One of our favorite stories about Rocky is also the first story: Alexis and I had been searching for a suitable rescue dog for some time. Ideally we wanted to find him locally, but given our strict requirements on breed, temperament, appearance, etc., we understood that would be difficult. After some time and widening of our online search we found a Victorian bulldog in a foster home in Conyers, Georgia, named Rebel. We called the caretakers and set a meeting date. On a sweltering summer Saturday we made the nearly four hour drive to meet Rebel. We were firm in our resolve that if we felt ANY trepidation about his temperament we would go home without him.
The foster family had a large, fenced-in backyard and three dogs, including Rebel, who had the run of the yard and the house. As we approached the back gate, Rebel was the first to greet us. We interacted with him for a few minutes through the fence. The other two dogs quickly lost interest but he could not get enough of the new people. There was not a second of aggressive behavior. When we entered the backyard he repeatedly jumped on us and nearly knocked Alexis over several times. He desperately wanted attention, but he had no manners. The foster family was not good with training or discipline. While we spoke with them in the house shortly thereafter, Rebel ran repeatedly in a giant loop that circled the yard, through the kitchen, into the living room, up on the couch as a spot to change momentum and direction then back out to start again. Simply put he was a wild animal, but I knew that we could train him because he longed for attention.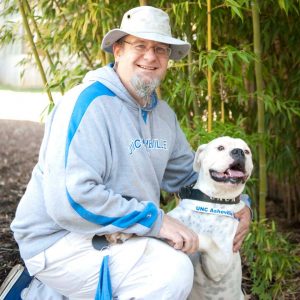 Of course we agreed to take him home. We let him jump in the back seat of our Acura and pulled away as neighborhood kids waved goodbye and the foster family cried a little. The drive home was laughably horrible. The entire trip he wanted in the front of the car and he was not taking no for an answer. We struggled the entire time to keep him in the back seat. I finally settled on driving with my left hand while my right arm was hooked behind the passenger seat headrest. Alexis ran interference, stopping attempts to go around the seats or my blockade, and occasionally letting me rest my arm. By the time we got home my right arm and shirt sleeve and shoulder were encrusted with drool. He panted the whole ride from the exertion of fighting us.
While on the way home we decided that we would name him after Odysseus' dog. The public knew him as "Rocky!" but to us and our friends he was Argos. He never met a stranger, and I have never known another dog who thrived so much on attention as Argos. It seems miraculous that we found each other.
We miss him dearly."