Pokey LaFarge returns to Asheville with Manic Revelations
Erika Williams
editor-in-chief
[email protected]

Celebrated American-roots musician, Pokey LaFarge, had humble beginnings in Asheville — busking on the streets near the Thomas Wolfe Auditorium.
"I wouldn't be where I am today if it wasn't for Asheville," LaFarge said.
It was here he met his soon-to-be bandmates, The South City Three, while hitchhiking across the country as a street performer.
"I had gone to Asheville to learn old-time fiddle, to be close to the mountains, and to find new ways to get into trouble," he said.
Earlier this year, he took the title of top male, western swing musician at the Ameripolitan Music Awards. Now, following the release of his new album, Manic Revelations, LaFarge swings back into the city this Sunday.
A combination of blues, ragtime, folk and other American-roots forms lace together the tracks of Manic Revelations with a vivid image of the Midwest and the American South. Sounds in this album are more clean-cut than in LaFarge's prior work, but do not falter from a gritty portrayal of reality. The range and fluidity of styles serve to make each song a unique facet of the whole story.
"This album has different grooves, not as much swing. Heavier drums and heavier bass," LaFarge said of Manic Revelations. "People might say I changed my style, but change is good. Change is essential, and with songs, it just happens."
Though LaFarge has masterfully bridled aspects of the genre in his music, a reluctance to call it "old-timey" would not be unnatural, as something within the tunes' sincere lyrics reverberate with striking relatability to the contemporary soul. While the often lively music evokes imaginative nostalgia, the words may call listeners to reflect on the present.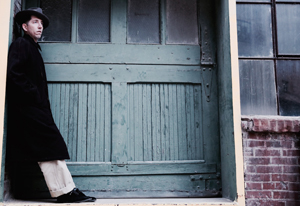 Some songs, like "Riot in the Streets," explicitly comment on current issues, while others draw from day-to-day experiences and thought. LaFarge notes the impossibility of being unaffected by ongoing events as an artist, accentuating that no song could fully escape the influence of the world around him.
"This album was written as Trump was becoming president, and that naturally made it into the songs," he said.
The track, "Silent Movie," speaks to the relentless amount of over-stimulation LaFarge witnessed during this time — especially through social media, he said. Its chorus advises listeners to "cover your ears and watch the world go by."
The St. Louis-based musician said he aims to make headway in conveying a sense of hopelessness in his music.
"I don't want to interject anger. I just want to make it sound as beautiful as possible," he said.
While capturing the hopelessness he has either witnessed or experienced, much of the album simultaneously enlivens with a variety of pace.
To the students of UNC Asheville, LaFarge said, "Say yes to life. Keep playing, even if it is not musically, keep playing."
Pokey LaFarge will perform at the Grey Eagle, accompanied by Lillie Mae. The doors open at 7:00 p.m.