Breaking down the process: NC slated to have even larger brewery expansion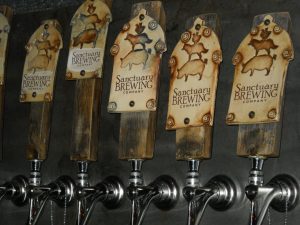 By Emma Shock
A&F Staff writer
[email protected]
North Carolina brewers need laws to match their growing pace as demand froths over their glasses.
House Bill 500 would modernize the Alcoholic Beverage Control Commission laws with changes such as authorizing tastings during brewery tours, allowing home brewers to participate in exhibitions and competitions and allowing sampling during production for sensory analysis and quality control, according to the North Carolina General Assembly.
"The local representative for Henderson County is Chuck McGrady, and he's the one who actually wrote the legislation. There's a number of different arms of the legislation, but the major one is they're raising the cap from 25,000 barrels, and a barrel is 31 gallons, so that would be 775,000 gallons per year," said Joe Dinan, head brewer and co-owner of Sanctuary Brewing Company in Hendersonville.
The North Carolina General Assembly deleted the provision of the legislation raising the self-distribution cap from the current 25,000 barrel limit.
Elizabeth Keil, head of marketing and events for Green Man Brewery, said breweries fall into a bracket based on their beer production. Their bracket has them selling their beer to a third-party distributor, Budweiser of Asheville, who purchases their beer and delivers it to various locations.
"They're regularly changing the brackets and it has to do with lobbyists from certain groups," Keil said.
The North Carolina Beer and Wine Wholesalers Association, whose members include Budweiser of Asheville, has become one of the most prominent lobbyists against the passing of this bill.
"I think our country is based on capitalism and if you develop a product you should be able to distribute it at your own discretion. You should not be limited by others," said Jarvis Roberts, head brewer and owner of York Chester Brewing Company in Belmont.
Roberts said even though legislators turned down the proposal of raising the self-distribution cap, passing the revised version of House Bill 500 would still greatly benefit North Carolina's breweries and provide some room for growth.

"It would open the doors for smaller companies to get their products into more places. It would also employ more North Carolinians," Roberts said.
Local breweries bottle originality with their brews
Walking along the streets of downtown Asheville, people travel effortlessly from the industrial atmosphere of Twin Leaf Brewery to the colored brick of Green Man Brewery to the rustic charm of Burial Beer Company.
"The thing that's interesting about Asheville is that it is full of a lot of very passionate people. There are people here that have been passionate about beer for a long time, much before it was the popular thing," Keil said.
John Stuart, the original brewer, began Green Man Brewery as a brewpub in downtown Asheville.
"We were the only brewery, and as the community around us has popped up with all these breweries, we've really done our best to be a resource for them," Keil said. "In that way, they've also kept us fresh, teaching us new things."
Keil said she knows people do not come to Asheville only for Green Man, but for the beer from the area's many breweries.
"It is a community here and competition is not a word that I would necessarily use, not because other breweries don't have great beer, but because we are all working together in creating an environment people want to come visit," Keil said.
North Carolina has the largest number of craft breweries in the South. More than 203 breweries and brewpubs exist in the state. Asheville alone houses at least 20 breweries, reports the North Carolina Craft Brewers Guild.
"The more breweries that open make this area a stronger destination. It really puts this region on the map," Dinan said.
Dinan said the legislation also helps this region, as well as the entire state of North Carolina, establish its name in the burgeoning craft beer market.
"States like Colorado, Oregon and California — the ones you really associate with craft beer, the big dogs in the industry — have either no limits or very high limits, so this is going to put us in that upper level with some of those states," Dinan said.
Dinan and his partner, Lisa McDonald, opened Sanctuary Brewing Company in June 2015.
"For years, I was commuting to work at a bartending job in Asheville and then at a brewery to brew and do work in a cellar. We kept saying, 'Why isn't there another brewery downtown?'" Dinan said. "After years of saying that and I had gained a bit more experience, we thought, 'Why don't we be that brewery?'"
Their relationships with other local breweries helped them establish a place in the community and gain more recognition in the thriving market.
"When you're opening up any kind of bar, especially a brewery, it's so much work and there are so many unknowns that go into it. When we first opened, we didn't have a keg washer and a brewery up the street let us use their keg washer. It's kind of a fraternity," Dinan said.
Dinan receives text messages and phone calls all week from people arranging new, collaborative events.
"Collaboration is one of those things that really comes down to the right people getting in the right room and talking at the right time," Keil said. "It doesn't make a difference between a huge brewery or a small brewery."
Keil said a great collaboration does not always have to happen between breweries. It can also happen between breweries and the distributors helping disperse their beer.
"We have a distributor for every region that we sell our beer in. We have a different distributor in South Carolina, a different distributor in Athens versus a distributor in Savannah and that is how our beer gets to market," Keil said.
Corporate breweries clink glasses with locals
According to the North Carolina Craft Brewers Guild, more than 50 new breweries plan to open in North Carolina in 2017 and beyond. Oskar Blues Brewery, Sierra Nevada and New Belgium recently expanded to the state.
New Belgium began 26 years ago in Fort Collins, Colorado. The brewery opened its second location in Asheville in 2016. Susanne Hackett, who handles communications for the brewery, said the community was an important factor.
"Our Asheville location allows us to become a national brewery and ship beer to the East Coast with a smaller footprint than if we shipped to the East Coast from Colorado. We have always held a strong commitment to and adoration for community, coworkers and the environment. We sought out and selected a like-minded community," Hackett said.
Although New Belgium only recently established itself in North Carolina, it already collaborates with a number of local breweries.
"The brewing community is tight knit and we have a lot of communication and friendships amidst the breweries. We even have a bowling rivalry," Hackett said.
Hackett said New Belgium, one of the largest craft breweries in the country, focuses on its relationships with distributors, such as MillerCoors and Anheuser-Busch, equally as much as its relationships with other breweries.
"Although self-distribution provides a more personal connection and greater sense of independence, your relationships with distributors allow you to reach a wider audience with your product," Hackett said.
Emerging breweries craft new hops
Reports from the National Beer Wholesalers Association found new breweries continue to find growth opportunities in the beer market. Since 2009, more than 7 percent of the market has shifted from larger brewers and importers to smaller brewers and importers.
Matt Addis and Jonathan Myers opened one of Asheville's newest breweries, Habitat Brewing Company, in 2015.
"Matt started brewing in Portland, Oregon, a number of years ago with friends and found a deep love and passion for brewing. Other paths in life just didn't seem to give Matt the kind of energy he was looking for and he decided to pursue this passion and make a business out of it," Myers said.
Habitat developed many friendships and partnerships with breweries in the area. They recently brewed their first collaboration beer with Sanctuary and One World.
"At first, there is of course some level of anxiety due to the high quality the competition presents. There is also tremendous opportunity because Asheville is a beer town that will support local craft beer. Ultimately, we felt comfortable that we would find a niche in the market and thrive," Myers said.
Like Myers and Addis, Roberts also felt some concern opening his location because as a nanobrewery, he operates on a much smaller level compared to other breweries in his area while also being new.
Both Habitat and York Chester's sizes allow them to handle their own sales and distributions without the involvement of a third-party distributor. They said House Bill 500 still matters because it will affect them eventually and affects their friends in the industry now.
"It is a big deal for breweries like your Wicked Weeds, your Hi-Wires, the guys who are much more established and larger in the industry," Dinan said.
Dinan said while North Carolina provides many opportunities for smaller breweries developing a name in the industry, passing this bill could greatly increase those already existing and create new ones.  
"It's always hard to say what the impact will be before a change goes into effect. Because once one element changes, it will impact another area that might be unforeseen," Myers said. "That being said, the increased autonomy when it comes to sales and distribution will help smaller breweries become sustainable more quickly, produce at a pace more comfortable to the brewer  and hopefully create and keep employees in house longer."
Attempts to speak with Chuck McGrady, primary sponsor of House Bill 500, Tim Kent, executive director of the North Carolina Beer and Wine Wholesalers Association, and Wicked Weed, who recently sold to Anheuser-Busch, were unsuccessful.