UNCA student draws attention to Irma damage in the U.S. Virgin Islands
Erika Williams
Editor-in-chief
[email protected]

While a majority of media coverage surrounding Hurricane Irma suggested the storm would hit the U.S. early last Saturday, one UNC Asheville student is working to shed a light on the devastating reality — it already had.  
"My mom lost everything that she wasn't carrying with her," said Taylor Barrett, a 22-year-old mathematics student at UNCA. 
Barrett moved to the U.S. Virgin Islands about five years ago, followed by her mother. She has spent that time traveling between the island of St. Thomas and Asheville, working toward her undergraduate degree on the mainland and a captain's license on the island.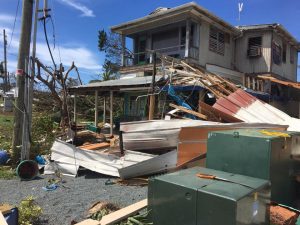 Since Irma swept through St. Thomas, Barrett said she has maintained little contact with her mother who, during their last conversation, said her surroundings looked like a nuclear war zone. Still, Barrett has not been able to communicate with her business partner to determine the state of the Airbnb she owns on the island.  
Those with friends and family members on the island scrambled to make contact after the storm hit, but most cell towers are still down. Despite a district-wide power outage in St. Thomas and St. John, reported by the Virgin Islands Water and Power Authority, many turned to Facebook in hopes of making contact.
"The St. Thomas community page was chaos and disorganized so I felt like I could try and fix that by creating a form and spreadsheet where people could report if they had heard from someone; their location, health and shelter status," Barrett said. "Basically, I was going crazy having not heard from the majority of my island family — still haven't heard from a lot."
Along with providing this spreadsheet, Barrett said she has been making dozens of calls a day to friends and family of those on the island. She is working to help them locate loved ones, call in emergency services for the injured and to make sure their areas are safe. She has received an influx of photographs depicting dilapidated hospitals, submerged boats and houses damaged beyond repair.
Barrett said she is appalled by the lack of media coverage regarding the impact of Irma on the U.S. Virgin Islands. She discussed the issue on MTV News last Friday, and hopes to bring attention to the horrific aftermath of the hurricane faced by U.S. Territories.
"My island needs help and people need to be made aware that the Virgin Islands are in fact part of the United States," Barrett said. "Schools say the pledge of allegiance, we have a representative in congress. We need aid and we need for people to know about us. I am so worried about the safety of my family."
She said many territories of the U.S. such as Puerto Rico, St. Thomas, St. John and St. Croix are being forgotten by the general public.
"I needed to do something for my family, so I did and will most likely be withdrawing from college for the semester to go help rebuild my island." Barrett was surprised to find a GoFundMe created to support her travel back to St. Thomas, made by Rudy Beharrysingh, Director of the Parsons Math Lab at UNCA.

"Taylor Barrett is from U.S., VI and is a brilliant math student at UNC Asheville, plus a great math tutor for our math lab. Irma has devastated her family's property in St. Thomas, leaving her mother with only the clothes on her back," said Beharrysingh in his GoFundMe post. "Hopefully these funds will pay for a ticket and help her with this process."
The page raised about $700 as of late Saturday.
Barrett encourages students and staff to donate items and funds to nonprofits helping to provide relief on the island.
Donations can be made here.