Further to Fly embodies the journey of aspiring local artists
Emma Shock 
A&F Staff Writer
[email protected] 

Chalk drawings and messages, both faded and fresh, trace their paths along the brick walls and pavement leading to the open doors of Southern Appalachian Brewery. Patrons, familiar and new, wander from the crisp night outside to the soft light within.
The melodies of harmonizing vocalists, electric bassists and lively percussionists weave through the crowd.
The empowering melodies belong to Further to Fly.
Vocalist Karen Corn and vocalist and guitarist Adam Herbst formed their band in 2013 with bassist Brent Fleury and percussionist Tyler Wedge.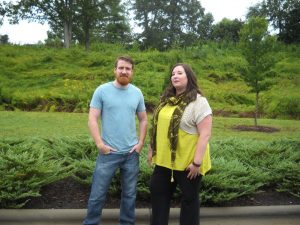 "I met Karen 10 years ago, 10 or 11 years ago," Herbst said. "We met at an open mic night and kind of hit it off. We had similar likes in music and started playing together, basically. That's kind of our start a little bit."
Although growing up on opposite ends of the East Coast, both Corn and Herbst's childhoods strummed similar chords of desire, passion and appreciation for playing music.  
Born into the coastal colonialism of Rhode Island, Corn began training her voice as a child with the hymns at her church. At the age of 11, Corn and her family relocated to Hendersonville, where she continued to nurture her musical inclinations. She joined the choir and also played the flute during her high school career.  
Herbst also grew up in a coastal atmosphere, but traded the maples of Rhode Island for the palms of Florida. Herbst's father guided him toward playing the guitar around 12 years old. He started trying to learn typical three chord country songs and the classic rock notes of Creedence Clearwater Revival.
However, Herbst soon tired of simply learning others' songs and began writing his own at 15 years old. The narrative lyrics on Further to Fly's debut album, Making Wrongs Right, reflect this beginning as well as the other band members' experienced backgrounds.
Percussionist Tyler Wedge became a member of his school's band in the fourth grade. He played snare in the drumline during high school, giving him access to a drum set in the band room until he received his own set in his senior year.
"I've played with multiple bands in Hendersonville and Asheville, but I wasn't playing with any one group at the time when I ran into Karen and our old bass player in front of Tempo Music. They asked me if I would like to audition for drums in their new band and the rest is history," Wedge said.
After recording some demos for Corn and the previous bassist, Brent Fleury auditioned for the job and became a permanent member of the band. Fleury knew he wanted to join a band since the age of 13, when he first listened to Guns N' Roses' debut album, Appetite for Destruction.
"My brother was the one who suggested I play bass, because my parents wouldn't let me have drums. As he put it, there are enough guitarists. If you play bass, then you'll always have a band," Fleury said.
Further to Fly's unique songs and vocal harmonies attracted Fleury to the band's sound.
"We write most of our own songs. We have over 20 original songs and the album we released last year has 10 of our original songs on it," Corn said.  
Further to Fly celebrates the community's supportive and welcoming atmosphere with many performances at local venues. They perform about twice a month at places such as Southern Appalachian Brewery and Sanctuary Brewery in Hendersonville and Blue Ghost Brewing Company in Fletcher.
"We do probably about 70 to 75 percent original songs and then about 25 to 30 percent cover songs to introduce people to our music but still give them something that they associate with in the mix," Corn said of the band's performances.
The band's sound evokes the folk vibes of Americana music while verging more on the rock side because of the inclusion of bass and drums. Corn and Herbst trace their personal and professional musical identities to the influences of other musicians, both past and present.
"For me, some of my favorite artists are Janis Joplin, Etta James and Ella Fitzgerald. I like bands that are fronted by strong women," Corn said.
Any band people go see inspires them in some way, especially as a musician, Herbst said. Most people still get the energy and appreciate everything, but musicians look through a different lens and take different elements away from the show.
"Every show I go to I feel inspired, even locally. I've been inspired by heavy metal. I've been inspired by R&B and rap, not to say that I'm going to be a white rapper, but I like all sorts of stuff," Herbst said. "There's no way I could do that. That would be awful. Don't let me do that."
Many of Corn and Herbst's friends are also active in Hendersonville's music scene, trying to fulfill their musical aspirations through local performances. Some of them, including the band Letters to Abigail, dedicate their time almost completely to pursuing their music.
"The music community in Hendersonville is great because most of the people that play locally will go to each other's shows and will come out to support each other. They give each other a heads up if there's a new place that they should check out to try to play," Corn said.
Corn and Herbst's stories embody the reason people pursue their passions, no matter how daunting or impossible the chances of success seem.
"I'm going to keep playing forever. I'm not going to stop," Herbst said. "I'm not in it just for the fame or anything like that. I think we all just enjoy doing it."
Although the members of Further to Fly work at their jobs full-time and work on their band part-time with practices twice a week, their passion for playing music and aspiration of devoting their time completely to it promise a certain future of continuing to do what they love, whether they succeed widely or not.
"We'll get there," Corn said confidently.