Lydia Loveless rocks The Orange Peel
By Amber Moser
A&F Staff Writer
[email protected]
Red and violet lights illuminate a smoking stage and the people in the crowded Orange Peel cheer as the first note echoes from a guitar, signaling the beginning of the show. The note comes from a pale woman standing center stage, and the leather guitar strap across her torso reads 'Loveless.'
Lydia Loveless is only the opener for popular rock band Drive By Truckers, but the crowd shows no disappointment with this opening act. As Loveless coos her first soft note, a momentary hush seems to befall the crowd. However, once the beat picks up and the band joins in, the screaming begins and even those in the very back do their best to sing along.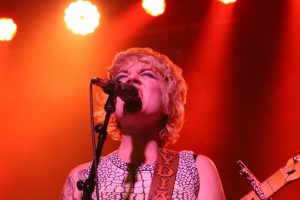 "I never want people to think I'm boring, and I never want people to be uninspired by what I do," Loveless said. "I want to amp people up emotionally."
Born Lydia Ankrom, Loveless is a 27-year-old musical icon who was once known for her part in her family band, Carson Drew. However, when Carson Drew broke up in 2007, Loveless launched straight into her own solo career as Lydia Loveless and never looked back.
Loveless released her first solo album in 2010. Since then, critics have categorized her music into a number of different genres, ranging from rock to honky-tonk.
"I think it's easiest to call it rock 'n' roll with some roots influence," Loveless said about her musical style. "I just hate the term alt-country so much at this point that I don't use it anymore."
While Loveless seems to associate her music more with rock, others like new media student Ellen Smykowski disagree.
"She reminds me of a '90s or early 2000s Reba," Smykowski said. "It's not really my style, but I can dig it."
Despite the debate, Loveless does not particularly care what genre people consider her music to be in as long as it speaks to them.
"Usually my favorite thing is the last thing I recorded. I'm sort of a jerk in that once I've recorded it, I'm sort of over it," Loveless said. "I do hope people enjoy it, though."
Judging by the crowd response at The Orange Peel and the praise of critics and fans, Loveless need not worry about whether or not her material is enjoyable.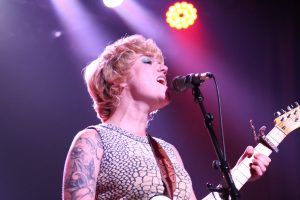 "The song 'Somewhere Else' is a powerfully sad song, but its rock elements give it a good kick," said Zach Diasio, freshman biology student. "Her soulful voice is hard to deny."
Despite her present success, fans are eager to know what the future — and an upcoming album release — holds for Loveless.
"I love recording albums, and I love doing shows. My favorite part of my career is not working a stupid fucking job," Loveless said. "But the stuff I'm writing for the future is a lot darker than anything I've done before. Probably a bit more pop-y and quieter, too. So hopefully people won't be too put off by that."

Lydia Loveless' new album Boy Crazy and Single(s) will be available Oct. 13.