Blue Ridge Pride festival exceeds expectations
Katie Walker
Arts & Features Staff
[email protected]
Pack Square fills with thousands of festival attendees, vendors line the sidewalk and surrounding streets and entertainment draws attention to the stage. Though Asheville Pride may not be as large as in some cities, plenty of people come out to show their support for the LGBTQ+ community.
"Last year was our largest Pride. Attendance was estimated anywhere between 14,000 to 18,000 people. As a public outdoor festival, it's difficult to gauge," said Michael-David Carpenter, president of The Blue Ridge Pride Center.
According to Carpenter, attendance for Asheville Pride 2017 was expected to meet or exceed last year's.
"I have been to Pride in three cities now, Greensboro, Asheville and San Francisco," said Kfir Wiener, math student at UNC Asheville. "I can definitely say that size-wise Asheville Pride is smaller than the several miles of San Francisco's parade, but bigger than the two blocks set off for people to wander around in Greensboro."
Wiener said they liked Asheville Pride because everyone was enthusiastic and the festival was not overly chaotic. Compared to San Francisco Pride — which is huge — and Greensboro Pride — which is small — Pride in Asheville provides a happy medium.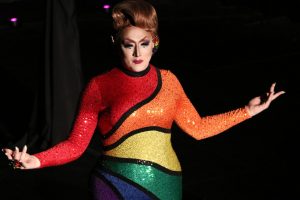 The Blue Ridge Pride Center, who organizes Asheville Pride, executed plans to extend the festival and make it more inclusive for everyone who attended.
"I'd like the festival to be a place that people want to come to not just because they feel permission or welcome to, but because it seems like a cool place to hang out. I think to do that, we need to add some different types of programs," said Tina White, executive director for The Blue Ridge Pride Center.
The Blue Ridge Pride Center made strides to diversify Asheville Pride this year by bringing in more diverse entertainment such as interesting speakers and a poet. Events throughout the festival included a wedding, a drag show, a set by DJ RexxStep and a performance by Youth Outright.
"We have made some limited progress this year, not as much as I want because it takes a while to start those conversations," White said.
Around 150 vendors and exhibitors lined the sidewalks during the festival. Barefoot Wine, Hop Ice Cream Cafe and Buchi Kombucha are among the food vendors that graced the sidewalks of Pride this year.
Other vendors included Happy Hippie Tie Dye House, Bee Tree Eco Art and Moonlight Makers. A variety of religious and health vendors were also in attendance.

Carpenter said other things put in place to improve Asheville Pride this year included the addition of a second stage, more area in an upper park and a children's area. He said the local aspect of the festival makes Asheville Pride unique.
"We are a local Pride with local entertainment and local vendors. That's what makes Blue Ridge Pride so special and charming over some other prides that focus on national names and businesses," Carpenter said. "We have amazing talent and an amazing community right in our own front yard.
The intention behind Asheville Pride was to create an environment for everyone to feel accepted and have fun while hanging out with other people in their community.
Carpenter said one of his more memorable experiences at Pride happened last year when he caught wind that actress Bellamy Young from Scandal was campaigning at the Buncombe County Courthouse. After working with her management, she was scheduled to make a speech on the main stage at Pride.
"It was time for me to introduce her to the sizable crowd. After the introduction she went to hug me and kiss my cheek, however we both went the same way and she kissed me in front of everyone. Needless to say, I'm a fan," Carpenter said.

Working with The Blue Ridge Pride Center to organize Asheville Pride has allowed Carpenter to gain new experiences and focus on doing things to make a difference in his community.
"My favorite thing about Pride is knowing that I helped create a diverse, welcoming space for all," Carpenter said. "A place that we can celebrate our similarities along with our differences. A place that we can eat, drink, shop and laugh with each other. A place of ultimate acceptance."