By Carrie Arnold 
Sports Staff Writer
[email protected] 

Having won last year's Big South Tournament, UNC Asheville's women's basketball team have a fresh start, full of inspiration and vigor with the hopes of winning the championship once again.
Entering the previous season, the Bulldogs felt pressure to win after being selected number one in the preseason assessments. As the season progressed, player injuries increased and created obstacles the team had not dealt with before.
Yet those obstacles became learning opportunities for the team to improve.
"We had to come together and be a stronger bunch than usual," said Bronaza Fitzgerald, a senior mathematics student working toward her teaching licensure. "We had to pick it up and let each other know that we were definitely here for each other and that has played a tremendous part as far as the team going into this year because we have already been there before. We know that there's gonna be a rock bottom that we may face, that we may hit, but the only thing we can do is go up from it and not let it keep us down."
Players and coaches had high expectations last season and the Big South Conference added to the team's drive to be successful as well. But, it also took away from their focus on each other.
Fitzgerald, a center on the team, said a turning point in last season occurred when the team agreed to emphasize communication and support for each other, putting more energy into the team than their reputation.
"We had that pressure from the outside because we were voted preseason number one, so we had to be on top to please everybody, to prove to everybody that we are worth being number one," Fitzgerald said. "So that was always on our foremind to the point that we had to step back and realize it's not about them. It's more about the players on the court and this team."
Head Coach Brenda Mock Kirkpatrick also stressed the importance of sharing a team mentality and teaching her team to keep each other in mind for motivation.
"Our biggest emphasis in the program since I've been here is playing for each other," Kirkpatrick said. "There has to be a greater purpose."
The team this year — compared to last year — is younger, Kirkpatrick said, although no less capable and no less talented. The cooperation and support the players on this season's team have already built stands out to Kirkpatrick.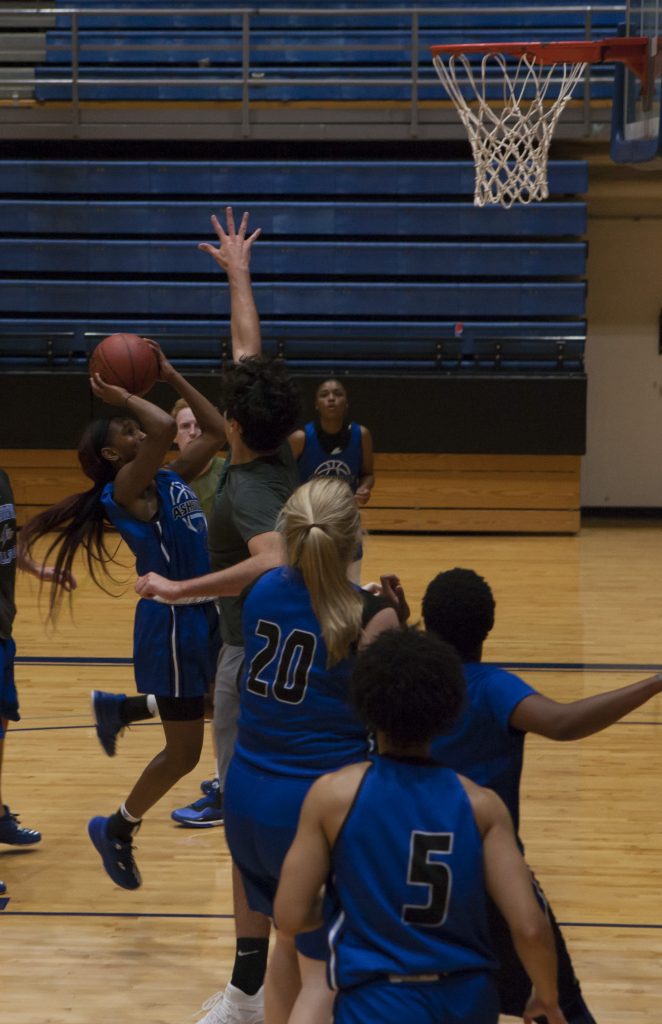 "I think that what makes them special is that they do celebrate each other's successes," Kirkpatrick said. "They're not selfish players and that's rare."
Khaila Webb, a senior political science student, said she agrees with Kirkpatrick's sentiments about new players. The team added freshmen to their roster as well as a transfer student, all of whom Webb is confident will add to the team's dynamic and skills.
"I think we have a really good group that came in," said Webb, a guard on the team. "We have three freshmen and one newcomer and I think they are very athletic. I think defense is something we're going to do really well this year."
Heading into this season, the women's basketball team has a lot to look forward to. The first official game of the season is against Western North Carolina University, a team Kirkpatrick said she is excited to play against.
"That's always a nice rivalry. They're just across the mountain and we play them every year," Kirkpatrick said. "I can honestly say I'm most excited about just getting the season started against Western."
Fitzgerald said she looks forward to playing against Radford University. Last season's games against Radford were high energy, with their two regular season games extending into overtime and double overtime, both resulting in Bulldog victories.
The Bulldogs faced Radford a third time at the final round of the Big South Championship where Fitzgerald scored two free throws, securing a win and the championship title for UNCA.
With an entire season in front of them, keeping teamwork, communication and support for one another prioritized is key to their success. Both players and Kirkpatrick expressed the importance the team places on overcoming adversity.