Whethan brings electronic extravaganza to Orange Peel
Larisa Karr
Managing Editor
[email protected]
Inside The Orange Peel, people linger in a state of permanent summer.
Bedecked in tube tops, tie-dye dresses and shorts, the young crowd gathers to dance the night of Oct. 19 away to various forms of electronic music.
There is the occasional all-black-wearing goth girl, uncharacteristically out of place in an audience that seems ready to head to the beach and down considerable amounts of tequila in a heartbeat.
Indie electronic group Opia greets the concert-goers with a serious, undramatic version of "Baby, One More Time" and the crowd responds with glee.
Right from the start, people start bouncing up and down to the openers, which is quite uncommon for many concerts.
This cheerful tone sets the pace for the whole night.
"There were free spirits, free-loving people trying to have a good time and people trying to forget the bullshit that goes on in normal life," said Jade Yolanda Littleton, a 29-year-old electrician from Atlanta.
By the time the second opener Bearson comes on, the crowd is in full-on party mode.
As they extend their hands into the air to the booming electronic beats, pink and blue lights swirl around the stage. The Norwegian artist knows how to play to the crowd of early 2000s pseudo-ravers by remixing classic indie anthems like Passion Pit's "Sleepyhead" and M.I.A.'s "Paper Planes."
He incorporates thoughtful melodic elements in his DJ mix, including synth-pop, dub-step and Eurodance.
The crowd springs to life at this point, still jumping and twirling each other around in merry circles.
By the time the headliner approaches the stage, the audience is anything but exhausted.
Ethan Snoreck, the young protege of electronic DJ Skrillex, is ready for his upcoming set.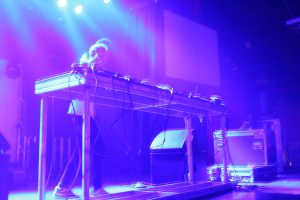 Wearing a grey and red striped shirt, Snoreck, who is known as Whethan, flips his strawberry-blonde hair as he begins to giddily play a series of popular pop anthems interspersed with his bombastic twists, a process which he has spoken about as being very distinctive to his artistic style.
"The topline is the most important thing. The job I take on when remixing is building a whole new song around the vocals or lyrics," Whethan said. "So if the topline isn't something I vibe to, then I probably won't remix it."
The topline, which means to craft a song over a beat that has already been created, has begun to receive frequent attention in the realm of electronic music.
Recently, the advent of topline writers has taken off within the past decade as a result of DJs like Skrillex and Avicii.
Originally a SoundCloud producer, Whethan began to garner fame by remixing songs for artists such as ZAYN and Ty Dolla $ign. Then, he released the track "Savage," which shot him to worldwide acclaim.
Described in the press as a "future-bass" DJ, Whethan accepts the label but said he adds his own distinctive touch to the music he plays. Future-bass incorporates different elements of electronic music and weaves them together, such as drops, synths and distortion.
"I think what makes me different from others in that realm is the way I program my drum patterns and my basslines," Whethan said. "Sample selection is key."
Several people in the crowd found themselves at the show by chance and happenstance.
Attendees like Brooke Eichenlaub, a 20-year-old environmental studies student from Winston-Salem, did not know who the Chicago-based DJ was but simply came out to enjoy a night of dancing and merriment.
"The energy of the crowd and the energy of the artist were really good," Eichenlaub said. "I would say everyone's engaged."
Others, like Littleton, had more unusual circumstances that led to them attending the show.
"My landlord and business partner decided to cut me out of the business today. So, I met up with my ex-girlfriend and we're sitting at this table and there were these two tickets sprawled out on the table, " Littleton said. "It was actually my landlord that tried to kick me out of the house and tried to kick me out of the business that left them there. So we took the tickets and we had a fucking phenomenal time."
For Whethan, inspiration comes not only from other electronic artists like Flume and Mura Masa, but also from unusual sources like Wes Anderson films.
"The most important thing about creating music is definitely the vibe. Before the synth sounds or vocals sound perfect, the way it makes you feel is the most important," Whethan said. "The more an idea makes you feel, the more you want to work on it."
With an album tentatively in the works for 2018, Whethan said he looks forward to continuing to bring joy and enthusiasm to audiences throughout the world.
The audience definitely feels Whethan's passion for his craft, as the pulsing energy lifts everyone into a state of uproarious fervor. Playing a series of popular modern-day club bangers, he also reverts back to the late 2000s and performed a remix of Kid Cudi's 2009 anthem "Day N' Nite."
As members of The Orange Peel's usually stoic "Krewe" dance behind the bar, the crowd soars forward, content to be surrounded by music that brings to mind a season that symbolizes carefree whims and untethered joy.