By Emily Henderson
Managing Editor
[email protected]
Starry-eyed Virginia "Ginger" Olson gracefully glides up all 20 steps to Ramsey Library, twirling away from the monumental doors to gaze out on  the next four years of her life.
The year is 1973: a different era for students at UNC Asheville. The professors are mainly male and the residential community consists of only 200 students.
Standing at the top of the library, Ginger looks out at the mountain scenery, trees obscuring her view of the campus around her and the American flag waving in the wind.
Fellow classmate Deborah "Dee" James, now a professor in the literature and language department, remembers the view clearly.
"The view from the top of those steps out to Mount Pisgah was exactly the same view," James said 44 years later.

The two women envisioned their futures on top of Ramsey Library, as fellow students have continued to do throughout the decades: graduation day with friends and family, going out into the working world and starting a family and growing old with those you love.
"Several of my best friends, who are still best friends of mine, I met as freshman, we lived in the dorms," 66-year-old James said. "We've grown up together, grown old together, had children and grandchildren and stuff together."
James, two years older than Olson, watched over the underclassmen women as a dormitory proctor.
"She was quiet, she was not a big effusive kind of personality, but just sweet, nice kind of person," James said.
Olson, a sophomore dramatics major, was described as happy, loved, intelligent and talented by her peers.
The month of September marks what would have been Virginia Marie Olson's 64th birthday.

Walking in her shoes

The clock ticks past noon as the two college roommates lazily start their Sunday morning routine.
The 19-year-old female student pulls on her only pair of denim jeans followed by a T-shirt and tennis shoes.
Ginger gathers her school books together and carries them on the way out. Her roommate Jane Nicholson accompanies her, locking the door behind them.
Parting ways at the entrance to Craig Dormitory, Jane heads to lunch in Lipinsky Hall while Ginger heads to the Asheville-Biltmore Botanical Gardens.
She often finds herself walking through the perfectly manicured trails, gardens held up by stone walls with hidden nooks and passageways.
Open to the public, the gardens were frequented by hundreds of visitors every day.
It was a beautiful spring Sunday and the gardens were particularly busy.
Ginger walked across W.T. Weaver Boulevard to what now is the Pisgah House. From the top of the hill, she could see part of the botanical gardens as well as part of campus.
She lays her wire-rimmed glasses on her notebook and settles into the grass. Breathing in the fresh spring air and feeling the sun warm her body, she drifts into a light slumber.
"Just for today, I will be unafraid, especially I will not be afraid to be happy, to enjoy what is beautiful to love — to believe those I love, love me," Olson's poetry reads, found in the back of a yearbook dedicated to her.

The series of events that followed

Two high school students, 17-year-old Larry O'Kelly and 14-year-old Thomas Guthrie, went for a walk through the woods on Sunday, April 15, 1973.
Starting in the botanical gardens, they found themselves on the same path Ginger had taken earlier that day. Following the well-worn dirt trail up the hill through thick brush, they noticed someone on the ground up ahead.
Approaching the figure, the two boys found Ginger lying on her back, hands tied, feet bound and mouth gagged. Her green T-shirt she so carefully put on earlier that afternoon was shredded and her tennis shoes thrown haphazardly around.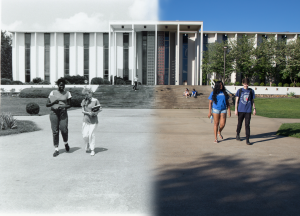 Police were told the two boys found her body at around 3:30 p.m. Witnesses at the time of the event said the body was only partially clothed and articles of clothing were found scattered nearby.
Her notebook and wire-rimmed glasses sat untouched.
It was not until later that evening when the residential students found out what happened.
The chancellor at the time, William Highsmith, said the women's dormitory proctor, James, showed a strength of character and sensitivity not often found in such situations.
"That was a horrible time because I was the dorm mother. So not only my shock and grief, but the women who lived with me, that shock and grief and terror," James said.
An autopsy disclosed information later that week to the public that Olson had been raped and stabbed in the heart and the jugular vein.
Her murder remains a mystery.

Keeping her memory alive

Thirty-seven years after Ginger's death, a memorial was erected on campus: three hand-crafted benches adorned with plaques in the middle of a ring of trees between Owen and Whitesides Halls.
Every spring, members of the university groundskeepers, such as Melissa Acker, family and close friends of Ginger, such as Richard Beard, a fellow classmate in 1973, join in upkeep of "Ginger's Garden."
"From a simple idea, it blossomed like a magnificent erupting flower into something miraculous, culminating in the gathering together of the Olson family," Beard said, referring to the gardens.
Olson and Beard developed a close relationship in their first year at UNCA and he knew of her love of the arts.
"Melissa Acker and I spent a day touring the campus, trying to figure out a potential spot for it. I wanted something out of the way. And also with the art, drama buildings right there, it was like, 'Well this is perfect.' Nobody would know that," Beard said, referring to students stumbling upon the garden without any prior knowledge.
Beard said while Ginger's death will never be assuaged, he hopes the garden will allow people the opportunity to both grieve and rejoice in her life.  
Throughout the years, her former roommate Jane Nicholson grew tired of revisiting the tragedy. Her comments to the press lessened as she now enjoys her retirement, after serving as director of the news bureau at Appalachian State University.
Ginger's high school sweetheart Jeffrey Doyle mourns her death to this day.
"Ginger was — is — incredibly important in my life, a tremendous blessing and in many ways the foundation of what has turned out to be a very happy existence," Doyle said, via email.
Although Ginger's death continues to be an unsolved tragedy, those in her life, and those generations of students who followed at UNCA, will never forget the beautiful life that was Virginia Marie Olson.