Christine Gendy
Opinion Staff Writer
[email protected]
In the case of State v. Edward Chapman, the defendant was charged with the murders of two sex workers, Betty Ramseur and Tenene Yvette Conley, in 1994 at the age of 23. He was sentenced to spend two lifetimes on death row and would spend a total of 4,887 days in prison. But Edward Chapman was innocent of these charges.
"I cried for three years," Chapman said.
Chapman wanted to fight his conviction. He claimed to have written hundreds of letters to universities and legal services everywhere before he got a response back.
"I was approached by Indigent Defense Services of NC to work with attorneys Frank Goldsmith and Jessica Leaven. Frank contacted me to ask me to work on Ed's case," said Pamela Laughon, a psychology professor at UNC Asheville who worked closely with Chapman on the re-investigation.
He was, and is still, deeply appreciative of Laughon's work on his case. He considers her to be not only his friend and mentor, but his sister. When he was going through the details of the case with Laughon, he tried to be honest about some of his past experiences with drugs and exploits with women. He expressed that he does not wish to repeat this behavior, but admits that he has not had a perfect past.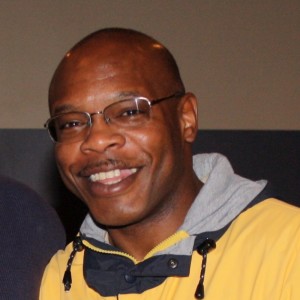 Chapman's time on death row caused him emotional trauma in the form of PTSD. He suffers from uncontrollable crying and paranoia. It is believed that 73 percent of men and 55 percent of women have mental health issues in prison. These health issues can be anything from bipolarism to depression, according to PBS. Chapman's case was not entirely unique. According to a study conducted by Proceedings of the National Academy of Sciences, 1 in 25 people on death row are innocent. Despite this statistic, Laughon did not always think Chapman was innocent.
"I didn't always think Edward was innocent until about two to three years into our re-investigation, which is how long it took to re-work the evidence. Ed maintained his innocence during all of his years on death row, but I don't usually make that kind of judgment based only on the defendant's word," Laughon said.
Chapman tried to help prove his innocence in any way he could. When he was a child, Chapman said his father would have him stand in one spot while he would go hide, and Chapman would find him somewhere in the neighborhood. He did that so Chapman would learn the neighborhood by heart.
"I would get a letter from Pam asking me how to get from Sycamore street to Broadway. I took a whole bunch of paper and I started in the same place my dad started me in and I drew. It was 98 percent accurate. I drew the map of the crime scene and everything. I wanted to do what I could to make it easier," Chapman said.
Though Chapman was imprisoned, he found a way of escaping — reading.
"I would read three books at a time. I would read the first fifty pages. If it wasn't any good, I would put it down," Chapman said.
Laughon and the rest of the team collected several pieces of evidence that led to the eventual release of Chapman.
"The most important evidence was probably the line-up and the jail-house confession made by another suspect, with regard to the murder of Betty Ramseur," Laughon said.
After Laughon and her team gathered this evidence, Judge Robert Ervin ordered a new trial in which Chapman was found innocent in 2008. Despite his call to innocence, he has not been granted a pardon by the governor. In North Carolina, a person who has been pardoned is given $50,000 per year totaling no more than $750,000. Chapman applied for a pardon in 2009 and has yet to hear anything in return. When the day of Chapman's release rolled around, he wanted to keep it to himself.
"That's one thing you don't want to do in an environment like that, rub it in people's faces. You've got guys that are happy for you and some that will spit in your face. If a guy comes up to you and puts a candy bar on your bed, you leave it, or you belong to him. You get more prostitution in prison than you do on the streets," Chapman said.
When leaving the prison, Chapman reflected on his time there.
"I've laughed and cried with these guys. I've seen some good friends go to their deaths. When I got out, it was like a big release. I looked back and remembered all of the guys that I had been around. I would trade some of my family members in for these guys," Chapman said.
Chapman, like every other person with a criminal background, had a difficult time finding housing after being released.
"Under the law, landlords are free to discriminate against people with criminal records," according to USA Today.
"It's hard for a person who has been charged with a crime to get a place to live. We tried. We wrote so many letters. Then this man said he would give me a four bedroom house for $400 a month. It was awesome. I still had a prison mentality. I wouldn't sleep on my bed. I slept with a tennis racket and a mop handle," Chapman said.
Finding a job was difficult for Chapman as well.
"I put in so many applications you would have thought I was running for president," Chapman said.
Eventually, he got a job in Brown Hall at UNC Asheville making omelets in the morning. He maintained his role of preparing omelettes for Brown Hall breakfast-goers until recently, when he decided to quit his position last year.
"I see y'all coming through that station, you don't know how happy I am," Chapman said. "Seeing y'all come through is a big benefit to me. It's an honor to be amongst you."
After being set free, Chapman noticed things are different outside of prison walls.
"One thing you learn on death row is, you don't hear sounds. You go outside in the yard and the birds don't even fly across. They go around. When I finally heard them again, it was the most beautiful sound in the world," Chapman said.