Taylor Sexton 
A&F Staff Writer
[email protected]
Several different pamphlets sat on long tables, each representing a different possibility of what the future could hold as students trickled into the  Laurel Forum to learn more about the study abroad program.
Excitement and hesitancy began to bubble to the surface as hopeful students spoke with peers who previously pursued these opportunities to study what they love around the world. Yet, the thought of traveling to a brand new place with a completely different culture all alone could cause doubt for even the most adventurous of hearts.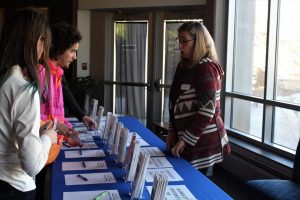 Sarah Leaird, a senior Spanish student, traveled to Valladolid, Spain and admitted the hesitancy was normal, but the experience was completely worth it.
Leaird stayed with a host family, a widowed mother named Ascención, her three adult children and her granddaughter Isabelle who would visit every other week.
"I enjoyed being able to study and explore more of the country with students from all around the world," Leaird said. "One of my favorite memories was getting to celebrate El Festival de San Juan, which is a celebration to mark the beginning of summer."
During this celebration, the city builds a large bonfire on the beach and holds a concert as well. Traditionally, the idea was to jump over the bonfire, but in Leaird's case the bonfire was too large, which caused people to build their own small fires to jump over.
"It was great to have the opportunity to be part of a Spanish holiday and to meet lots of locals to practice my Spanish with," Leaird said.
She attended Spanish classes Monday through Friday at La Universidad de Valladolid. Each Saturday the university offered to drive study abroad students by bus to travel within the Castilla y León region.
Leaird also spoke about how different the culture is in Spain versus the United States. For instance, when meeting new people they place a kiss on each cheek rather than a handshake. People are also much more social, often interacting on the streets with one another instead of minding their own business.
According to Leaird, they are also much happier and healthier in Spain than in the U.S. She believes this is because people opt to go outside more often instead of staying indoors all day like Americans often do.
Perhaps the biggest difference between the two countries is how families tend to be more close-knit. Family time is highly valued and prioritized, Leaird said.  
"I gained a new outlook on the world," Leaird said. "The U.S. is so big that it's easy for Americans to think this is all we need to know. I now see that the world has so much to offer and I am eager to explore it."
Daniel Pagliaro, a senior management student, also studied abroad through UNCA. He went to China during the summer of 2016.
"Going to China really took away a lot of the preconceived notions I had about it," Pagliaro said.
Pagliaro also spoke about the many ways their culture differed from ours. The Chinese citizens he encountered almost never drank anything cold with their meals and all meals were shared with the group. They were very forward in their conversations and there was never any space to be alone.
He also admits he was not fluent in the language, only taking a year of Chinese previous to his departure. However, fully immersing himself in both the culture and the language helped Pagliaro become fluent.
"Students should definitely take the chance to study abroad, because it really takes you out of your comfort zone," Pagliaro said. "You also get to really immerse yourself in this new culture and learn how people all around the world live their lives."
Cara Gilpin, assistant director of the study abroad program, has been helping students at UNCA since 2009.
"Studying abroad really compliments a liberal arts education," Gilpin said. "You are going out and being a creative problem solver in a completely new place."
Gilpin said the program offers many different ways that students can study abroad, including both faculty-lead trips and exchange programs.
In an exchange program, students pay the same tuition they would at UNCA at the university they wish to go to with both semester and year-long options available.
All scholarships, grants and financial aid awarded will transfer over with them. Students will pay the same amount, the only difference being travel costs.
"Studying abroad makes you become more aware of what's going on globally from a really personal perspective," Gilpin said. "It also helps you grow as an individual."
Students can begin their study abroad journey with a quick trip to the Study Abroad Office located in 28 Ramsey Library, next to the OneStop office.