Annabel Gibson
News Staff Writer
[email protected]
Asheville residents gathered in the U.S. Cellular Center on Jan. 24 to discuss how UNC Asheville contributes to the success and economic impact in Asheville. The university, through mass job creation and income generation, contributed to $450 million in economic impact to the Asheville area in 2017.
Tom Tveidt, a research economist at SYNEVA Economics, presented the ways in which UNCA has contributed to the growth of Asheville's economy. Since 2013 Tveidt assessed the university's economic impact has increased by $100 million.
"UNC Asheville's regional impact is multifaceted, vibrant, sustainable and diverse, further solidifying its status as the academic, athletic, cultural, economic and social hub of the region," Tviedt said.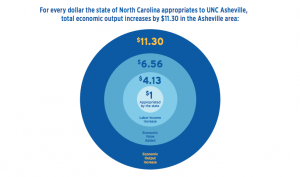 As part of their plan to improve UNCA's economic output within the community, this economic assessment was performed five years after the initial assessment to gauge the effectiveness of the plan itself. Urgo said he expects there will be another assessment made in 2023 to acknowledge progress made once again.
"This report quantifies many aspects of our work and exemplifies how a liberal arts education impacts the local community," Urgo said. "From the capital projects being constructed on campus, to the daily conversations and collaborations happening in our studios, classrooms and labs."
UNCA plans to invest more than $79 million in projects over the next five years, which would lead to an annual average of $31 million in economic output, 224 local jobs and $3.1 million in local income.
"If we continue on the trajectory that we have with the strategic plan, we will see that number continue to grow," Urgo said.
UNCA supports 3,911 local jobs, which makes it one of the top 20 employers for Asheville. UNCA's strategic plan for the future explains that to continue being a successful university in the future, the university intends to commit to a culture of sustainability —  finding new ways to support the natural environment, the surrounding communities and the long-term health of the institution.
NCAA Division I Athletics program and the Osher Lifelong Learning Institute contribute to UNCA's economic impact. The athletics division has had an economic impact of $16.6 million to the university while OLLI raises the economic output in the local economy by $12.6 million.
OLLI identified 150 households which moved here in part due to the university.
"Over half cite OLLI as a deciding factor in choosing Asheville and Western North Carolina as their retirement destination, and once here they make major contributions to the well-being and economic success of the area," said Catherine Frank, executive director of OLLI.
Tveidt credited the students of UNCA for their economic contribution to Asheville, with on-campus capital spending at $7 million for the fiscal year.
"There are 3,800 students, about 2,500 of those students live off campus," Tveidt said. "They purchase pizzas, rent rooms and they do all the things that normal people do. Their spending by itself supports around 400 local jobs."
Alumni of UNCA were also acknowledged for their presence within the Asheville economy, Tveidt reporting 7,300 who live in the metro area.
"Somebody who has a bachelor's degree, versus people that don't, have an average of about $16,000 net per year increased income. We can see that those people alone support 835 jobs in the community," Tveidt said.
The economic assessment made by Tveidt revealed that UNCA provides a considerable return on investment. For each dollar appropriated by the state of North Carolina, the total economic output increases by $11.30 in the Asheville area.
"The university is a regional powerhouse creating jobs, educating citizens, attracting visitors to the area and in many cases giving visitors a good reason to stay and make a home here," Urgo said.