Karrigan Monk
Editor-in-chief
[email protected]
More than five months after white supremacists took to the streets in Charlottesville, Virginia in a Unite the Right rally, little has changed.
When Charlottesville City Council voted to remove a Robert E. Lee monument last February, it took protesters less than a month to begin organizing their riots, culminating in an August display.
Though Asheville is often seen as a liberal bubble, with a Lee monument of its own, the city could find itself in a similar position.
Days after the Charlottesville riot, local activist Nicole Townsend and three others were arrested for vandalizing Asheville's Lee monument.
Townsend said she acted because the Charlottesville riots called her and other activists to action.
"I also believe it is time for people who wanted to secede from the U.S. to be placed in museums and not in public squares," Townsend said.
During the riot, chants of "Jews will not replace us" and "Blood and soil" rang through the air, the latter of which was a common Nazi rally cry during World War II.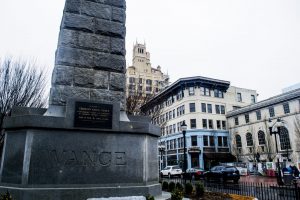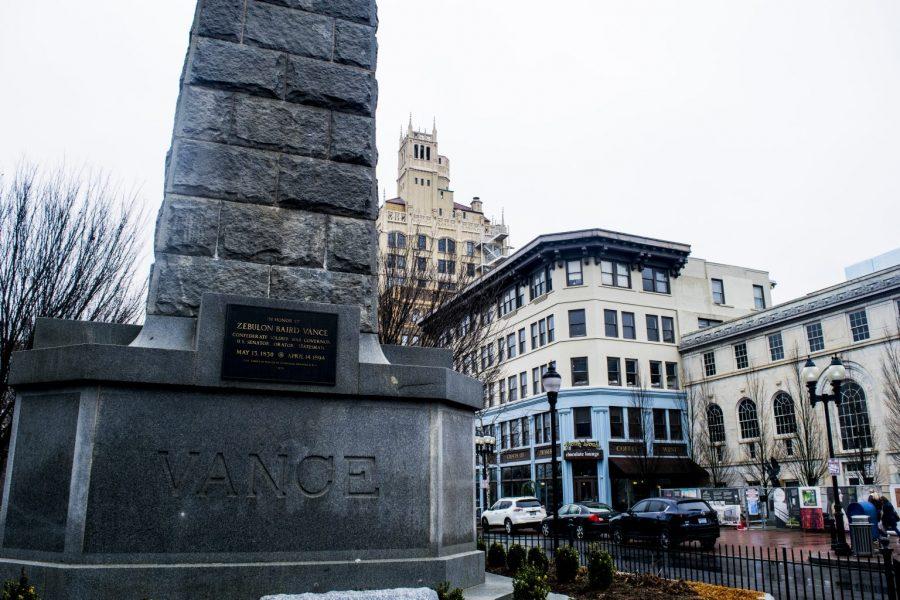 Walter Ziffer, Holocaust survivor and adjunct professor of philosophy and religion at Mars Hill College, said he was shocked to hear these phrases in modern America.
"Much of the hateful rhetoric and information consists of downright lies and false accusations that are spread against communities within our country," Ziffer said. "Decent people who do analytical thinking are able to reject such propaganda. For others not so intellectually equipped this garbage sinks in and colors their thoughts and actions. The latter happened in Germany and happens also here."
Though Ziffer does not point to President Donald Trump as being directly responsible for the riot, he said Trump has created a culture in which these things are acceptable.
Sarah Gillooly, policy director at the North Carolina American Civil Liberties Union, agreed with Ziffer's sentiment.
"When we have a president that is dog-whistling and is race-baiting and appealing very intentionally to white supremacists, we have a culture in which white supremacists feel emboldened to take further action in their communities," Gillooly said.
Trump's apparent appeal to white supremacists did not start with Charlottesville. During the election, KKK leader David Duke endorsed Trump, which Trump did not refute for months. His delayed responses against white supremacy continued with Charlottesville.
Ashley Moraguez, assistant professor of political science at UNC Asheville, said the responses to Duke's comments and the Charlottesville riot were not enough.
"While Trump did eventually refer to the KKK and white nationalists as repugnant, it was too little too late," Moraguez said. "Even after that comment he went back to defending his original response to Charlottesville. His equivocation in his response actually led some of these radical groups to think Trump was on their side and condoning their actions."
Townsend said while she does not approve of Trump, she is not sure his administration can be held at complete fault. Instead, the issue stems much deeper.  
"We've seen tragedies such as Charlottesville happen throughout the history of the U.S.," Townsend said. "I absolutely think something like this would have happened under a different administration. Charlottesville was just another branch of white supremacy which has been around far longer than Trump."
Lt. Joe Silberman of the Asheville Police Department agrees. He said white supremacism and controversy around Confederate monuments is nothing new, especially in Asheville.
Silberman pointed to the Vance and Lee monuments specifically. He said while there has been a slight increase in vandalism for the monuments, they are in some ways quintessential Asheville.
"I think some amount of changing is probably going to happen out of this. I don't know what will happen because it's so big and so readily available as identifying Asheville. I don't know whether his name would be taken off or an additional plaque would be added or it would be left alone completely," Silberman said. "Who knows? That's going to be a city council issue completely."
The City Council did address the issue at a hearing on Aug. 22 where Townsend spoke days after her arrest for vandalizing the monument. While Townsend and council member Cecil Bothwell urged for action, the council ultimately decided to simply condemn white supremacy.
Though more conversation has circled around the monuments in the months after, both remain unmoved and unaltered.
Ziffer said while an important conversation, Confederate monuments are not the real issue at hand. He said he fears a political state similar to that of Nazi Germany could easily occur as a result of the hate that is allowed to flourish under what he calls Trump's incompetent administration.
"Our DNA is the same as that of the Nazis," Ziffer said. "When lies are taught long enough they sink into our psyches and transform us. When lies and deceptions are something we hear from our highest authorities daily, persons who should be our role models, there is danger that hearing becomes absorbing and imitating."
Though Ziffer said he is not sure the Charlottesville rioters are worth being spoken to, he has a message for them and other white supremacists. He said he wants to make sure these people know their hatred has consequences and they are responsible for those consequences.
"I would tell them that their behavior leads to a police state such as Nazi Germany was in which personal freedom disappears and where children spy on their parents and vice versa," Ziffer said. "Their thoughts and actions lead to the use of concentration camps in which innocent people are murdered."
Ziffer said he loves the U.S. and considers it to be a great country with a welcoming spirit, but people such as Trump and white nationalists threaten that American ideal.
"I am not sure that men and women poisoned to such an extent can ever recover to become normal again," Ziffer said. "This is scary and I, who came to the U.S. after the Holocaust in 1948, would never have imagined that the U.S. could sink so low in terms of morality and, may I add, stupidity."