Asheville Community Theatre presents '9 to 5'
Sarah Shadburne 
Arts & Features Editor
[email protected] 
He circulates rumors about a false office affair, passes up a qualified female candidate for a promotion in favor of a man and repeatedly ogles and berates the women who work under him.
Combining the music and lyrics of Dolly Parton, the defiance of stereotypes and the power of female friendship, the Asheville Community Theatre presents 9 to 5 The Musical, opening Feb. 9 and running through March 4.
The musical, which began as a book by Patricia Resnick and was then adapted into the 1980 hit movie starring Dolly Parton, Jane Fonda and Lily Tomlin, centers around the workplace happenings of three female coworkers, Judy, Doralee and Violet, who seek to even the playing field with their chauvinistic boss Mr. Hart.
"Any time there's a person in power, there is that opportunity for that power to be misused," Director Jerry Crouch said. "'Power corrupts, and absolute power corrupts absolutely.'"
Crouch has been directing with the Asheville Community Theatre for 17 years and expressed his delight with the powerhouse of a cast he has for the production. Of the 29 actors assembled for the show, 15 of them will be making their debut with the company, Crouch said.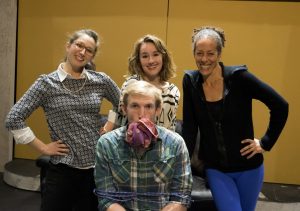 Actress Alexa Edelman  plays Judy in the production and recalled growing up in a climate that encouraged her to laugh off the inappropriate advances of men and go with the flow.
"I remember when the movie came out," Edelman said. "Assuming that now, 20 years later, that a lot of these issues would be further along than they are and coming back and revisiting the story it's like, 'Oh, actually these issues are still more relevant than you would expect.'"
Edelman said she identifies with her character Judy due to her personal growth and realizing she can accomplish things on her own without a man.
What is interesting for Edelman now returning to the story in the current cultural climate is the changing response to characters who abuse their power in the way Mr. Hart does. Women no longer have to smile and brush it off, she said.
Edelman's character is not the only one pushing boundaries. Myra McCoury, the 23-year-old actress who plays Doralee, said she looks up to her character for the way she challenges the stereotypes assigned to her for being a beautiful corporate woman.
"One of her biggest motives in the show is to get people to understand that she's more than how she looks," McCoury said. "It's okay to dress up and want to look pretty and not have to be identified as this other type of person that she's not."
In terms of casting, Crouch said he chose Luke Haynes, a 30-year-old actor, for the role of Mr. Hart because he hopes the character will land softer with the audience, as the acceptability of the dirty-old-man trope from 1980 would seem archaic now.
For Haynes, the message is about equality and fairness above all. Haynes said he sees himself as being more like Violet than Mr. Hart.
"She attempts to do everything she possibly can to get what she wants," Haynes said. "And just being held back at every single level."
Violet, played by Marisa Noelle, serves as the senior office supervisor under Mr. Hart and early on in the show gets passed up on a promotion in favor of a man.
"Throughout the show we're always 'girls,' not as women or individuals even," Noelle said. "Violet says her peice that she's not a girl, but a woman, and spells it 'W-O-M-Y-N,' to take the 'man' out."
Crouch sees the success of Wonder Woman and the subsequent permeation of the idea of empowered women currently at play in our culture and views 9 to 5 fitting within that framework of empowerment.
But most of all, the chemistry between the three women is real as can be, Haynes said. When they all sit on the couch together, people will turn to each other and recognize that connection.
"The theme that I'm most drawn to in the show is the celebration of female friendship," McCoury said. "At the heart of it, it's really sort of how these women find their power in each other."