West Asheville music festival returns for its seventh year
Kye Johnson
A&F Staff Writer
[email protected]
Returning to West Asheville, the All Go West music festival will showcase live music across five stages for its seventh year on June 16 and 17, highlighting musical talent from around Asheville.
All Go West began in 2010 when Arieh Samson was working as a tour manager for Asheville funk group Yo Mama's Big Fat Booty Band. After playing a music festival in Boone, Samson got involved with the organizer and their collaboration birthed All Go West.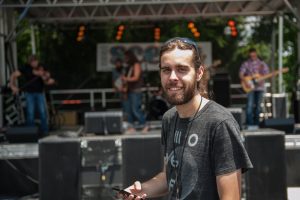 "It came about because we really loved hanging out in West Asheville. There are many cool events going on in Asheville and we decided that the West side needed something as well, and ever since then we have been throwing All Go West," Samson said.
Samson cultivated the festival for the past five years and said he wants to try to present something different from the events that already exist in Asheville.
"For myself I just love the underground scene of Asheville," Samson said. "I wanted to represent some of the otherwise underrepresented artists in town."
All Go West is similar to Bele Chere, a local festival that began in 1979 and ran until 2013, but All Go West is a lot smaller and more concerned with showcasing local talent.
Stephanie Morgan, a singer-songwriter from Asheville said her music focused on emotional exploration. Morgan performed at All Go West last year.
"(Samson) creates an environment that allows us all to feel really special and collaborative and free to make our art," Morgan said.
Morgan said the most exciting thing about playing festivals like All Go West is the opportunity to see other local musicians play and collaborate.
"I am connecting with the people in the band and the people in the audience. Once we are all in the zone together, kinda anything could happen. There is this extreme presence that everyone is just in the moment and that is just priceless," Morgan said.   
All Go West attracts about 90 percent locals, according to Samson, which is important to him to put on an event that the community embraces.
"With All Go West people are like, 'I have to be in town for that, because that is our thing,'" Samson said.
When The Mothlight and Isis Music Hall opened up on Haywood Road, Samson said he saw the opportunity to use the venues and their outdoor space.
The festival will expand to five stages this year. Indoor stages can be found at The Mothlight and Isis, while outdoor stages are set up in Isis' parking lot and at The Brew Pump. A new experimental stage is also in the works, Samson said.
Samson said everything from West African, surf rock, electronic, experimental, punk, metal and folk metal music will be performed.
Morgan, who plays rock music mixed with hints of R&B and indie pop, said appreciating different types of music requires standing alone and cultivating an opinion.
"The way you fall in love with something is you just sit there in more or less silence with yourself and you ask yourself does this resonate or does this not resonate," Morgan said. "Trying new stuff is really important."
All Go West aims to be a musical discovery that brings new things to the Asheville scene. New things are always being added to create a mix of the different types of sounds that change from year to year, Samson said.
"Some of the best feedback I have gotten is, 'Wow, I have seen this band's name on a flyer and I have never had the courage to go check them out,' or 'I have never had the opportunity to and at All Go West I saw them and they were amazing and now I go see them all the time,'" Samson said.
Samson said many of his friends are in bands but that is not how he curates the All Go West lineup.
"It is about booking what is innovative, what is interesting, what is happening, you know?" Samson said.
Kat McReynolds, an event organizer and All Go West attendee, said the festival strikes the perfect balance of being a well-produced multi-stage, multi-day festival that is not solely a block party.
"I know Asheville has tons of live music on any given night, but this is a really rare chance to see so many bands at once, and of so many different styles," McReynolds said.
In 2017 there were 47 bands on the lineup, a number unheard of for a community as small as West Asheville. All Go West includes a mix of staple favorites from Asheville, like Midnight Snack and Doc Aquatic, while still having the chance to wander to the next stage and see a new act, McReynolds said.
"I don't want to sound like too much of a hippie, but there is just a really good community vibe at that event. You've got families, you've got people of all ages," McReynolds said.
Sponsorship and the support of the community allows All Go West to host the festival and keep it free to the public, Samson said.
Dr. Bronner's was a sponsor for All Go West last year, bringing in a giant foam pit for festival attendees to enjoy while they took a break from seeing shows, McReynolds said.
"It almost looked like a mobile greenhouse that you could see all the foam inside and people running around in there, so that was a really cool touch," McReynolds said.
The festival runs for two days, Saturday being the most action-packed day with a full lineup going into the night and lots of people in attendance. Sunday is a shorter, more laid-back day, but both days will have good music, McReynolds said.
"It's one of those events where you just wander in and see if you like what's going on, and if you don't, move on to the next stage and see if you like what's going on there, maybe take a break and get some coffee, it's just a really good place to wander," McReynolds said.
All Go West takes place June 16 and 17 at its home base in West Asheville on Haywood Road. Visit allgowest.com to keep up with lineup and festival updates.