Kye Johnson 
A&F Staff Writer
[email protected] 
It's the '80s and Lorena Russell is walking downtown on Haywood Street before falling victim to harassment by a group of neo-Nazis. In that moment, Russell said she knew as a lesbian the world around her provided no legal recourse for the intimidation she felt.
This type of harassment used to be normal in Asheville, long before it became the tourist destination it is today, Russell said.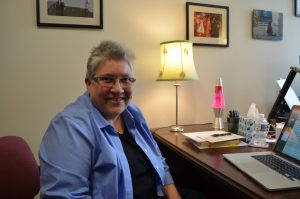 Russell, now an English professor at her alma mater UNC Asheville, serves as co-chair for the 2018 Queer Studies Conference. She said she recalls falling victim to prejudice during the '80s as a student at UNCA and remembers when the campus initiated protections for the some of the LGBT community.
"I remember when UNCA initiated an anti-discrimination protection on campus for gay and lesbian students in the '80s," Russell said.
The anti-discrimination protection put in place was ahead of the wave, Russell said. The protection was a stand-alone action not influenced by other universities in the UNC system.
The Queer Studies Conference occurs biennially since 1998 and takes on issues faced by the LGBTQ+ community on UNCA's campus. This year, the conference will center around the central theme of Prison, Borders, and Pipelines: Toward a Queer Abolitionist Movement.
"This is cast pretty broadly in terms of thinking through institutional structures and how different groups might find some commonality," Russell said.
Queer issues progressed a lot over the years, so this year's conference  takes a look at parts of the LGBTQ+ community still in the dark, specifically issues surrounding the lives of trans men and women and the prison industrial complex, Russell said.
"Trans men and trans women face all kinds of challenges fitting into that particular institution. The challenge here I think is understanding in some ways those intersections," Russell said.
Russell said the theme this year also invites participants to speak on issues of immigration, environmental integrity, issues of colonized people and thinking about the LGBTQ+ movement thus far and how to work on coalition building with activists between disciplines.
"We want to cast a broader net, and that might make it a more open conference for folks.  I'm always interested in getting people who might be like, 'I don't want to go to a queer abolitionist conference, that's sort of scary.' But this is going to be a broadly-defined conference that has attracted a really interesting group," Russell said.
The conference features keynote presenters Mimi Thi Nguyen and Dean Spade. Nguyen, an associate professor of gender and women's studies and Asian-American studies at the University of Illinois, will present "On the Possibilities and Limits of Resilience." Spade, an associate professor at Seattle University School of Law, will speak on a panel via Skype after a screening of Pinkwashing Exposed.
Joe Hiller, a candidate for a master's degree in Latin American studies at Tulane University, became familiar with the conference after interacting with Spade.
Many of the problems the LGBTQ+  community face — including mass incarceration, deportation, police violence, intimate partner violence, structural racism, lack of access to healthcare, economic inequality — are grave threats for the non-LGBTQ+  community as well.
"By focusing on the experience of the most vulnerable people, we are sure to craft solutions that benefit more privileged folks as well. However, the opposite is not true: if we only concern ourselves with minor reforms to the existing system, then more marginalized people might be left out or left behind," Hiller said.
Larger social movements like #MeToo and Black Lives Matter all have a place, and so does the Queer Studies Conference, Hiller said. All of these movements function as a crucial intervention.
"I think it's super important to aim for the abolition of harmful systems, perhaps especially in this moment of expanding crisis, both domestically and internationally," Hiller said.
Certain dangers arise when the state extends selective recognition to queer and trans subjects, Hiller said. There are dark sides to seemingly positive changes and hateful forces have been pretty canny about recruiting some LGBT people into their campaign. Nationalist politicians, especially in Europe, use gay people as a justification for their anti-refugee and Islamophobic policies.
"One of the two frontrunners for the presidential election in Costa Rica is running on a platform of pulling out of the Inter-American Court of Human Rights in order to avoid having to legalize gay marriage — his whole campaign is rooted in homophobia and he's doing well in the polls. These are very troubling developments," Hiller said.  
Hiller said he was particularly drawn to this conference because it foregrounds people working outside of traditional academia as organizers and movement-builders, and looks forward to hearing and learning from them.
"We create a more inclusive world by rejecting and abandoning systems that have proven to cause more harm than good. Abolishing prisons, borders and pipelines would be a good place to start," Hiller said.
Community members, students and staff are encouraged to present at the Queer Studies Conference by submitting proposals. Attendees will have the opportunity to experience material in the form of paper, panel, workshop and performance presentations, Russell said.
Leah Griffin, senior English student, will read  a creative writing piece of her own that is relevant to the conference. Griffin was asked to present by one of her professors within the department.
"Some people are doing presentations with research that they have gathered and stuff like that, so it is a little bit of a different setting as opposed to showing an academic paper," Griffin said.
The story is about a friend who came out to Griffin while they were in high school and how it shaped the way she sees herself.
"It was a very clarifying moment for me, but it is also a story of deconstructing the boundaries that both of us had built up for a long time as young people going through the specific social group that we were in, because we were in church together," Griffin said.
The senior sees her story as a dialogue between the two breaking down the barriers they built for themselves over time and looking into the importance of self-discovery and being your most authentic self.
"It is a story that people can relate to, of like tearing down these preconceived ideas, I think you won't ever get the answers until you know what questions you're allowed to ask," Griffin said. "There is a moment in your life when you realize you are allowed to ask these questions and even if you don't know the answer right away, just the freedom of being able to ask is something that I think is very significant and what that story is really about."
Conferences are all about sharing ideas and creating an environment where those ideas can be shared in a productive and enlightening way, while also bringing a lot of people together to look at the same problem differently, Griffin said.
"It's an age-old tradition of people gathering in order to address issues and find solutions. There are really large institutions in place that definitely bar progress from being made, but I think when people come together in groups in an organized way anything is really possible and amazing things can happen," Griffin said.
The conference will take place April 5-7 at UNCA. The cost to attend a single day of the conference is $20,  which will admit attendees to the sessions during the conference. UNCA students, alumni, faculty and staff have no registration charge but must pay for lunch.  
Fostering community is what this conference is all about, Russell said and finding support and feeling acceptance along with coming away with new ideas and a lot of questions is what she hopes people gain from attending.
"As a human being to just limit my experience to people that are like me would be to really shorten or limit my potential as a human," Russell said.