Kye Johnson
A&F Staff Writer
[email protected]
The Quad was sprinkled with people, some grabbing a bite to eat, some browsing vendors, all getting ready for the impending jam session taking place across campus on three stages, offering up the sounds of 26 bands from Asheville and beyond to the festival goers at Blue Echo's Echofest 2018.
William Hinson, a UNCA student took on the mainstage at 1 p.m. luring the small but attentive crowd in with his smooth sounds. The audience came in close when Hinson played "Why Won't You Be My Girl?"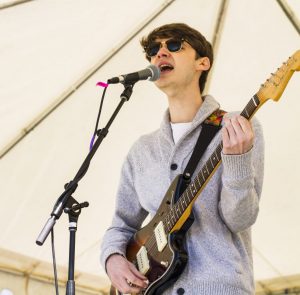 Playing along, the crowd mimicked the lyrics and bounced to the tune off Hinson's EP titled, Elevator Music, Vol. 2. A promoter for Hinson handed out cards with links to his music, Echofest typically showcases bands aiming to make a name for themselves.
"You never know who's going to be there, you never know who's going to be watching you," said Gabby Feinstein, a senior psychology student and one half of the band Mama Danger.
Feinstein is the lyricist behind Mama Danger, a duo. Nick Cameron, the other half of Mama Danger, brings his motifs and knowledge of music technology to cultivate their sound of modern innovations of bluegrass.
"I being the feminine energy of the band, I'm very emotional and for Nick he's a very logical technical oriented person, so music fulfills that aspect of his brain," Feinstein said.    
Feinstein grew up in a musical family, making music a central part of her life. Feinstein and Cameron share stories through their lyrics and sound.  
Mama Danger's performance at Echofest preceded their EP release, Anagrammed. The band went on at 5 p.m. playing the Greenhouse Stage tucked away in the glass house. The sound of their song "Anagram", a narrative based in truth, echoed through the intimate space.
Feinstein and Cameron, both Jewish, drew from the story of Sampson in the Bible when constructing a song about who Samson was with before he meet Delilah — the negative seductive influence in Samson's life.
"It kind of touches on "Jolene" by Dolly Parton, it was influenced by that for sure, it kind of tells the story of someone losing their love to someone else and in turn questioning their own validity," Feinstein said.
Mama Danger is very well received by tourists, since people often come to Asheville seeking mountain music, said Feinstein.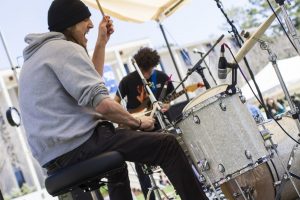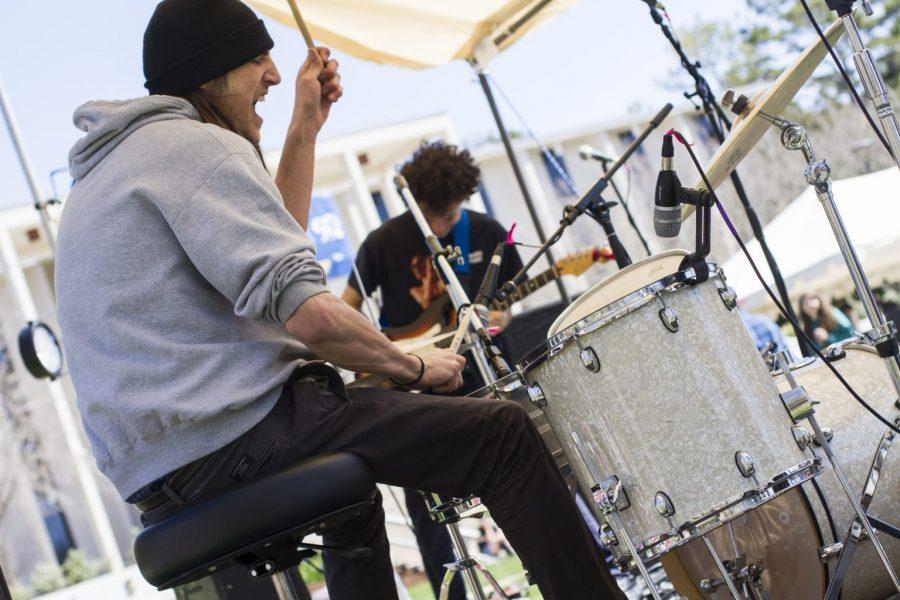 "We are finally showcasing what I personally have been doing with music in my bedroom for the past 15 years and now it's out in the public, and seeing people respond positively to it is a weird experience," Feinstein said.
Mama Danger will be hosting an EP release show on the Quad on April 20 at 7 p.m. to celebrate Anagrammed.
As the evening rolled around, Echofest attendees spent time playing with their dogs on the Quad and lounging in their Enos in front of the mainstage while Pavlov's Bell, Eccentrics and Jahman Brahman pumped up the crowd for the nights headliners.
The Snozzberries, a collective of transplants from around the U.S. who recently formed during the last six months, went on at 7:30 p.m. The sun started to set behind Mount Pisgah and the energy began to rise on UNCA's Quad.
"We've been hitting the ground running in the first six months, we've done a lot , we've done more than I ever thought we would do," said Ethan Heller, a man of many hats, acting as the manager and guitarist for The Snozzberries.
Heller said he thinks music is a magic way to manipulate energy, and bringing that same feeling to the audience members is what his jam band aims to do.
"The nice thing about music is that it's something that everybody can tap into, everythings is vibrating," Heller said as he tapped on a wall. "Everything is a sound wave."
The Snozzberries emitted the same level of magic on the stage. Heller, who admits he frequently forgets the words while getting wrapped up in his performance, delivered a show which left the audience too distracted to notice any mistakes.
"Everyday is a chance to put out positivity and make people's lives happier and so music for me is a way of doing that, you can tap into that and really manipulate the sound and the energy and transmit an emotion into somebody's brain that they wouldn't otherwise felt," Heller said. "Its magic ya know, not rabbit out of a hat magic, like real magic."
Victoria Laudermilk, a psychology student spent her time camped out on a bench near the side stage with her mom. Both veterans of the festival, they were happy to see old and new traditions at Echofest 2018.
"Last year I painted a record here, so that was really cool, that's one of my favorite parts of the festival," Laudermilk said. "It's another way for people to express their art. I know some of the records that were not taken last year were put in the art area and used to make a collage."
The freshman and her mom loved the addition of the stage in the greenhouse where they watched Grace Christian x, a poetic-singer songwriter preform.
"That was a really cool vibe and area to have it, the acoustics sounded cool in there and just with all the flowers, it was pretty,"
Laudermilk stuck around for some of the later performances after she and her mom soaked up the sunshine earlier in the day. Being a student Laudermilk said she hopes more students come out for future Echofests.
"I enjoy anything that gets people outside, and gets everyone together, especially on a day like this," Laudermilk said.