Kye Johnson
A&F Staff Writer
[email protected]
A police officer must serve and protect the American public, but modern day Americans find that protection to be inadequate and unfair, inciting social justice movements in communities of color across the country, Chris Burbank wants to change that.  
"He's going to be meeting with activists along with Asheville city council members and people in Asheville that are part of the policy-making process around police practices," said Keith Cox, assistant professor of psychology at UNC Asheville and one of the key people involved in bringing Burbank to campus.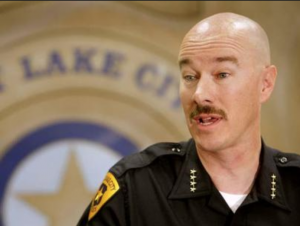 Burbank, director of law enforcement engagement at The Center for Policing Equity and former Salt Lake City police chief, invites the community to hear solutions for issues seen within America's carceral system in his talk "Mass Incarceration and Racial Inequities in Policing: Solutions from a Police Chief".
Burbank has involved with The Center of Policing Equity since its inception in 08'. Cox said the center ranks as one of the top organizations for thinking about policing practices and uses the same research methods employed in social sciences by collecting and analyzing data. They are the gold standard for helping police agencies, Cox said.
"The focus of Burbank's visit and the focus of The Center for Policing Equity is we have some persistent, pervasive inequities throughout the criminal justice system from initial contacts with police, those contacts turning into arrest, those arrest turning into convictions and those convictions turning into jail sentences," Cox said.
According to the U.S. Census Bureau, the 2015 U.S. population of African-Americans was at more than 40 million. That same year, roughly 3.25 million arrests of African-Americans were made, according to the U.S. Bureau of Justice Statistics.
104 unarmed African-Americans that came into contact with an officer lost their lives in 2015, according to data collected through police departments by Mapping Police Violence, a social justice activist group.
"The status quo is unequal treatment according to race and there are other reason and other kinds of unequal treatment. Poor people get worse treatment in our criminal justice system, but at least one major way our system does not live up to our goals and aspirations of liberty and justice for all is along racial lines," Cox said.
The Center for Policing Equity created the first database to track national statistics on police behavior, including stops and use of force, and will standardize data collection across many of the country's police departments. Their staff said more than 40 national police departments are involved, making this data very powerful.
"You can't say that this particular police officer is racist, that's an easy move to go towards," Cox said. "I don't think we want to have this idea of there is this one group of people that don't have any racial biases and then there are these bad people, the cops, police officers are just regular people too that are products of our society."
Burbank served as a police chief for nine years, cultivating his knowledge. Involved in the immigration debate, he advocates against the use of police officers as immigration enforcement agents and  addressed the House of Representatives Committee regarding racial profiling and civil rights issues, according to The Center for Policing Equity.
Patrick Conant, a UNCA graduate, participates in Code for Asheville, a national network of community organizers and technologists who put technology to work for the benefit of our local communities. Conant sees the organization as being at the intersection of civic technology and community activism.
"If we want to build a more equitable and inclusive city, we need to analyze and understand our current situation if we want to make targeted, effective improvements. When discussing racial equity, it is important to look at outcomes from police interactions and the court system, not only because they demonstrate significant disparities, but because the impact of these systems influences outcomes in so many other areas," Conant said.
This issue of inequity in policing starts on a local level, since a significant portion of funding for public safety comes from our City and County budget process, meaning people who live in Asheville and Buncombe County have an opportunity to participate in and influence changes by showing up during the budget process itself and by voting in local elections,  Conant said.
"Our police departments need to fully embrace a system of transparency and accountability that provides proactive, honest information to our citizens. Some of this information may be painful to release, but doing so will empower our community to actively participate in the process of accountability that is so critical to rebuilding trust," Conant said.
For the social activist, bringing the issue of racial inequalities back to the forefront of the public's consciousness with movements like Black Lives Matter helps remind the public that social change is possible and having African-American leadership at the center of the movement is very important.
"When I was in school, the civil rights movement and issues of race were often referred to in the past tense, as a struggle that no longer existed. We know that is not the case, but it has taken large social movements to force the issue, to restart a conversation that needs to be had if we are to ever make true progress," Conant said.
Bettie Council, a retired elementary school teacher, now works as an adjunct instructor at Asheville-Buncombe Technical Community College and spends her free time in Asheville as an activist.
"It has been proven that the prison system is a system to financially benefit private industries. The more prisoners, the more money they make," Council said.
For Council, change begins by fundamentally addressing the core of the centuries-old criminal justice system, a system founded when black lives held little importance.  
"The country is in the state it is because white colonists set up systems that were and still are keeping white people in power. This systemic, racist system is still in existence and operating as designed today," Council said.
Council participates in the Racial Equity Institute Training in Asheville. Council said the training within the curriculum should be included in every history book because it shows how the system was designed and set up to oppress people of color.
"It is important to talk about not only in the sense of making people who are not conscious woke, aware," Council said.
Burbank will be on campus attending the Social Justice Coffee Hour put together by The Key Center for Community Engaged Learning, along with giving talks in individual classrooms apart from his main talk taking place in the Sherrill Center Ingles Mountain View Room. The talk, "Mass Incarceration and Racial Inequities in Policing: Solutions from a Police Chief" will be free and open to the public on April 18 at 7 p.m.
"If you care about the idea of living in a just society, if that's something you value, do you want to participate in a society that believes in fair and equal treatment of all, then come," Cox said.