Rachel Boyle
Sports Staff Writer
[email protected]
UNC Asheville students filled the stands to support the UNCA baseball team as they played against University of South Carolina Upstate Spartans.
The Bulldogs played their best but ended the game 3-10.
Junior management student Maddy Donlin said she enjoys coming to the baseball games to support her fellow Bulldogs, as she did April 10 for the face-off with USC Upstate.
"I love watching baseball because I feel like it is a sport that I will not miss anything. I am bad with following sports but with baseball, I got it because I love coming to all the home games," Donlin said.
Throughout the innings the Bulldogs played a tight game against the Spartans. The Bulldogs not only played well, but had support from fellow student athletes to push them on. Junior psychology student Rayanna Hammond was in the stands with her dog to support the team on the field.
"I came out to support another sport here at UNCA. I play soccer and I enjoy having support from other sports when I am playing," Hammond said.
The stands were filled with parents and all kinds of students cheering on their fellow Bulldogs. Hammond said as a college athlete, she can relate to the baseball team's experiences throughout the game.
"I feel the same way they do because I know how they are feeling out there on the field and what they feel like after winning or losing. It is all about support and you would not have all of this without your support system from your peers," Hammond said.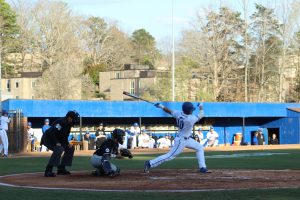 Hammond was not the only student athlete in the stands supporting the Bulldogs — there were swimmers and other soccer players cheering on the team.
"Even though baseball and soccer are two completely different sports that are played in totally different ways, I feel like all athletes — especially all college athletes — in a way go through the same experiences, especially with having school work and other responsibilities that you have to keep up with as well all the time. Even though baseball is different it is still similar in the daily grind that we have to go through in many ways," Hammond said.
The Bulldogs continued to push and played powerfully through all nine innings. Freshman management student Maegan Ashby cheered in the stands. Ashby said her love of baseball stuck with her throughout life.
"I never played baseball or softball as a kid but it was something that my dad kept as a tradition for us to do together. I grew up watching baseball with my dad, so when I come to the games here it is just a little reminder of home," Ashby said.
Ashby and Donlin came to the game to spend time together. Donlin said she attends the baseball games not only for the sport but also for the community.
"I thoroughly enjoy the atmosphere of the student sections when I am at games. Everyone is always pumped and supportive of the players on the field and I really love cheering for my school," Donlin said.
Ashby said growing up watching baseball helped her find connections.
"I feel like it is almost like you are connected with the team. So when they win you feel like you win and that you feel the adrenaline and excitement that they feel," Ashby said. "Especially being in college now and getting to watch my own school's team play makes it more personal because we are all Bulldogs supporting one another."
Hammond said she thrives on the community the UNCA sports have provided for her. She bonded with other college athletes as well as made connections with the community of fans.
"I feel good when I see other athletes at my games because, for one thing, it makes you feel more connected to the school being out there supporting other athletes," Hammond said. "I feel like knowing how much I enjoy having them come to my games, I feel like they deserve the same. I know when I am on the field and I see them in the stands encouraging me on, it pushes me to play better."
Even though the Bulldogs did not take home a win, they played well and the fan base is still strong. The season is not over for the Bulldogs, so they still have a chance to claim victories.