Beyoncé's black pride shines through at Coachella
A'sha Noble
Opinion Staff Writer
[email protected]
Weekend one of the Coachella Valley Music and Arts Festival recently took place in Indio, California as it does every year.
The festival was deemed "Beychella" after Beyoncé's extensive and elaborate performance. Her two hour performance featured 27 songs from the beginning of her career up until now.
The hashtag #Beychella racked up 2.4 million mentions, surpassing the hashtag for the festival itself.
Beyoncé made history as the first African-American woman to headline Coachella. She recalled this moment at her most recent performance.
"Thank you Coachella for letting me be the first black woman to headline," Beyoncé said. "Ain't that a bitch?"
Sophomore new media student Ellen Smykowski said she tuned in to the live stream of Beyoncé's performance.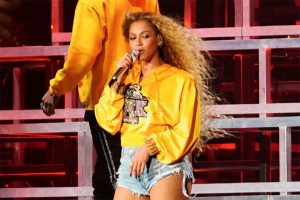 "I didn't see her whole performance. I don't keep up with Coachella too often but my biggest thing that I took from it is that it's 2018 and she was the first black female to headline the festival," Smykowski said. "Which to me just seemed crazy especially considering how big of an icon Beyoncé is. She's definitely a performer that just stands out with her choreography and presence on a stage and that's just something I think was really powerful to bring to the festival."
During her show she referenced the culture of historically black colleges and universities. With a 200 person crew of majorettes and marching band members, Beyoncé re-created the historically black college homecoming experience.
Beyoncé could have chosen any dancers and musicians for her show but she used band members and dancers who were members of HBCUs across the country as well as true members of our nine historically black fraternities and sororities.
"My favorite part of her performance was that she incorporated students in the marching band at North Carolina Central University. That was really cool and how it just tied into the African-American culture and women empowerment. She is one of the biggest women empowerment figures today. She was able to tie that in with females being superior to males during her show. It was just very nice to watch. I really liked it," said Kellie Lucas, freshman environmental science student.
An imitation step show and probate took place during her show. The stage transformed to resemble bleachers. The national anthem was sang just like it would be at any other game, but Beyoncé put a twist on it and I very much so appreciated it.
She decided to sing the the black national anthem, "Lift Every Voice and Sing," amid the NFL kneeling controversy that is still taking place.
"From the snippets that I did watch from the Beyoncé performance. I really enjoyed the inclusion of Greek life, actually. Being a Greek life member myself at UNC Asheville, I really enjoyed the pridefulness and the fact that I don't know whether Beyoncé is or was a Greek life member but she really showed that she supports sororities and fraternities even at Coachella," said Carolina Zatta, sophomore psychology student.
Though the queen herself is not a member of any sorority, she made sure to represent those who are part of Greek life. Yellow and black were used throughout her performance and on the custom Balmain costumes.
Though black and yellow are the signature colors of the "Bey-hive," it was not a coincidence that the colors are very similar to the black and gold of the Alpha Phi Alpha fraternity which she referenced throughout the show. Alpha Phi Alpha was the first intercollegiate Greek-letter fraternity established for African-American men.
"What I took away from it, in comparison to her other performances was that she is very tuned in to what's going on politically and she likes to project that. When I saw her live previously, I definitely didn't see as many outspoken political messages as she carried out in the performance at Coachella and because Coachella is such an iconic platform and festival, I  think it was really important that she showed what she showed," said Olivia Sanford, junior psychology student.
When watching Coachella I wondered if others picked up on the symbols and mannerisms that I noticed. Beyoncé's mother, Tina Knowles, did not feel as though the audience would understand the message her daughter was trying to get across. She later expressed her concerns.
"I told Beyoncé that I was afraid that the predominately white audience at Coachella would be confused by all of the black culture and black college culture because it was something that they might not get," Knowles said in an Instagram post.
Beyoncé's response to her mother was simple.
"I have worked very hard to get to the point where I have a true voice, and at this point in my life and my career, I have a responsibility to do what's best for the world and not what is most popular," Beyonce wrote.
Her mother stood corrected. She then went on to say she hoped audience members would research the culture Beyonce was representing.
Beyonce herself said she hoped more students would enroll in HBCUs.
Beyoncé not only represented HBCU and African American culture through her performance but donated $100,000 to four HBCUs through her BeyGOOD initiative the very next day after her performance. Beyonce definitely put her money where her mouth is.
"You know, Beyoncé is just beautiful and she just did an amazing job. This is one of my favorite performances. It's one that I could rewatch again and again," Zatta said.