Henry McGannon 
Sports Staff  Writer
[email protected] 
The Big South conference named Courtney O'Malley the defensive player of the week after a 17 save game against Virginia Military Institute on Friday night. Her 17 saves in a single game are the most by a Big South goalie since 2013.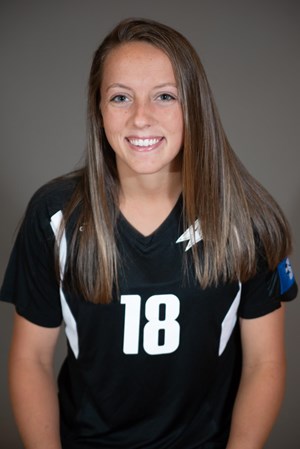 O'Malley, a Cumming, Georgia native plays her first year at UNC Asheville. This was her first shutout as a collegiate player in only her second game.
"We knew going in that they were going to be a pretty fast paced team. Our plan going in was to stay compact defensively. We handled that well in the first half. They were outshooting us, if you look at the stats it looked like they dominated," O'Malley said.
The other team did not dominate though. In fact, O'Malley and the bulldog defenders dominated them. VMI pounded 32 total shots on goal and not a single one made it past O'Malley into the net. O'Malley wasn't the only reason none of those shots went in though.
"Overall, we looked good defensively. My stats made it look like I did more than I did. My defenders kept everything out and organized in front of me. This was only the second game I've played in. I was nervous going into this one because it's been a while since I was in a game speed situation. Byson Lee helped warm me up and gave me some good advice before the game," O'Malley said.
The bulldogs have a new head coach this year, Lindsay Vera. Familiar with the collegiate and professional soccer world for years, Vera  prepares to make UNC Asheville a Big South contender this year and in the future.
"I am still impressed with this group of players every day. They have been able to take our biggest focus from training and immediately apply it to the game. I've said it once, and I'll keep saying it—they are extremely coachable. My biggest job, as we head into the Big South, is to maintain their workload and keep them as healthy and fresh as possible for each remaining game this season."
The strategy of the game plan and placement of players is crucial in soccer. Vera focuses heavily on the organization of players and where the defenders are stationed on the field.
"Our next game is at Longwood University on September 19th. As we prepare for that match, we will continue piecing together our attack while tightening and maintaining our defensive shape and organization. Longwood is a good team and we are looking forward to the challenge of a conference opponent," Vera said.
When playing a 16 game regular season schedule with 10 conference games thrown in there like the bulldogs do, maintaining focus is crucial to a team's success. Every game counts toward their record. The better their regular season is, the better their chances of advancing in the postseason are. The coach plays a huge role in keeping the players focused on practice days, and making sure they focus on the quality of their practice and not the quantity.
"We will keep taking it week by week. We continue acknowledging every small success while working on our weaker points to ensure our best is yet to come," Vera said.
When asked about O'Malley's performance on Friday and the award she received, Vera showed enthusiasm about the freshman goalie and the team as a whole.
"This is my first season at UNC Asheville and therefore this is the first player under my watch to be awarded with a Big South distinction. I am so happy for Courtney and the entire group as it has certainly been an overall effort from this team,"
Clifton Bush is a new assistant coach for the lady bulldogs soccer team this year. He was also an assistant coach at California State University, Bakersfield for four years.
"I was not surprised at all by Courtney's performance versus VMI. She has been one of the most consistent goalkeepers I've worked with over the years."
The bulldogs kick off their conference play on Sept. 19 when they travel to Longwood University in Farmville, Virginia. Their conference home opener is on Sept. 22 against Campbell.