Helpmate celebrates 40 years as resource
Taylor Sexton
Arts and Features Editor
[email protected]
Celebrating their 40th anniversary, Helpmate acts as a nonprofit organization providing resources to victims of domestic abuse within Buncombe County and continues to push for education and awareness surrounding the topic.
"Domestic abuse or intimate partner violence is a pattern of coercive control in which one partner or former partner attempts to control the other through a series of tactics that can be any combination of things like financial abuse, physical abuse, sexual abuse, emotional abuse, isolation, using children, using privilege, using all these tactics in order to remain taking control of their partner, or former partner," said Joanna Knowles, the program director at Helpmate.
The term "domestic abuse" developed in the 1970's, but before then it had been a taboo topic within society, Knowles said.
Helpmate's 40 year anniversary fundraiser hosted a panel with all the  leaders from the organizations history, speaking about how far the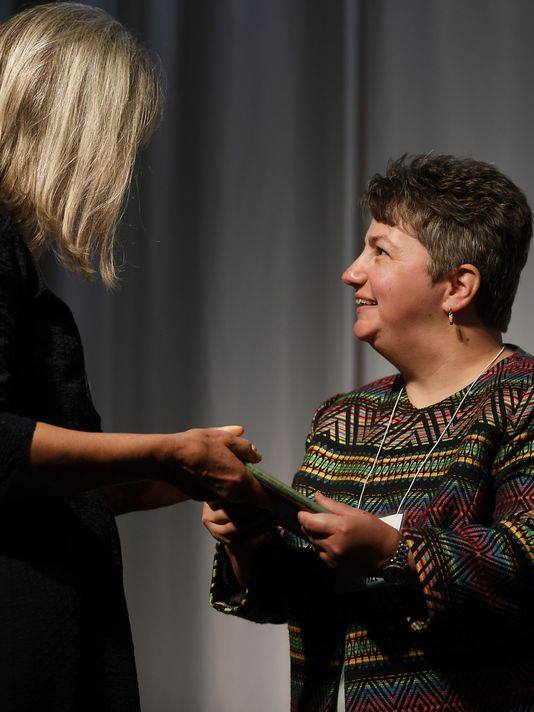 nonprofit has come.
"It was amazing to hear them talking about how they started with just volunteers trying to come up with a hotline. There was no shelter. So volunteers were having people in their homes and it functioned a lot like an underground railroad," Knowles said. "We've come a long way in 40 years."
Now, Helpmate offers a 24 hour hotline, emergency shelter, individual and group counseling, court advocacy, training of professionals and community leaders and preventive education for at-risk groups including youth. As program director, Knowles' job requires her to oversee all service programs.
Emergency shelter continues to be Helpmate's longest standing program, Knowles said. The shelter resides in an undisclosed location and houses 20 beds that always stay full. There's also a team of advocates who work at the emergency shelter.
"We have a court program, we have two court advocates that are there all the time to help folks navigate the legal process. If they need to get a restraining order or file criminal charges, we walk them through that," Knowles said.
Helpmate also offers a community case management program, also known as community advocacy, to victims and survivors.
"So, that's people who did not need to go into shelter or were sheltered and then moved into housing that still have a lot of pieces of their life to put back together," Knowles said. "And we have a children's program, which is our newest one. So that's to work with children who have been impacted and secure the non offending parents and helping to reduce trauma to those kids and increase the chances of their resiliency and having a happy, safe life."
According to Knowles, Helpmate supports several people every day. Last year, they served 2,578 people with their services and took 3,133 crisis calls. Their numbers have increased drastically within the last five years, Knowles said.
"We keep thinking we've hit the peak and then we're seeing higher and higher numbers. I think that's a combination of things," Knowles said. "We're more visible, we're working more with community partners, so we're definitely getting a lot more referrals."
Recently, Helpmate has started a more collaborative effort with law enforcement, Knowles said. Helpmate receives calls from from law enforcement on the scene of domestic violence calls and are in contact with the victims from there.
"It feels like recently the level of violence is higher than what we were seeing before, just the brutality of assaults and the number of calls we're getting," Knowles said.
Knowles said the increase in calls is not necessarily due to an increase in violence, but an increase in awareness of  resources and a greater sense of empowerment and willingness to reach out for help.
"My hope is that this increase is going to lead in the longterm to a decrease. That more people are reaching out, more people are hearing that the community's not going to accept it and hopefully it's a good trend," Knowles said.
Within advocacy work, there are three tiers of prevention work. Primary level work requires getting into the situation before the problem even starts.
Secondary would be working with individuals who have experienced the violence and  tertiary prevention would be to essentially work with the individual and help them cope with the lasting effects of their abuse.  
For prevention educator, Hannah Stampe, her program focuses on primary prevention, working with young people and trying to introduce skills that can prevent domestic violence from happening.
"So, the idea is that if we did this well enough, that we wouldn't have domestic violence anymore. That's the goal," Stampe said.
Stampe's job requires her to build relationships with schools. When Stampe first came to Helpmate, there were no relationships with community agencies because they didn't have the resources or people to do so.
 "My job has really been getting our name out there and building a program, getting a curriculum together and then going out and teaching it. And so primarily we're teaching—I mean the idea is that we could get earlier, like younger and younger—but in terms of my capacity right now we are targeting eighth and ninth graders primarily," Stampe said.
Stampe said she spends up to three hours in the school's health classes teaching students about recognizing the signs of abuse and what's OK and healthy in relationships. She said they are beginning to talk about and question if possessiveness and jealousy should be acceptable in a relationship.
"Where's the line between healthy and unhealthy with jealousy and possessiveness? How often are they texting you, are they texting you 100 times a day? And if they're texting you more than you want, what kind of questions are they asking? You know, is it the who, what, where, why, when, or 'W' questions? And so we really look at that. And then are your boundaries being respected is a big one," Stampe said.
Stampe said the curriculum also has to change with the times, so at the moment they are incorporating technology abuse with their teachings.
"So we talk about that because password sharing — I don't know if this is true in college — but in high school it's a that sign that you love someone, that you share their passwords. And so it really becomes like, 'well, if you loved me, you would give me your passwords to everything.' It really can be super manipulative. I mean, not say it's wrong to share your password with someone, but it shouldn't be an expectation or a sign of your love," Stampe said.
According to Stampe, their curriculum is called Safe Dates, an evidence based curriculum on domestic abuse that has shown to be beneficial in the reduction of domestic abuse.
Safe Dates administered an eight-session curriculum to an experimental group of children. When checking back four years later, they found that the rates of perpetration and victimization had been reduced by 56 to 92 percent.
"But here's the thing, it was written in 2008 or 2006 and so it doesn't have anything about smartphones. I mean, there's no section in there about digital abuse and also there's no multimedia in the presentation so it's all handouts and talking and that's not how they learn these days," Stampe said.
Stampe said it's important she keeps the curriculum relevant to the generation she's teaching. For example, if she were to give a handout about Facebook, kids would laugh because no kid uses Facebook anymore she said. So it's important she keeps it fresh and engaging for students.
Helpmate recently signed a contract with Asheville City Schools to spend three hours with all eighth graders and three hours with all ninth graders to educate them on domestic abuse.
"This is a big deal. That way we're going to get six hours with every student in the city schools to talk about healthy relationships, which is amazing," Stampe said.
Stampe said the number one comment she recieves back from students continues to be that they didn't even know things like name calling, being told what they can or can't wear or password sharing was considered abuse. Abuse requires power and control, Stampe said, so it is the little critiques or comments that can count in the long run.
"I think that the point of education is to help them expand this definition so that they know what behaviors they deserve," Stampe said. "Like, let's get real about it, because they have never thought about it before, a lot of them, what they deserve and relationship and to write it down and announce it to the class and say like, 'I have the right to say no' and it certainly is a big empowering step that they maybe have not said before or realized before."
Helpmate also offers volunteer opportunities and loves any help they can get, Knowles said.
UNC Asheville sociology and ethics and social institutions student, Caroline Gadsby, volunteered for Helpmate in September and helped clean up the building and kitchens.
In Gadsby's time with Helpmate, she learned more about the organization and all the free educational and training opportunities offered to first responding professionals, which she said she found cool and important knowledge for them to have.
"I believe organizations like this one are incredibly beneficial to the community because it helps eliminate abuse and fear by providing a safe and supportive place for people who have been victimized by domestic violence," Gadsby said. "Having centers like Helpmate makes it easier for someone to get the help they need and provides support for people who don't have any."
Signs of domestic abuse can look many different ways: from a person's partner controlling bank accounts and telling them what they can and cannot do, to the abuser isolating their partner from friends and family or other things they normally enjoy doing, or just withdrawing in general, Knowles said.
If a person notices their friend exhibiting any of these signs, Knowles said it remains important to be there for their friend and support them.
"First of all, believing them, telling them it's not their fault. The main things we can always say is, 'I hear you, I believe you, it's not your fault, you don't deserve this. I'm sorry this happened to you, how can I support?'" Knowles said.
It's important to trust the survivor and their experiences, offer them resources and be understanding as to why they haven't left the situation yet. According to Knowles, most homicides occur when a victim plans on leaving or has just left, so it's important to be there and give the survivor what they need, because it may be safer in the short term.
So far in Buncombe County this year, there have been four deaths related to domestic abuse, Knowles said.
"They're not alone. Just the fact that we exist speaks to the fact that domestic violence is wrong. When you're in that situation, it's hard to keep perspective on what's normal and what's not. So just the fact that we exist speaks volumes to a survivor that this is not OK and 'I'm not alone, that I'm not the only one, that's happened to lots of other people,'" Knowles said.
Helpmate continues shows dedication in working with the community, but they can't do it alone, Knowles said. They need community partners to get involved and help raise awareness and put an end to domestic abuse.
"It's not an individual problem. It's a cultural problem. It's a systemic problem. And we are committed to stick in through this," Knowles said.
If you are interested in volunteering with Helpmate, or are a victim or know someone who is a victim, please visit the website www.helpmateonline.org or if you are in an emergency situation call the hotline 828-254-0516.
Helpmate is located at Buncombe County Family Justice Center at 35 Woodfin St in Asheville and walk-ins are welcome Monday through Friday, 8 a.m. to 5 p.m.