UNC Wilmington students evacuate to UNC Asheville
Rosa Fallon
Arts & Features Staff Writer
[email protected]
 On a warm Wednesday afternoon outside Ponder Hall, Teo Buhler appeared like any regular UNC Asheville student passing time between classes. Any typical passer-by may not give it a second thought but Buhler is an international French student from UNC Wilmington.
As Hurricane Florence barreled toward the coast of North Carolina last week, students and faculty at UNCW were issued a mandatory campus evacuation effective at 8 a.m. on  Sept. 11. While many students packed their bags and headed home to be with their families, others such as Buhler had to seek shelter elsewhere.
"I wasn't expecting to leave because last year we had a warning. When UNCW issued the evacuation program, I definitely wanted to go with them," Buhler said. "My friends in Wilmington chose to go in all the states, but it's very expensive, especially for international students.  I think I definitely made the good choice coming here because basically, all is free. UNCA is taking care of us."
In an effort to help get students to safety, UNCA collaborated with UNCW to offer housing to approximately 50 UNCW evacuees. Four faculty members and 11 students traveled to UNCA on a charter bus the following morning.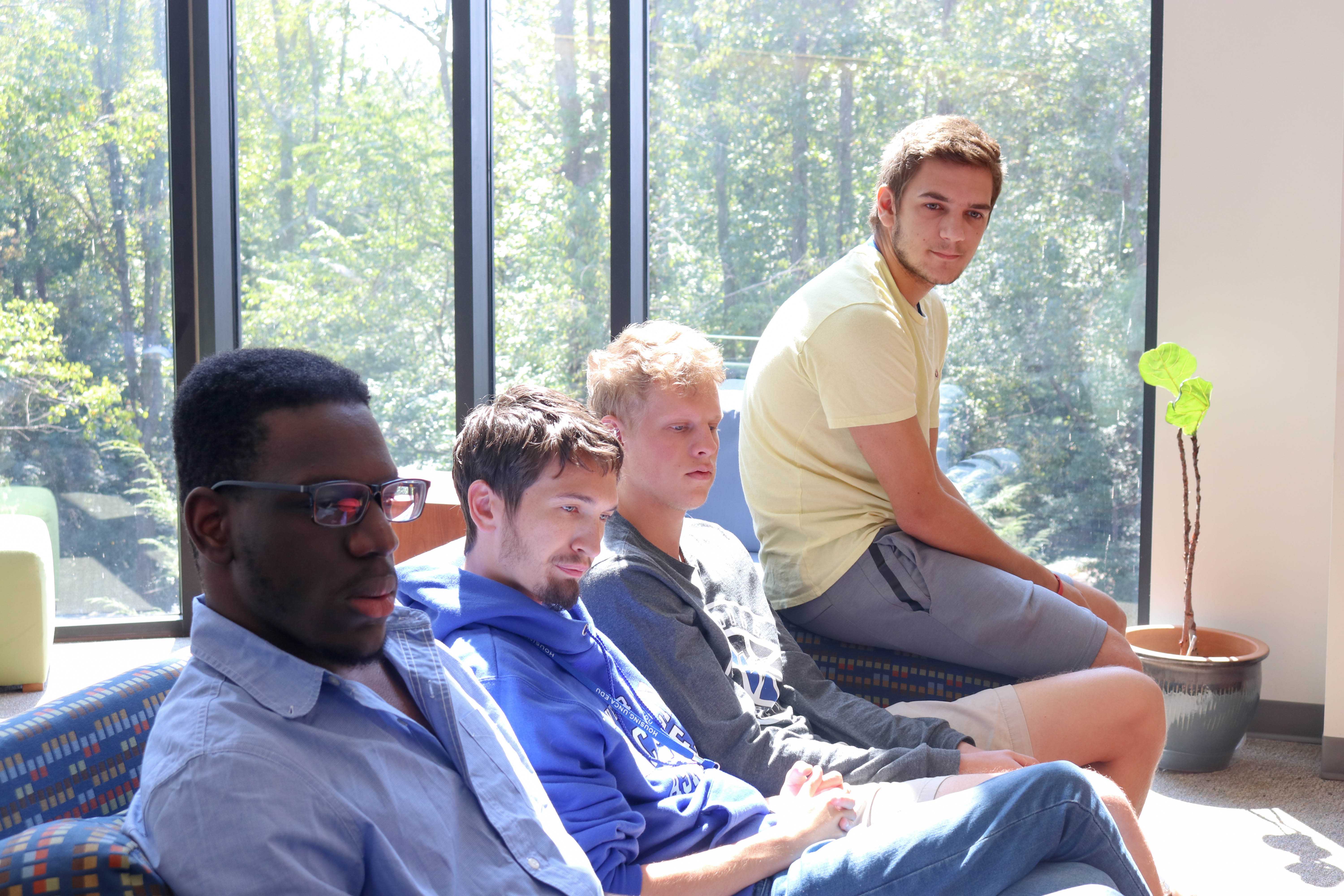 Lanre Badmus, a senior international business student at UNCW also evacuated from the school.
"At first, last Monday we had a voluntary evacuation.  All classes after 12 were canceled. Later that day, it was upgraded to a mandatory evacuation so everyone had to leave by Tuesday at noon," Badmus said.
He said the university office sent out an email offering students who did not have a place to go the option to come to UNCA.  Students who wanted to go had to call the dean's office to book their spots. Originally, students were going to sleep on cots in the Sherrill Center.
"We got on the bus on Tuesday. Two coaches were booked, meant to fit 50 people each but only 11 of us actually came on the trip. That's why we're sleeping in Ponder hall and other places like that instead of sleeping on cots," Badmus said.
Badmus is originally from New Jersey but calls Wilmington  his home, as he has been a student at UNCW for four years.
"Seeing all this happen, seeing all the damage pictures and hearing about all the rumors about what might've happened on campus, seeing all the flooding, especially hearing about people who lost their lives, it's beyond heartbreaking," Badmus said.
While their home is under water, Badmus said the UNCW students found a home here at UNCA.
"Everyone has been just so kind to us, so accommodating. We've made a lot of new friends here," he said. "UNC Asheville is great and is amazing in its own way."
While the UNCW students may be fitting in at UNCA very well, they are not enrolled in any classes.
"We do not take any classes here. We're just chilling, basically," Badmus said.
Jay Parrack, an international student from England studies computer science at UNCW.  
"Essentially, all classes are suspended for us until everything is back up and running.  Everything is just shut down because of the storm," Parrack said.
Parrack says he could probably speak for both himself and fellow French student Buhler when he says it's really hard because they don't experience hurricanes where they come from. Parrack did not necessarily take it seriously at first.
"The minute I heard about it, I was like, 'what is a hurricane?' and I got told it was rain and wind and I was like, 'oh, that's just England,'" Parrack said.  "And then they said it's going to be harsher wind and rain and I was like, 'oh sweet, where do I sign up?'"
But when they started driving through South Carolina on their way to Asheville, Parrack realized the severity of the storm.
"It's not the best thing in the world because obviously, we just want to be back in our studies," Parrack said.  "It's difficult, especially since I can't exactly get on a plane and go home because of money and time."
Senior exchange student Buhler hails from Marseille, France. He has been studying business and entrepreneurship at UNCW for a year now.
Despite their normal lives being temporarily disrupted, the students unanimously said they are enjoying their time at UNCA. They have full access to UNCA facilities for the duration of their stay.
"It's really dope.  It's super chill just like UNCW is but it's a different type of chill vibe compared to UNCW.  UNCW is like, 'beach-bum chill' and at UNCA you've got 'up in the mountains chill,'" Badmus said.    
Eddy Cornish, a junior economics student at UNCW,  said he chose to transfer from the University of Maryland, Baltimore County because he liked the openness and the friendliness of the people in North Carolina.
"Everyone's just themselves here. Like even on the way to this interview, I saw there was this lady lying on the grass meditating and doing yoga and I was like, 'that's the coolest thing ever,'" Cornish said.
  The students still don't know when they are going to return to UNCW.  
"We might be here into October, I think. We just don't know," Badmus said.
For all four students, this is their first time seeing Asheville. They said they have plans to visit the Biltmore Estate, especially.  Badmus and Parrack collectively have the hope that this could create something new for UNCW and UNCA.
"What we hope, especially Jay and I hope, that maybe this will be the start of a closer partnership between UNCW and UNCA," Badmus said. "What we were kind of thinking was maybe having some UNCA students bussed over to UNCW later this school year and maybe making it become like an annual thing, obviously without the need for any natural disaster-related help. Basically, like swap schools for a week or something."