March for Our Lives: Local students organize thousands to march against gun violence
Nicholas Haseloff
Contributor
nhaselof@unca.edu
One high school student addresses a crowd of thousands at Martin Luther King Jr. Park in downtown Asheville. Through tears she reads the names of the victims of the school shooting she survived.
The student, Anna Dittman of Parkland, Florida, is a junior at Marjory Stoneman Douglas High School, where a mass shooting claimed the lives of 17 students and staff in mid-February.
"I remember running away from the school terrified as my classmates jumped over the fence to get away from the gunfire," Dittman said. "I eventually found my sister and we hugged and held each other, happy that we were safe."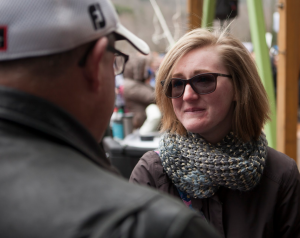 Dittman spoke Saturday as part of March for Our Lives Asheville, a rally and march set up by local high school students to respond to the shooting in Parkland, raise awareness of stricter gun control laws and advocate for voting into office representatives and officials that support those views.
"After the Parkland shooting, we felt that we could no longer be sitting down. We had to rise up and say what we felt about this issue," said Aryelle Jacobsen, a senior from A.C. Reynolds High School and one of the student organizers of the event. "We felt like there's such a power to bring our community together and discuss a big prevalent issue and so it was just really gathering together with the students and knowing that enough is enough."
The march coincided with the larger March for Our Lives event which occured in Washington, D.C. the same day.
"We were ready to stand up and say something. We were ready to stand up and march. My friends were ready to go up to Washington and stand for what we believe in," Dittman said. "And it's all of us. And with you guys joining it's become a much bigger thing. We're ready for that."
The march started in Pack Square Park, travelled east along College St. and then south down Martin Luther King Jr. Dr., where it culminated at Martin Luther King Jr. Park. The march attracted thousands of students, teachers and supporters.
"I have seen a change in students' attitudes about guns in school and doing a lot more of saying something if they see something," said Lindsay Kosmala-Furst, one of the main speakers in the rally and an educator within the Buncombe County School system for the past decade.
Kosmala-Furst said the event emphasized how America can tackle the problem of gun control and can work through their differences to help make schools a safer place for learning.
"I think this march is going to send a message," said Lauren Cavagnini, a senior from A.C. Reynolds High School. "And since this is a bipartisan march, hopefully it will bring unity and cause a dialog on how we need to start having these common-sense gun laws in our schools and our communities."
Tents set up in the park gave supporters the chance to speak with local community advocates, with one tent set up so supporters could easily register to vote. Dakota Sipe, a sophomore from Brevard High School, registered to vote for the first time in his life and cited issues like gun control as reasons for his registration.
"I wanted to support the movement of banning weapons of that are easily accessible to the general population," Sipe said.
Jacobsen stressed the fight for safe schools is not close to over. She said people can incite change quickly and effectively through voting in officials who will support stricter gun control.
"I think what this rally is going to do for the Asheville community is to unite us together," Jacobsen said. "So we can join as one to get more local legislation to make sure there's no more gun violence. There's a local sheriff's election coming up real soon and we want to advocate for people to come out and go vote for that. It's really important that we move forward with this change."