Ancient and electric worlds collide in UNCA's transformation of Bacchae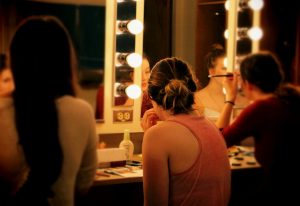 "The Bacchae Transformed," a mainstage production by the department of drama, premiers Thursday in the Carol Belk Theatre.
"When I found out we were doing "The Bacchae," I knew I had to audition. Dionysus is my favorite god, and I always appreciate anything about him," Justin Day, a junior drama student, said.
Day, who will portray the divine form of Dionysus in the production, said they are anticipating the show's incorporation of visuals.
"From what I understand of the designs, it's an aesthetic we don't normally do here. So I guess I'm most excited about the way the lighting, costume, makeup and sound designs come together," they said.
The role of Dionysus will be split between them as the deity and junior Ginny Shafer as the human form.
"If anyone is going to play the same person, I'm glad it's us. We are scarily similar and have a lot of the same thoughts," Day said.
Rob Berls, director of "The Bacchae Transformed," said the ancient Greek play will have technological twists.
"The music itself tells a story. A local artist is setting the play to electronic music," the associate professor of drama said. "It makes your soul yearn and pulls the audience into a sense of the known, and then deeper into the unknown."
The show will feature products created with images taken using a 3-D scanner Berls created from an Xbox Kinect, as well as light projections, he said.
According to Berls, the script was translated directly from the Greek language by a classics class taught by Sophie Mills.
"This was done as part of the Festival of Dionysus," Berls said.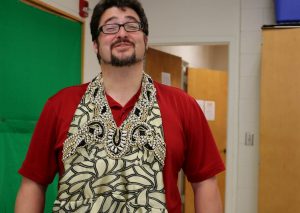 He decided to teach at UNCA because of the university's commitment to liberal arts, he said.
Students worked on the production 15-17 hours a week for six weeks, according to Berls.
"We have it in high esteem that they are students first. We want to teach them how to be working artists in many respects," Berls said. "All across campus, these are some of the best students ever. They are seeking to change the world."
Berls said the play has a global focus and touches on ideas of gender identity.
"The Bacchae tells a story about respect, loss and the dangers of blindly following a leader," Caroline Dischell, a senior drama student, said.
Dischell plays the role of Agave and took part in building the set.
"You'll see me acting alongside the chorus as a member of The Bacchae for most of the show," Dischelle said.
Her character has a tragic surprise in store at the end of the play, she said.
"We have a very talented cast made up of a lot of younger students, which is always very exciting," Dischell said.
Dischelle said she is excited to see the lighting work of sophomore Bryan Marks employed in the production.  
"This is what makes UNC Asheville great — all different departments coming together and letting creativity flow," Berls said " These are some of the best students across campus, seeking to change the world."