Trump temporarily bans refugees with executive order
Rachel Bewick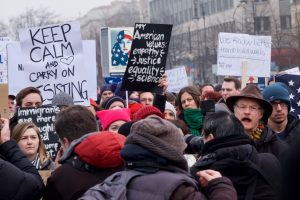 Contributor
rbewick@unca.edu
President Trump signed an executive order on Jan. 23 temporarily banning people from entering the U.S. for at least 90 days. This order specifically points to seven countries: Iraq, Syria, Iran, Libya, Somalia, Sudan and Yemen.
President Trump said his intent is to improve security screening to make America safer, but a majority of people disagree with this statement and feel more unsafe.
Anna Frate, a member of the Alliance for Resistance and Education in Asheville, said she believes this is going to have the opposite affect of what he wants.
"I think one of my major problems with it is that the argument that he has and supporting it is, how we're gonna keep America safe when there's no evidence of a Syrian refugee coming to the U.S. and creating an act of terror," Frate said. "It's just not a thing, and whether it's explicit or not, it just seems like it is attacking Muslim population and it's making a statement that we don't want Muslims in this country. I think that in effect is going to make America a lot more unsafe than it is right now."
Stephanie Thompson, a freshman new media student at UNC Asheville, also disagrees the executive order will make America safer.
"I think it brings bad feelings into the equation and there's already bad feelings so I just think it makes it worse. I don't think there is any need for it," Thompson said.
President Trump signed the order without any input from the defense secretary. The secretary of defense is the defense policy advisor to the president. President Trump decided he did not have to discuss this matter with him, even though it does involve national security.
"A lot of the conversation from government officials has been he put this order into place and didn't consult with major heads in Congress and when there's an issue that regards national security, that's ridiculous," Frate said. "You need to be talking to people who are gonna advise you on certain things."
The New York Times reports the order is actually illegal. Congress outlawed discrimination against immigrants based on national origin in the Immigration and Nationality Act of 1965.
Trump said he can override that law if he feels letting certain people in will be detrimental to the interest of the U.S., although the Act of 1965 states, "No person could be discriminated against in the issuance of an immigrant visa because of the person's race, sex, nationality, place of birth or place of residence."
In the media, there is controversy on whether or not racial issues are central to the decision to put the order in place, that Trump is racist and that is why he signed the executive order. Many people feel as though Trump is stereotyping Muslims who come here as bad.
"If people can distinguish between the KKK and Christianity, then they can distinguish between Muslims and ISIS," Thompson said.
Another controversy is the president discriminating against people because of their religion.
"It's criminalization of people of color and people of religions other than Christianity. I mean, he explicitly stated that Christian refugees would have priority and get treated in a different way than others. That's unconstitutional, 100 percent," Frate said.
Another argument made against the order is America is supposed to be a "safe place" for people of other countries. Whenever people did not feel safe where they were, they would come to America to get away from violence where they were living.
MaryGrace Currie, a freshman health and wellness student, said she believes refugees should be admitted for their safety.
"It does seem really harsh to have seven countries that people can't come in because what if it is actually safer here than it is in their own country and they want to get away from it, but we are saying no," Currie said. "I also think he needs to take into consideration the safety of the refugees that actually want to seek safety."
His argument does not apply to legal permanent residents of the U.S. The ban only applies to new immigrant and nonimmigrant entry.
"The protests that are happening at airports around the country are so important. People speaking out and practicing their right to assemble and free speech is so crucial because we have to stand up to Congress. We have to stand up to these things, or they're not gonna go away," Frate said. "It's inspiring to see so many people out there fighting against it, just wish it didn't exist to begin with and we didn't have to do that."
The White House states, "peace through strength" will be the most important thing about the foreign policy. By doing that, one of the main goals becomes rebuilding America's military because numbers have gone down almost every year since 1991.
President Trump's administration is going to work with international partners to be more engaged in cyber warfare to cut off propaganda and recruiting for terrorist groups. They are also going to cut off any funding for terrorist groups.
"I guess in a way it could put down terrorist attacks, but at the same time it seems a little harsh in more ways than not," Currie said.
His central idea he wants people to understand is he wants America to grow stronger as a nation on its own, then everything will work itself out. Trump wants to put all American workers and businesses first. That means he wants to focus completely on U.S. manufacturing in order for wages to increase. His main claim for all of this is to try and "Make America Great Again."