Maggie Haddock
News Editor
[email protected]
Since the emergence of the #MeToo movement a little more than a year ago, my knowledge of sexual violence expanded from the narrow scope of my own experiences and several secret narratives told by close friends. I began acquiring the horrid truths of colleagues, family members, classmates and anyone who felt it was pertinent to tell others what happened to them.
During this time, I collected the stories of survivors who, in moments of solidarity, decided to disclose some of their most vulnerable and painful experiences to me. They knew that I, a survivor myself, would understand and lend my most genuine empathy to them as we cried together in common solemnity at a culture centered around the dismissal of sexual and domestic violence.
I began meeting with other survivors and we grieved at seeing those in our community mingle with our abusers. We grieved not out of hatred, but out of concern. Asheville is a small community tightly wound within the six degrees of separation with every person we know, connecting our friends with our abusers at a rate more frequent than seems tolerable. How do you tell an acquaintance that the person they now call a friend is someone you know as your abuser? There were seemingly no avenues to voice one's experience without endangering oneself in the process, simply by having their name attached to their story.
During the summer, I made a decision to share these stories that were shared with me. I had to share this information with other survivors on a much more direct platform than word-of-mouth, which only made space every now and again in conversation. On June 10, in a single thread of tweets from a Twitter account not tied to my likeness, I listed the names, images and descriptions of abusers in Asheville. Within 24 hours, I was threatened by a community member. Within 48 hours, I was contacted by the university.
The climate of this matter being handled at the university level strikes me as odd, and has from the beginning. The Twitter thread consisted of members of the Asheville community, and one of the primary individuals who alerted the university about publication was unaffiliated with UNC Asheville.
After being found responsible for the incident last Monday, one member of the hearing board stated I am not a victim—rather, I am a perpetrator of harassment. I was told equal advocacy must exist for the alleged perpetrators as for the victims. And, I was told there was no nobility in anonymous advocacy.
Remedial steps toward exposed abusers does not always involve ex-communication, and it certainly does not need to result in harm. Although few abusers ever see harm or even conviction for their wrongdoings, it is important to note I am charged with creating a hostile environment within the community, and I want to clarify that hostility is not something I intended to create, nor was I successful in doing so.
With a culture so deeply rooted in poor sexual education and misogyny that allows for the power within violence to exist, it is more likely than not that someone you know has committed an act of sexual violence at some point in their lives. While you can still associate with that person, consider holding them accountable for the actions they have committed. Otherwise, you have contributed to the complicity of violence that will affect the abused for the rest of their lives.
My advocacy, noble or otherwise, will not be silenced. The severity of sexual violence in our communities are far too pervasive to ignore.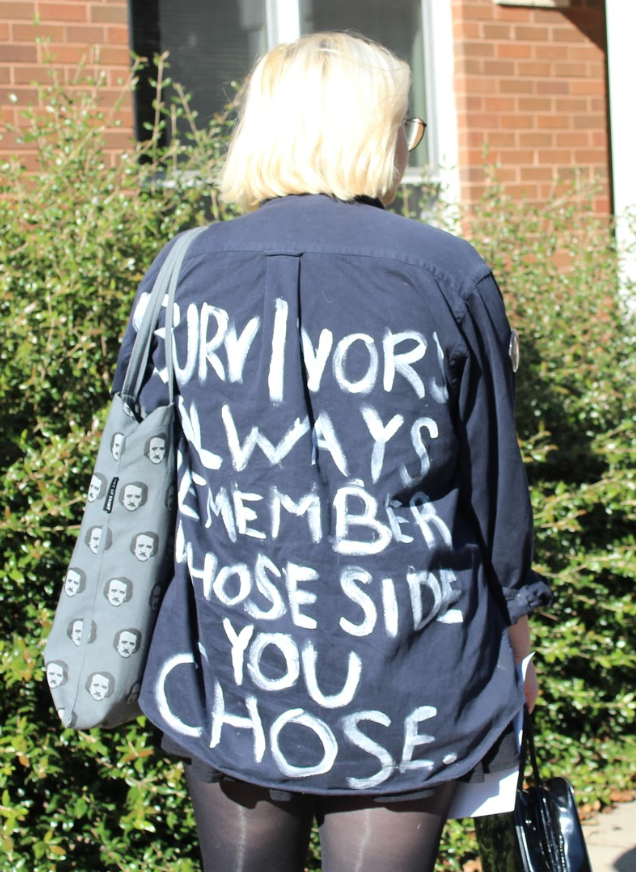 Since the beginning of the semester when I decided to bear a navy coat with one sentence ornamenting the back, I have lead a one-woman silent protest that certainly did not end on Oct. 29 with the 35 allies who stood outside of Governors Hall during my hearing. I will continue to pass on my message to abusers, to apologists and to those who dismiss these claims in the bureaucratic systems viewing individual, human issues: Survivors always remember whose side you chose.
Read the accompanying coverage of the protest for Haddock on Oct. 29 here: Students protest against administration's handling of cases of sexual assault