Purity Ring bring pure, energetic fun to the Peel
Photos by Blake Willis
Review by Phillip Wyatt, News Staff Writer
[email protected]
September 23, 2015
Future-pop duo Purity Ring brought their Another Eternity tour to the Orange Peel, sharing Megan James' ominous, wispy vocals and Corin Roddick's futuristic, dubbed-out beats with a sold-out crowd.
The Sept. 15 show opened with Los Angeles artist HANA, whose trip-hop inspired beats and airy vocals are akin to other performers like fellow 4AD labelmate  Grimes and Fever Ray.
The raucous crowd of 1,050 welcomed HANA as she alternated from playing worldly, tribal synthesizer riffs to whipping her long hair braid back and forth above the hyped audience.  
"You guys are so crazy!" HANA said.
Pulsating hip-hop inspired beats complemented by organic, wavering vocals and whimsical xylophone notes acted as a perfect soundtrack to the ultimate '80s dance party we've never been to.
"I'm so excited to be here in North Carolina with my friends Purity Ring," HANA said. "It's going to be such a good night."
James' ominous whispers immediately captivated the crowd when Purity Ring took stage, while vertical strands of lights simultaneously hypnotized with pulsating flashes of white, blue and purple.
Sporting a chic mushroom mullet and a skin-tight, white, shoulder-horned jumpsuit, James commanded the crowd through the Canadian duo's futuristic and extraterrestrial interpretation of pop and dance music.
Her haunting harmonies led viewers into a mystical, dream-like trance of darkness and uncertainty.
According to a Pitchfork interview, James designs and sews the duo's stage and video fashions while Roddick designs the light-up MIDI drumming system he used on stage.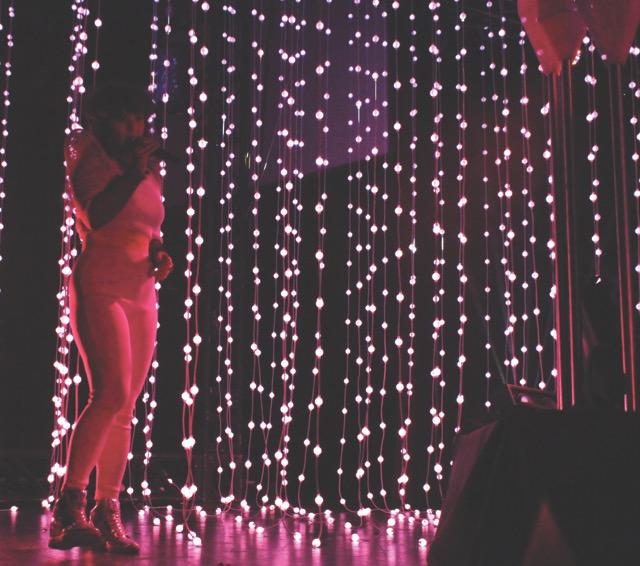 Photo by Phillip Wyatt
"It's so nice to be back; thank you," James said. "We're on tour with our good friend HANA. She's so beautiful and we love her songs. It's so good playing with her every night."
A large moon was displayed above the stage, reminiscent of the band's cover art for their second album, 2015's Another Eternity.
James ascended up a staircase, pounding the moon with a mallet as it emitted a beam of white light onto the crowd.
Purity Ring played a well-balanced mix of both their albums, performing songs such as "Obedear," "Loftricies," "Crawlersout" and "Fineshrine" from 2012's Shrines.
The band ended the show with "bodyache," the lead single of Another Eternity.
Emma Drake, anthropology student at UNC Asheville, said the show was her first time seeing Purity Ring.
"One of my friends had previously seen them and he said the show was kind of mellow, not something super upbeat," Drake said. "It was a lot livelier than I thought it was going to be, definitely a lot more energetic and a lot louder."
Drake said her favorite aspect of the show was Roddick's visual performance.
"Having those little balloon lights with him hitting them, I definitely had a better appreciation for how they make their music versus just listening to it," she said. "Seeing it live was definitely really cool and added a whole new perspective."  
John Hansen, a UNCA music technology alumnus, was introduced to Purity Ring two years ago at the Mountain Oasis Electronic Music Summit in Asheville.
"Musically, the show was pretty spot on with the records," Hansen said. "It had to have been the best light show I've seen at the Peel."
Hansen, an audio engineer, appreciates the calming and atmospheric production value of the band's music and plans to attend future Purity Ring shows in Asheville.