Muslims discuss women's rights
by: Camille Wick – Staff Writer – [email protected]
Muslim women discussed the Islamic faith and shared their personal experiences connected to their religious beliefs in the Women in Islam panel, hosted by the Muslim Student Association at UNC Asheville last Thursday.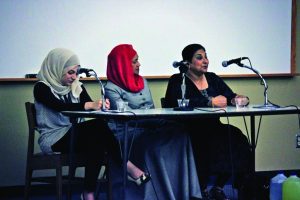 "I think that cultural exposure is drastically underrated and that events like this are important to keep as much of an open mind as possible," said Erin Royal, a senior psychology student who attended the event. "Raising awareness like this is a really good way to spread the word about what is actually true and what isn't."
The three panelists, Robina Niyaz, Tayyibah Taylor and Suzanne Hamid, represented a range of ages and backgrounds, and talked about the media portrayal and perception of Islam.
"I grew up in Toronto at a time when there were no positive images of people of color in the media," Taylor said. "Usually the portrayals of Muslim women in the media are that of victim: victim of man, victim of religion, victim of war."
Taylor founded and serves as editor-in-chief of Azizah Magazine, the first Muslim American women's magazine.
Publications such as Azizah Magazine attempt to reduce issues such as stereotyping and racism by providing positive portrayals of Muslims and Muslim women.
Azizah Magazine is a validation of identity, and it is usually the first time Muslim women see themselves represented in a positive way, Taylor said.
"I chose to (create the magazine) because there was no place where women could really express their thoughts and set their agenda and really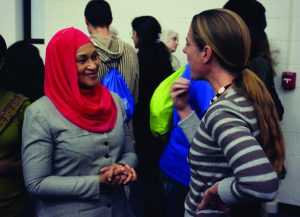 have a vehicle for their voices," Taylor said. "Every article in Azizah Magazine is written by a Muslim."
Katie Pindell, a sophomore management and accounting student, attended the event Thursday evening.
"Being able to listen to women speak so candidly about their religion and compare their experiences with perceptions was very interesting," Pindell said.
Hamid, the youngest panelist, graduated from UNC Charlotte in 2010, and she said she has always received positive feedback from her peers regarding her religion.
"I identified with the youngest woman because she went to college in North Carolina," Royal said. "I liked her because she seemed like she wasn't afraid to express her opinion, and it was really important to her that it came across in a way that younger people could understand it."
Hamid said she has confronted the faith-related hardship of ignorance concerning the Muslim community. She said these views typically stem from cultural rather than religious differences.
"I found the difference between culture and religion the most interesting," Royal said. "I had never really thought about it that way before and was ashamed to even have found myself putting the two together in my head before this panel."
Niyaz said culture plays an important role in regard to religion and connected her personal experiences with Turning Point, an organization fighting domestic violence among New York City Muslims.
Niyaz said it is important to raise awareness that domestic violence is not acceptable within Islam. The meshing of culture and religion plays a role in this awareness, she said.
Some attendees, like Pindell, found the panelists' distinction between religion and culture as gray rather than black and white.–
"The Women in Islam panel struck me most in how much the speakers differentiated between religion and culture," Pindell said. "They all felt as though culture had altered religion and how people interpret it. I agree to an extent, but I do not think the two are mutually exclusive."
Some people who attended and participated in the discussion were more familiar with Islam and its customs than others.
"I think the more culture we can come into contact with, the more accommodating we can be for various cultural elements, which, in the end, is more important because it could drastically decrease important issues such as stereotyping and racism," Royal said.