Katie Walker
Arts & Features Staff
[email protected]
The Change commands the stage and captivates their audience. Performing both original and cover songs, the band blends sounds of funk and rock music. The band members travel to promote empowerment, all before turning 18.
"It's more than just music, we connect to people," said Kayla Lynn, bassist and singer for  The Change. "When you come to the show it's not like you are just watching a band. You get to know us and we get to know you."
Throughout their performance at New Mountain AVL, the band paused to talk to the audience and share their stories. Each member of The Change, an all-female group, hoped to encourage their listeners to make a difference in the world. Lynn said people can be a part of the problem or they can be the change.
"Our message is about anti-bullying and empowerment," Lynn said. "We go into schools and we spread positive messages through music."
Melissa McKenney, manager for The Change, said the band visits middle and high schools to lead empowerment workshops focusing on overcoming adversity. The band also teams up with Free2Luv to promote equality throughout the world.
Free2Luv, a global organization, encourages youth to stand up to bullying and to freely express themselves. The organization uses music and art to help support equal rights and put an end to bullying.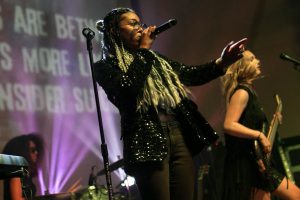 Lynn and Ayr'an Graham, drummer and guitarist for The Change, started playing music together about 10 years ago when Lynn's mom moved their family to West Virginia to open a music school.
Je'Dah Palmer, who sings and raps for The Change, joined the band four years ago after being invited to a practice by Lynn's mom. Palmer said she thought everyone in the band was laid-back and they started playing shows together.
Band members came and went for many years, causing the band's sound to differ. The Change have removed a lot of their older content from the Internet, feeling the music did not accurately reflect on the band's current sound.
McKenney said the girls fell in love with R&B singer Biscuit Miller. It was after this discovery they switched from a Taylor Swift and Miley Cyrus cover group to a funk band.
"Be The Change," an original song from the band, serves as the anthem for the band and allows listeners to hear their message. All profits made from the song get donated to Free2Luv.
Each band member said they were uniquely inspired to make music of their own.
Graham said playing the first Guitar Hero sparked her interest in music.
"I begged my grandma for a guitar for my birthday and she told me that if she bought me one I had to learn to play it," Graham said. "I picked up drums after Kayla and I started playing together."
Both Lynn and Palmer grew up in musical families. As a child, Lynn would go with her mother to her gigs where she played music in bars in Charlotte and surrounding areas.
Church inspired Palmer to pursue music at a young age. People around her in church would have jam sessions which sparked her interest in music. Being in an environment filled with music encouraged both girls to pursue their passions.
McKenney said the girls are close and spend time together outside of the band.
"Outside the band the girls are crazy, free spirits who love to laugh and joke around," McKenney said. "They are always scaring each other and acting crazy."
The Change have played for crowds ranging in size from two people to 10,000 people. In the history of the band, the largest crowd they played for was as an opener for the Second Chance Rocks the Two Virginias Festival.
The band said they put on the full concert experience no matter the size of the crowd. Each member enjoys being able to get on stage and do their thing.
"We will play even if it is just us and our parents," Graham said.
Currently the band plans to release new music within the next year or so. Palmer said she has a lot of ideas and knows the other band members do too.
"Our goal is just to get our word out to as many people in the nation as we can," Palmer said. "Unity being the change and just making a difference in the world."