Elizabeth Walker
Distribution Manager
[email protected]
For too long, black women were hidden amongst the usually white faces within different STEM fields, but modern representation shown on screen and the growing number of scientists both from the past and present could help inspire future generations to pursue careers and break boundaries.
Women are often discouraged from majoring in and following careers in STEM fields, with the myth being established that women do not possess the minds for such fields. This stereotypical and mindless belief shuns those willing to learn from an early age, and harms our entire society in the process. Not allowing someone who wants to learn because they are a certain age, gender or race remains one of the most idiotic practices I've ever witnessed.
Characters such as Shuri in the recently released Black Panther and the group of female mathematicians based on real women in Hidden Figures, show the importance of breaking away from such stereotypical myths. While black female scientists are just as important, fictional versions prove more accessible since girls and young women can easily make their way to the nearest theater or watch from the comfort of their homes, while their real life counterparts are often glossed over or skipped completely in science and history classes.
In Black Panther, Shuri is the 16-year-old half-sister of T'Challa, king of Wakanda, but this role does not define her in the film. Shuri engineers and designs all of the technology used in the film, and was described as the smartest person in the Marvel universe by produce Nate More, beating out even Iron Man's Tony Stark. As a young black woman, her image and talents already make a lasting impression on black communities, with such tweets as "The Wakanda princess is the epitome of cool. Shuri is the Rihanna of girls in science" from Twitter user diandujour and "Princess Shuri is an icon. She roasts, she invents, and she's hilarious. We have decided to stan forever," from user blackmon. With roles like these, black girls can visually see that nothing can stop their dreams if they work hard enough.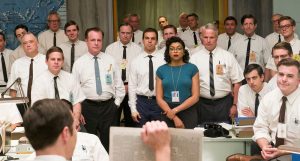 The importance of seeing older black women with STEM careers holds a different importance, showing how these women can turn their knowledge and degrees into careers. Hidden Figures centers on NASA mathematicians Dorothy Vaughan, Mary Jackson and Katherine Goble Johnson, the last of which directly helped launch John Glenn into space as the first American to orbit the Earth. As shown in the film, Glenn asked specifically for Johnson to double check the computer's mathematical calculations, only trusting his flight path until she checked the numbers. This trust in a single person, especially a black woman, instead of a computer shows her brilliance and drive at a time when black women were not often allowed such roles in science.
Both films portray excellent representations of black female scientists, but luckily black women outside of the cinema also occupy these roles. Without the real life heroes, the inspiration would be less impactful to me and probably to others. As a pop culture fan, we need representations on screen, in print, etc., but only with these powerful women living their lives off screen will girls be inspired to go the extra mile and remain passionate about science.
Another inspiring real life example is  Marjorie Browne, the third African-American woman to earn her Ph.D. in mathematics. Brown became one of the first scientists to set up an electronic computer lab with funds from IBM at what was then known as North Carolina College — now North Carolina A&T.
A more modern example of a woman in STEM, Lisette Titre graduated magna cum laude from Miami International University for Art and Design in 2000 with a degree in computer animation. Currently a video game art manager at Double Fine Productions, Titre made waves at EA Sports as a consultant and art manager and continues to work to encourage more girls to gain interest in STEM careers. Titre helps highlight the need for black women to provide diverse outlooks in newer areas of computer science such as video game design. The emergence of these new roles provides even more possibilities for today's female students to make innovative contributions in the future.
Unfortunately, these women's roles are lost to history or overlooked today for the most part due to racism and bias. The women featured in Hidden Figures and their success were only brought to the light upon the book and film releases, so there is no telling how many others have been lost to time or ignored. Since history tailors itself to those writing the books, these women's stories become forgotten in favor of a more whitewashed past.
The role models are there, but the support for future scientists and recognition of talent also needs to improve to inspire young girls. Asian, black women and Latinas made up slightly less than 10 percent of working scientists and engineers in the United States in 2015, according to a report by the National Science Foundation. The women who are employed often make significantly less than their male counterparts. With little hope of employment or fair pay, these women will look for 'better' options that pay the bills and end up being pushed out of fields prematurely.
Racial and gender stereotypes surrounding these majors contribute to breaking down black women's resolve to earn these degrees. According to a study published within Cultural Diversity and Ethnic Minority Reporting, 23 percent of black women said they planned to major in STEM fields compared to 16 percent of white women. However, only 8 percent of black women earned degrees in a STEM field, compared to 10 percent of white women, according to the National Science Foundation.
This lack of resources often begins even earlier in life for black students. According to the Department of Education, only about 40 percent of public high schools serving predominantly African-American students offer physics. Not having the resources for foundational STEM skills early in high school often disadvantages students preparing for STEM advanced courses and degrees later in life. If not exposed to these topics while in public school, young black women will choose other, less-challenging areas of study.
As long as these barriers stand, black women will continue to be pushed out of both these fields and their dreams. Only by allowing representation in the media of these women and space in the real world for their careers to flourish will we be able to have an equitable and fair scientific world — and a better world for us all.