Moogfest 2012: Festival brings new acts, alumni, local discounts, Moog burger this year
by Maisey Cooley – [email protected] – Arts & Features Editor
Moogfest is not new to the world of live music.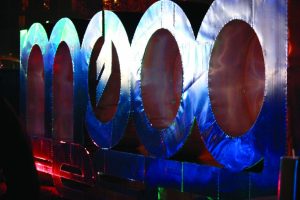 For the past two years, $100-150 bought a wristband providing access to any show at the festival, held during the last weekend of October. Although the festival is coming up on its third year in Asheville, it still manages to offer new attractions and keep people coming through the doors, glowsticks and Halloween costumes at the ready.
"We've never been to Asheville before," said Aron Sanchez, member of Buke and Gase, playing at the Asheville Music Hall on Friday. "But we've heard about it, and now we're excited."
Buke and Gase, an art-rock band based in upstate New York, is a unique addition to the Moogfest lineup, as the festival is known to lean toward the electronic music spectrum. Their instruments are the band's own inventions, as well as the inspiration for the band's name – the buke is a 6-string baritone ukulele, and the gase is a guitar-bass hybrid. Sanchez describes their sound as an "interesting fit" into the Moogfest lineup.
"Our sound is really hard to categorize. We look like we're playing all these acoustic instruments on stage, but we're technically not," Sanchez said. "It's like synthesizing string music. We filter our sound through machines that basically morph our instruments. It always sounds different. Sometimes we can sound like afro-pop, sometimes it can be more dark and ethereal and sometimes we have a really dance-y vibe. That's why I think we'll fit in here."
Adding a more diverse musical element to the lineup is not the only change Moogfest decided to make this year. While in the past, the festival has partnered with local businesses to maintain a close community with food and drink options for all festivalgoers, this year a wristband offers more than entry to the shows. Moogfest's website lists the local businesses and services offering discounts and special deals for Moogfest festivalgoers. Affectionately called Trick-or-Treat, this part of the weekend pass includes 13 bars and restaurants and six specialty services to prepare attendees for the festival.
The local brewery that made the Moogfest Filtered Ale in years past, the Asheville Brewing Company, is included in the lineup for the Trick-or-Treat event. Showing your wristband at the door of the Coxe Avenue location discounts your bill or bar tab by 15 percent this year.
"Even though we aren't brewing the beer this year, we're still going to stay open until 2 a.m. for the festival," said Cat Prindle, bartender at the Coxe Avenue Asheville Brewing Company location. "We know we'll be solid busy until we close, probably because we're so close to a few of the venues, so we're preparing for that."
Some of the local businesses participating in the Trick-or-Treat event are preparing special meals and drinks tailored for Moogfest. Burgerworx, a burger joint located in the Grove Arcade, is a part of Moogfest for the first time this year.
"We're excited to be included in the Moogfest crowd this year because last year was only our first Moogfest, and we just couldn't (be involved)," Esh Donaldson, manager of Burgerworx said. "But this year, we are staying open until 2 a.m. for all the festival people, and we've even got a Moogfest burger just for the weekend."
Moogfest incorporates different elements each year. This year they are bringing acts that rarely visit the United States, such as Orbital and Justice. They are bringing back a few alumni, such as Shpongle, El-P, Four Tet and Tobacco. They are combining the new and the old, the strange and the beautiful. The only thing we can do to prepare is sit back and wait for another year at Moogfest.