A'sha Noble
Opinion Staff Writer
[email protected]
The March for Our Lives movement started after 17 students and staff members were killed in a school shooting at Marjory Stoneman Douglas High School last month.  
According to U.S. News, the student body of the high school is nearly 3,000 students and 61 percent are white. Four of the 17 victims were minorities.
It should not take this long for gun control to be considered by our government.
Privilege powers the March for Our Lives movement as a group of privileged people are joining together for one cause. Obviously, there is power in numbers but why is there only power in numbers when the majority of the group is caucasian?
It may just be that these students were caucasian and had aspirations and plans to be  collegiate soccer players or olympic swimmers and go to college with full ride scholarships already in place. Their futures were so bright they blinded the movement.
The students whose lives were taken seem to be more valuable than the lives taken in prior school shootings. The support that they have received outnumbers every other school shooting and I'm having a hard time figuring out why.
I am in no way, shape or form being insensitive about this tragic event which took place. Rather, I seek to point out the corruption our system causes. All lives that are unfairly taken matter and should be treated equally.
The organizers of March for Our Lives are asking lawmakers to acknowledge gun violence as an issue in schools across America. The organization asks for gun control legislation while the National Rifle Association makes it hard for the students.
The NRA has  fought for the Second Amendment right to bear arms since 1871 and have no plans to change their agenda now. Their collective attitude toward gun control causes a standstill in legislation.
The NRA has made it very clear how they feel about gun control on many occasions. Wayne LaPierre and Chris Cox, the executive director of the NRA's lobbying arm and CEO released a joint statement after the Las Vegas shooting saying gun control is pointless and ineffective.
"Banning guns from law-abiding Americans based on the criminal act of a madman will do nothing to prevent future attacks. This is a fact that has been proven time and again in countries across the world" the NRA wrote in its statement.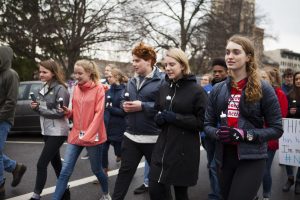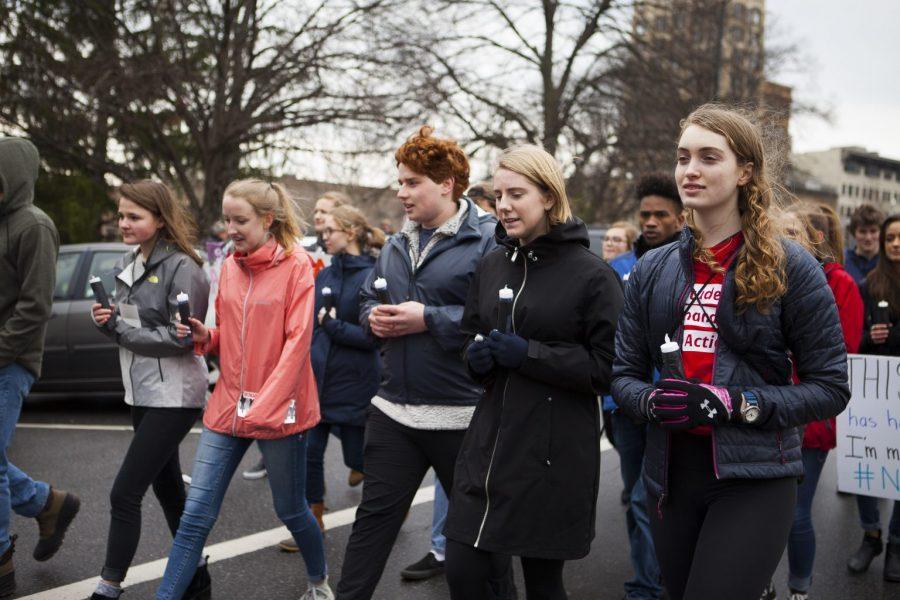 Another statement was released after March 24, the day nationwide protest marches took place. Hundreds of thousands marched in cities like New York and Los Angeles, including here in Asheville.
"The protesters in last week's march told us with their words and placards that the current debate is not about fake terms like 'common sense' gun regulation. It's about banning all guns. The men and women of the National Rifle Association, along with the majority of the American people and the Supreme Court, believe in the Second Amendment right to self-protection and we will unapologetically continue to fight to protect this fundamental freedom," the NRA wrote.
In this statement they didn't attempt to comfort the victims or their families who recently  experienced something so tragic. The NRA may not be on their side but the media and celebrities definitely seem to be.
"March for Our Lives is another great movement but it is receiving more praise and recognition because it is mostly white students at the forefront," said Mia Hussey, sophomore art student.
Privilege does not only influence the American public, many celebrities embrace their own privilege. Selena Gomez did not have a problem expressing her thoughts on the Black Lives Matter movement back when it first took off. When a fan asked Gomez why she had not said anything about the Black Lives Matter movement and protests, she said there were more important things to worry about.
"There are more important things to talk about…Why can't people use their voice for something that fucking matters?" Gomez tweeted.
Yet Gomez posted a positive and uplifting message for the families, children and victims affected by school shootings along with a picture of herself at the protest.
"I don't want this to just be an Instagram post anymore. PLEASE. ENOUGH. These people, families and CHILDREN have suffered enough. Today we march for our lives. I'm going to continue to trust god with the future and also play my part in bringing change. #marchforourlives #notjustahashtag"
I found this hurtful when viewing the comparison of posts. The celebrities I support do not even support me.
What is it that makes these students lives more important than others? Is it demographics that  divide us on social issues? This is not the '70s anymore. There is no sense of unity. The movements themselves also have not announced any plans of collaboration.
I do not blame these students nor do I want to in any way insinuate that I do not care about the lives that were taken. I simply want justice for any and all lives taken in unfair ways.
"When people hear the Black Lives Matter movement they automatically assume it has a negative connotation to it and that black people are being exclusive even though the KKK is exclusively white and being praised as well as white nationalists. They aren't crucified the same way because they are white and mostly men," Hussey said.
I feel as though the March for Our Lives movement is also in support of black lives taken by police violence, but they have not made it clear. This is where the divide is formed between groups and when the issue starts.
It is not the responsibility of the Black Lives Matter movement to release a statement in support of the March for Our Lives movement when in fact it was a piggy back of the original idea.
It is not our job to put these two movements against each other but to bring unity between the two. There is power in numbers and two movements working together is a force to be reckoned with.