Amalie Davidsen
Contributor
[email protected]
Walking in the Peace Garden at Vance Elementary, I am joined by a student as he teaches me why it is important to grow local food while he enjoys a snack of fresh kale he just picked.
The sun is up and joyful laughter surrounds me as the kids run around in the green garden before heading to their classrooms.
Vance Elementary School works with FEAST, a nonprofit organization which teaches students at Asheville City Schools the importance of local, healthy and fresh food as well as composting and recycling through hands-on education, cooking and gardening.
FEAST emphasizes influencing the students' eating habits as well as their interest in the environment in affordable and realistic ways. The elements of FEAST education are incorporated into the weekly schedule at Vance Elementary and serve as a tool for the kids and their families to change or better their current lifestyles.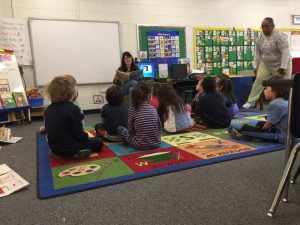 A dozen pair of green, brown and blue eyes meet me the first time I enter a classroom working with FEAST. Curiosity fills the room when I close the door behind me, giggling and whispering makes me smile as I approach the front of the classroom. A strong smell of squash and spices fills my nose and the students draw and label squashes in their own personal cookbooks.
FEAST benefits students' lives by exposing them to food in a tangible, hands-on way. They are far more likely to try something if they grew it, and many will only eat vegetables that they picked themselves or made themselves. This teaches them to be open to trying new things. They grow more comfortable and excited about eating healthy food and valuing where it comes from, which, leads to them asking their parents to grow a garden or buy a new vegetable at the grocery store.
 I clearly remember the first time I walked into the cafeteria at Vance Elementary; loud sounds of students chatting, white walls and a smell of chicken nuggets were the first impressions I get. Even though healthy eating is actively promoted through the FEAST program, it is a very interesting contrast between the Asheville City Schools highly produced, sugary lunches and the fresh and homegrown food the students prepare, cook and eat at FEAST. The students go from the cafeteria eating chicken nuggets and fries to FEAST, where they eat freshly steamed kale among other vegetables.
According to The North Carolina Department of Public Instruction, between 40 and 45 percent of the students at Vance Elementary qualify for the Free Lunch Program, which is determined by parents' income.
However, it is not only students at Asheville City Schools who are dependent on the Free Lunch Program, as more than 90 percent of students at a Buncombe county public school, Johnston Elementary, qualify for the Free Lunch Program.  
I believe it is worrying that children in Asheville Public schools are daily exposed to and dependent on processed school lunches, which oftens lack nutrition.    
However, I believe it is a huge step toward a healthy lifestyle for students to participate in programs which promote and educate students in healthy eating and cooking, and public schools are in need of such programs. North Carolina has very low public school funding, but when nonprofit organizations step up and provide their expertise, the life of a North Carolina public school student can improve tremendously.