Taylor Sexton 
Arts & Features Editor
[email protected] 
Contained within the weathered brick walls of Phillips Hall, overlooking the sunny, bustling quad sits Nancy J. Cable, UNC Asheville's eighth permanent chancellor.
Nancy Cable's been at UNCA for nearly four weeks now and she's been spending her time learning the campus, getting to know the faculty and staff and of course, unpacking.  
"The fun part has just been immersing myself in the community and getting to know as many people as I can. What's fun now is that some people, even if we've not met, they're recognizing me as I walk across campus. I'm meeting more people. So that's really fun," Cable said.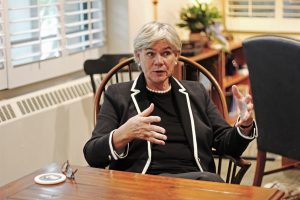 So far, Cable said her favorite thing she's done in the community was the Farm to Table Dinner on Sept. 4.
"The weaving of our values around sustainability and humanity and human rights," Cable said. "It felt like a real community to me and that's one of the reasons that I wanted to come and do this work at UNC Asheville."
The search for a new chancellor began in September 2017 and the faculty search committee was put together a month later in October. This committee met with a short list of candidates and after a series of interviews and meetings, they sent the top three candidates to Margaret Spellings, president of the UNC school system.
Ellen Holmes Pearson, a professor of history at UNCA for 16 years served as a faculty member on the committee. .
Pearson said the committee was very impressed by Cable's leadership experience and her dedication to the liberal arts mission.
"She is confident, direct, articulate. She is also warm and exudes a lot of positive energy—I was very impressed with her firm handshake. She is very much used to "working a room," which is an essential trait for a chancellor," Pearson said.
Cable's previous job was with Arthur Vining Davis Foundation, where she served as the president beginning in October 2012. This foundation was created from the will of Arthur Vining Davis and supports higher education, public television, health care and theological and interfaith work.
Cable said that Asheville was the only job that she was willing to leave the Arthur Vining Davis Foundation for.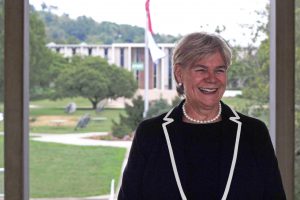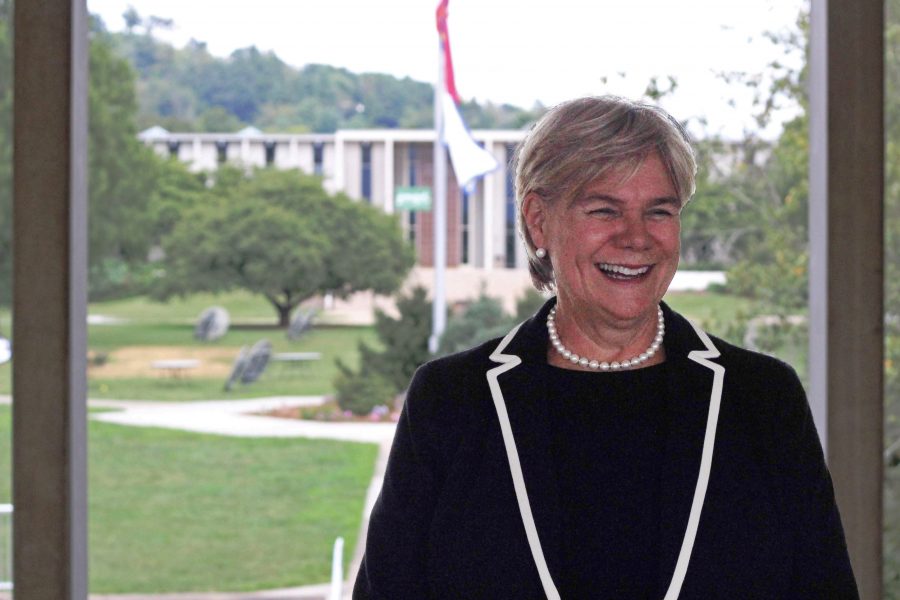 "I thought I had taken that job and I'd be there forever," Cable said. "When I knew that I might have the opportunity to enter a search where I could lead the liberal arts and sciences institution of the whole system, it was the only job I was willing to leave the foundation for."
The chancellor also admitted that she wasn't the typical candidate, mainly due to how straightforward she was about wanting the job.
"So I wasn't, I guess a typical candidate. I've made it very clear to people if this was the right job and I might be the right person, I'm committed to coming if you hire me. And sometimes candidates aren't quite that candid, but I was. And that's how much I wanted the job," Cable said.
Cable also said she thinks she was a good fit for the job due to her experience in previous colleges and universities and her willingness to learn from the faculty and students at UNCA to give them what they want and need.
Cable feels incredibly passionate about providing a liberal arts and sciences education to young people and all the skills and opportunities it provides.
"While we're preparing you for jobs and graduate school and careers, we're also preparing you for a life of leadership and students who have an opportunity, like the scale that we have to have smaller classes and really close interactions with faculty in the process of building your own human potential. That is what I'm really passionate about," Cable said.
Cable said she also believes that there is room for everybody in American higher education and that a liberal arts education provides opportunities for students who may not be sure about what they're wanting to major in.
"For students, particularly undecided students or students who come into intending one major, but they realize, 'Oh gee, my passions are here or here,' that is the real joy of the liberal arts because it doesn't teach you something. It teaches you anything. And it gives you a sense that you are controlling your destiny," Cable said.
The chancellor said that getting an education in liberal arts and sciences gives a basic background on human civilizations and human principles from all over the world, which in turn, provides students the leadership skills that will be useful for the rest of their lives.
It's this kind of education that drew Cable to the university.
"I have had no disappointment in any interaction with any student and that includes students who knew that I was the chancellor and students who didn't know who I was," Cable said. "Every student has been engaging and interested, all different types of people, but very cool, very humane values coming through and I've really been impressed by that."
Stephanie Todd, senior anthropology student and member of UNCA's outdoors programs admitted she didn't give the news of getting a new chancellor much of a second thought. She felt that as a student, she had never really felt like she had a relationship with the chancellor, due to how far removed the title seemed to be from her daily life as student.
It wasn't until a Student Affairs training that Todd met Cable, who had made a point to come up and introduce herself to everyone, when her ideas on the chancellor-student relationship changed.
"My first impression of her was how kind and approachable she is, which I appreciate in someone holding that position," Todd said. "She seemed very intent on having an active discourse with the student body on both a personal and communal level. Chancellor Cable had spent all day meeting tons and tons of students and staff but she still took the time to ask me about my experiences with studying abroad and what it was like coming back to campus."
Cable said that her goal for UNCA isn't so much about what she wants, but about how she can be used as a tool for other people on campus to improve and strengthen the university. She also said that she believes the faculty, student leaders and staff who  came before her built a great foundation for her work.
"Now we're on the precipice, I think, of being even better known, being in demand for students who want to be leaders in life, being in demand for students who want to consider the liberal arts pathway to graduate, study in all different fields—technical, non-technical—and I think what I would like to do is hear what faculty and students would like to see for this place in the next decade and get about the business of making some of those things happen," Cable said.
Cable admits it may not be possible for all of those things to happen, but that she wants to invite people to make an investment if they have an interest in preserving and enhancing the education UNCA provides. This will require some fundraising.
"While the state system does the best it can, I think for us, given their big competing demands across the 17 campuses, I really want to see us get a little bit more of our fair share of that in support of our faculty and our students' scholarships and student programming and our facilities," Cable said.
The campus master planning group will be taking a look at UNCA's facilities, wayfinding, buildings, classrooms, music facilities and more for the next year. Whatever comes from this inspection will dictate where Cable will go and get the money that will be able to help.
Cable expressed that she will not be a 'closet' leader.
"I believe that a free flow of ideas creates the best possibilities to continue to improve the institution. And so the only way you get those ideas is not to structure those conversations, but to be in places where people are thinking creatively," Cable said.
Cable said  the free flow of ideas really keeps her motivated and energized to work from early in the morning to late at night. Whenever she feels low on energy, she enjoys getting out of the office, away from the computer and paperwork and goes for a walk around campus and interact with people.
Pearson said  she has high hopes for Cable and believes she will be able to steer the university through the strategic planning process and bring in more external resources to the university so the liberal arts experience for students can be improved.
"I also anticipate that she will provide much-needed leadership to examine the direction of Academic Affairs, so that we can establish appropriate positions and processes in that important corner of campus," Pearson said.  
Todd said that Chancellor Cable exceeded her expectations and that Cable's interpersonal interactions reminded her on why she chose to come to a small university in the first place.
"I also appreciate that Chancellor Cable has been making a point to insert herself into the daily agenda of students," Todd said.
Overall, Cable said she's enjoyed her time here so far at UNCA. She hopes to stay for a very long time and she hopes for the talent and potential of the school to grow.
"Whatever issues we face that this is a time where the institution has been well led by a group of people, faculty leaders, student leaders, senior staff talent and we are getting more and more talent around the table all the time. So, I hope that I can be someone who really values that and models that into whatever I can across the institution and give people a sense of enthusiasm about the work we do every day," Cable said.